Additional Disclosure here
We have been following Sky-mobi (NASDAQ:MOBI) for several years now. In the past, Sky-mobi was a premier player in the feature phone space, but the emergence of smartphones in China, and specifically low-cost Android smartphones, derailed its business. In a life or death situation, MOBI transitioned its products from the feature phones to the new smartphone platforms. Few companies survive such a major transition. Yet as recent quarterly results show, MOBI has done so with great success! It now offers mobile game and software distribution at the point of sale for large mobile carriers such as China Mobile (NYSE:CHL) and China Telecom (NYSE:CHA). Its strong relationship with handset manufacturers and wireless carriers, one-stop payment integration, and large and growing user base, provides MOBI a structural advantage. It is succeeding in one of the fastest growing sectors in the world.
MOBI is not well followed, and presents significant upside opportunity as it trades at only 2x EV/Sales. Our target price is $21, approximately 200% above current levels.
Smartphone revenues growing at fast rate
Smartphone penetration, specifically Android, is growing at a remarkable rate. In my previous article on China Mobile Game and Entertainment Group (NASDAQ:CMGE), I highlighted the explosive growth of mobile gaming in China, approximately 94% yoy growth for 2014. MOBI, through its Maopao app store, will benefit from this secular trend. Users of the Maopao store can browse, download and enjoy a range of applications and content such as games, mobile music and books.
As an app store or platform, MOBI acts as a distribution channel and shares a portion of the in-app purchases with the app developers. As we have seen with Facebook (NASDAQ:FB), app distribution is the most successful way to monetize on mobile today. Currently large domestic Chinese companies such as Qihoo (NYSE:QIHU) and Baidu (NASDAQ:BIDU) are growing at a torrent pace due to their app store revenue growth. Mobile gaming will drive in-app purchase revenues for many years, and we believe is one of the biggest secular trends in technology today. As the number of smartphone users continues to grow, they will compound the growth of in-app purchases and app stores such as MOBI's Maopao will benefit.
Figure 1 China mobile gaming revenue growth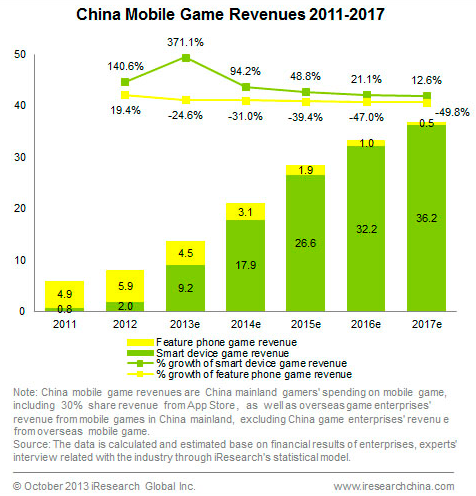 Source: iResearch
How MOBI makes money
China Mobile is the largest mobile carrier in the world. China has over 700 million subscribers all keen to convert over to smartphones in the next few years. We believe MOBI is well positioned to capture the growth of smartphones. Today, Sky-mobi has retail presence in over 10 provinces in China. Figure 2 attempts to describe the mechanics behind the relationship between China Mobile and Sky-mobi:
User buys smartphone from China Mobile
China Mobile sales associate installs Maopao App Store and other China Mobile pre-approved apps
User can access wide variety of content and games via the Maopao App Store. User downloads game or media content via cellular network or Wi-Fi
User conveniently pays for that content using China Mobile billing, MOBI virtual currency or other payment methods
App purchases and in-app purchases from Maopao App Store is shared between App Developer and MOBI. These can be viewed as fee for distribution for App Developer, and revenue split is typically 30% for MOBI and 70% for App Developer
Figure 2: Diagram of pre-installation process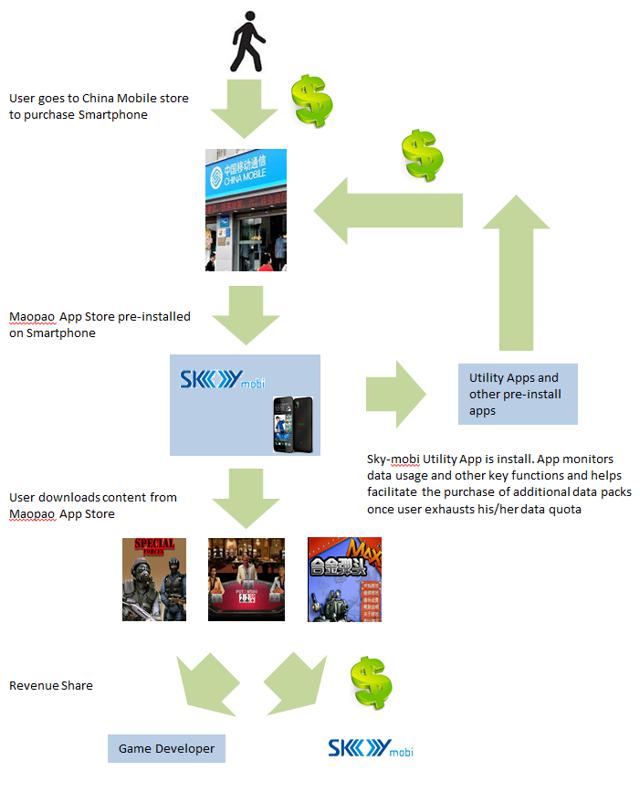 Click to enlarge
The relationship is mutually beneficial to both MOBI and China Mobile. MOBI gets its app store installed at the point of sale. In return, MOBI encourages and helps facilitate the purchase of additional data from China Mobile once the user reaches his or her quota.
MOBI smartphone revenues growing at fast rate
Calendar year 2013, was a transition year for Sky-mobi. Figure 2 shows revenues from feature phones continue to decline, while revenues from smartphones continue grow. We believe MOBI has successfully transitioned away from feature phones, and currently are at an inflection point where revenues have stabilized. Going forward, we expect revenues from smartphones to increase driving overall topline growth. By the end of 2014, we expect smartphone revenues to comprise of around 90% of total sales. Our base case suggests that smartphone revenues will grow over 100% from CY2013 to CY2014.
Figure 3: Successful transition: quarterly revenues from the smartphone business (in red) are soaring (base case estimates)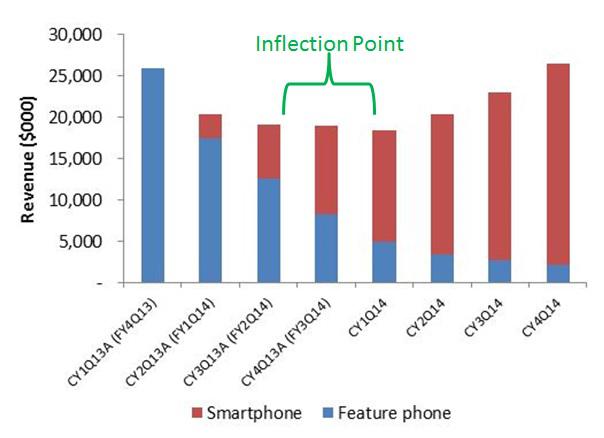 Source: Company filings and CCM estimates
From the most recent quarterly announcement, CEO Michael Song, summarized it best:
We are pleased that our fiscal third quarter 2014 revenues exceeded the high end of our prior guidance by approximately 15% due to our stronger than expected growth in our smartphone business. During the quarter, we realized over 763 million user visits and over 128 million downloads which helped drive our financial and operational turnaround. Having achieved an over 66% quarter-over-quarter increase in smartphone revenues, our smartphone revenues now represent over 56% of total revenues. This dramatic shift has occurred within only six months since we began the monetization of our smartphone business. Our success in migrating loyal Maopao community users from feature phones to the Maopao smartphone platform was largely achieved due to our strategy of allowing them to maintain usage habits they were accustomed to on their feature phones. With this strong performance and growth momentum, we are confident that our strategies are working and our capabilities are strengthening as we aim to further monetize our Maopao smartphone platform
User base growing at a fast rate
Sky-mobi partners with handset companies and mobile carriers to pre-install its Maopao mobile application store on smartphone handsets. Today, approximately 80% of data traffic comes from pre-installed phones and the remainder from online installations. They are a strategic partner with China Mobile. These types of relationship are symbiotic. China Mobile encourages the installation of Maopao out of its retail outlets. In return for this premium real estate on the mobile handset, MOBI, through its apps, helps facilitate the sales of data packs and provides a revenue share for in-app purchases.
In the quarter ending December 2013, MOBI was adding over 380,000 new users per day and by the end of the quarter have over 110 million users on the Maopao smartphone platform. Many of these users are considered "grassroot" and reside in Tier-2 and Tier-3 cities, which continue to be fertile grounds for growth. Offering diverse content was one of the main reasons for the successful turnaround. Per the CEO (here),
By enhancing the appeal of our smartphone platform to users through greater content selection, we have been able to retain and grow our overall user base. Our mission is to improve our users' experience by enabling ease-of-use for new smartphone owners, while also offering them a wide array of enjoyable and entertaining content.
Pre-installing the Maopao application store on mobile handsets is an important channel and strategy to increase the user base. It essentially ensures Maopao a first look to new users. Engaging new users is key as users are most likely to download a large number of applications during this "honey-moon" period and are the most engaged with games and other form of content. By maintaining a strategic cooperative relationship with China Mobile and handset manufacturers ensures a robust channel for user growth. As mobile games continue to grow and smartphones become more pervasive, MOBI is expected to leverage its Maopao to grow, at minimal, with the market.
Large user base and current under monetized compared to peers
If we use mobile revenue per monthly active user or MAU, MOBI monetization level is far below other major mobile platforms. In CY2013, the majority of revenues came from feature phones. As MOBI fully transitions to smartphones via its Maopao app store, we expect the monetization intensity to increase. Higher quality content such as immersive mobile games are readily available on Android compared to feature phones, and the quality of content will drive higher monetization.
Figure 4: MOBI's annual revenue by monthly active user compares favorably and is rising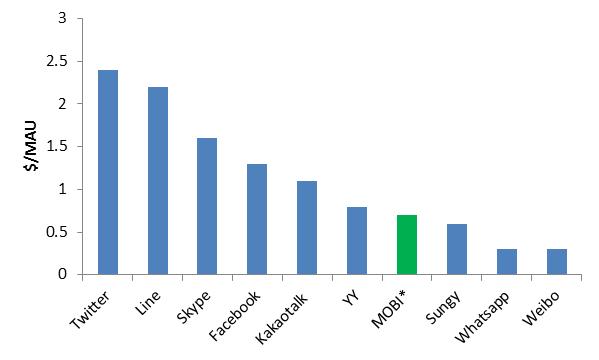 Source: Credit Suisse, company filings. *MAUs are estimated from 20-F filing, section describing active users. Revenues are CY2013, which were predominantly due to feature phones
Valuation and Conclusion
Larger companies such as QIHU, BIDU, CMGE and 700.HK (Tencent) have been stock market darlings. In the past year, all stocks have performed exceedingly well and all now command high valuations. QIHU continues to exceed expectation as its mobile app store continues to drive significant growth for the firm. BIDU share price was going nowhere until it bought 91 Wireless for its Android App store for $1.9 billion in its biggest announced acquisition. As a result, in the past year, BIDU shares rose approximately 85%, which is impressive for a company with a market cap. of approximately $60B.
The comparable group trades at an average of 11x next year consensus sales, while MOBI trades at 2x, a significant discount. We believe this disconnect is due to the fact that most investors continue to view MOBI as a feature phone play. But as we alluded to in the previous section, currently more than 50% of its revenues are from smartphones and by year-end the contribution will be close to 90%. Thus, we currently view MOBI as a misunderstood and deep-value play.
We provide three scenarios while creating our valuation model. We are conservative and apply a modest multiple of 4x to 8x (but yet a discount to the group), and compute a base target price of ~$21, which suggests significant upside to current levels.
Figure 5: MOBI is immensely undervalued compared to peers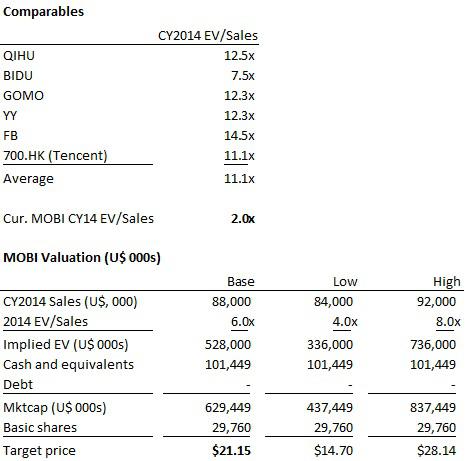 Source: Bloomberg, company filings and CCM estimates
Disclosure: I am long MOBI. I wrote this article myself, and it expresses my own opinions. I am not receiving compensation for it. I have no business relationship with any company whose stock is mentioned in this article.