(Editor's Note: This article covers a stock trading at less than $1 per share and/or with less than a $100 million market cap. Please be aware of the risks associated with these stocks.)
This article is the second in a multi-part series explaining the bullish case for Bovie Medical Corporation (NYSEMKT:BVX), a maker of electrosurgical generators and accessories. This article discusses the company's sales and balance sheet, showing they are stronger than they may first appear, and goes on to analyze market entry of the company's new J-Plasma technology.
The long case for Bovie Medical espoused by this author has been that current pricing by market reflects Bovie's existing product line and sales figures and that the company's potential for future sales and product growth has not been adequately priced in by the market. The author's contention is that the stock remains undervalued when considering the large scope for value creation represented by Bovie's new product pipeline and factoring in the likelihood of these products succeeding in the market.
The first article in this series looked at recent management changes and the resolution of legal issues that the company had been involved in. Future articles in this series will examine the products and product pipeline, competitive position, prospects for deals with larger medical device companies, and other pertinent items related to the company's current situation and future prospects.
The Revenue Drop Examined
Bovie Medical press releases reporting on company results for the first three quarters of 2013 (annual results, including Q4 2013 results, have not yet been released) have included a comparison against the same quarter in 2012. In each case, sales figures have been reported as being substantially (e.g., 10% or more) below that of the same quarter in the previous year. For example, the 2013 Q3 reporting mentions that 2013 Q3 sales came in at 13% below 2012 Q3 sales. This can easily mislead a reader into thinking sales are in a steady decline. Looking at the big picture of sales by quarter and year over the past few years shows that this is not at all the case.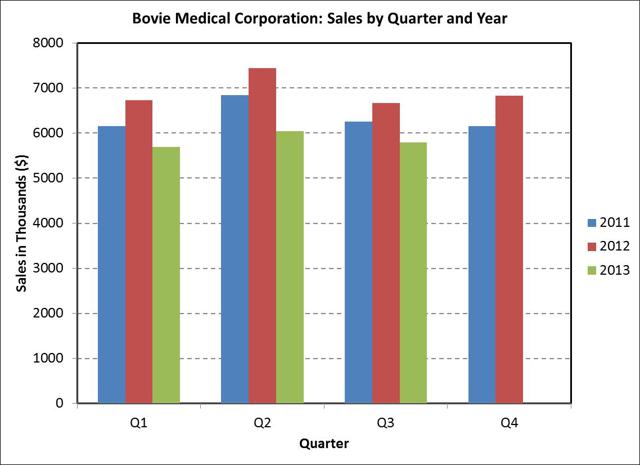 Click to enlarge
Figure 1: Quarterly sales figures for 2011 through Q3 of 2013.
Figure 1 above shows Bovie's sales by quarter for 2011, 2012, and the first three quarters of 2013 (Q4 results not yet being released). Looking at Figure 1 it is apparent that sales were not actually on a downward trajectory throughout 2013 but instead made a single drop at the end of 2012 / beginning of 2013. The Bovie press release on Q1 2013 results tells us why this drop occurred:
"First quarter performance was negatively impacted by the completion of two large multi-year OEM contracts in 2012…"
If we look at quarter-by-quarter results within 2013, it can be seen that revenues are maintaining a consistent level, it's just that the 2013 level is approximately 15% less than that of 2012. Although three years is too small a sample size to draw statistical inferences with any real confidence, it is interesting that a seasonal pattern of rising sales from Q1 to Q2 followed by a drop in Q3 is seen in each of the three years. In 2011, the Q2 to Q3 drop was 8.6%; in 2012, it was 10.3%; and in 2013, it was only 4.1%. Although it is far too early to draw any definite conclusions, this is consistent with a new trend of rising sales.
So even if sales have entered a new rising trend, why isn't Bovie working hard to replace the completed OEM contracts with other contracts, so it can quickly get back to where it was right away instead of in a year or two?
The answer is that Bovie is working on new contracts. The company has not only signaled that new agreements are expected but also that some will be quite important in their impact on the company and will involve larger players in the medical devices industry. Although getting and announcing any finalized agreement has been a slow process, as the year has progressed, Bovie press releases have signaled both an expansion in the number of interested companies and in the depth of their interest.
The November 14, 2013 press release on Bovie's Q3 2013 results included an update on company progress. On the subject of discussions and agreements with other companies and similar topics, the press release had this to say:
Management's preliminary estimates for 2014 include improved sales, based in part upon gains in the Company's OEM business and increases in revenues from the Company's J-Plasma® technology. The Company is currently actively negotiating three OEM opportunities, with one of the proposed transactions in the contract preparation stage with payments to Bovie already having been made for pre-contract technology work. Management also believes that its core business in the physician office market should experience improvement next year…

The Company is currently exploring funding opportunities to enable it to maximize the market opportunities for J-Plasma® in various surgical specialties.
Besides the fact that several different companies have taken an interest in Bovie's products, it is quite significant that at least one company has started making payments to Bovie for technology development work prior to actually signing a contract. This strongly suggests the company in question is quite serious about consummating a contract with Bovie. From a psychological standpoint, it is also an important milestone for Bovie. Companies may find something interesting, but actually putting money down often makes a big difference in how they view the technology or product. Prior to investing, it's someone else's; once they put money down, they have begun to psychologically buy into it as something that is also partly theirs and their motivation to see it succeed rises sharply.
Negotiations with other companies will be examined in more detail in another article in this series.
Bond Repayment Acceleration: Not a Problem
Bovie Medical Balance Sheet as of 30 September, 2013

Assets

All numbers in thousands

Current Assets

Cash And Cash Equivalents

2,501

Trade accounts receivable, net

2,096

Inventories, net

8,526

Current portion of deposits

731

Prepaid expenses and other assets

637

Total Current Assets

14,527

Property and Equipment, net

7,095

Brand name and trademark

1,510

Purchased technology and license rights, net

598

Deferred income tax asset, net

2,874

Deposits, net of current portion

280

Other assets

803

Total Other Assets

13,160

Total Assets

27,687

Liabilities

Current Liabilities

Accounts Payable

1,171

Accrued payroll and vacation

359

Current portion of mortgage note payable

286

Current portion of settlement

23

Accrued and other liabilities

1,329

Total Current Liabilities

3,168

Mortgage note payable, net of current portion

3,030

Derivative liabilities

68

Total Other Liabilities

3,098

Total Liabilities

6,266

Total Stockholder Equity

21,421

Net Tangible Assets

19,313

Current Ratio (Current Assets / Current Liabilities)

4.59

Quick (Acid Test) Ratio (inventories excluded)

1.89

Debt Ratio (Total Liabilities / Total Assets)

22.6%
Table 1: Bovie Medical's balance sheet as of the end of Q3 2013.
Despite recent losses, Bovie actually has a strong balance sheet, as seen in Table 1. As of September 30, 2013 the company had over $14.5 million in total current assets, including $2.5 million in cash and cash equivalents, $2.1 million in net trade accounts receivable, and $731K in the current portion of deposits. Tangible assets comprise the vast majority of the company's $27.7 million in total assets. On the liabilities side, the company had a total of $6.3 million, of which $3.2 million were current liabilities. The current liabilities included $1.3 million of accrued and other liabilities (e.g., due to the outcomes of legal proceedings) and $1.2 million of accounts payable, with the remainder including smaller items such as accrued payroll and accrued vacation.
Since the end of Q3 2013, the Keen and Livneh lawsuits have been resolved, as described in the previous article in this series ("Bovie Medical: Encouraging Management Changes and Resolution of Legal Issues"). This will have an effect on the balance sheet, as described in that article. An additional effect not covered in that article is that the loss of the Keen lawsuit put Bovie in breach of financial covenants governing company bonds held by PNC Bank, leading to a change in terms, including accelerated repayment. As of the end of Bovie's third quarter on September 30, 2013, the value of the bonds outstanding was $3,316,000, of which $286K was classified as a current liability, with the full amount outstanding coming due on October 1, 2014.
With such a strong balance sheet, Bovie could in theory pay the remaining bonds off without any external sources of additional funding, although it would leave the company in a very tight position with respect to working capital. Shortly after the change in the bond repayment terms, Bovie stated it planned to identify a different lender to replace PNC Bank. The recent $7 million equity investment in Bovie led by Great Point Partners (NASDAQ:GPP) is more than double the amount needed to fully repay the bond, effectively making the issue moot. The remaining amount is slated to support sales growth of new products.
Share Issue Strengthens Situation
As mentioned earlier in this article, Great Point Partners (GPP) led a $7 million equity investment in Bovie in December 2013. The large majority of this investment was by GPP themselves, with a minority coming from other accredited investors. In exchange for this investment, the investors received 3.5 million shares of Series A 6% Convertible Preferred Stock and 5.775 million common stock purchase warrants. The convertible stock is to accrue interest for four years before any payment is made. It is convertible into common stock on a 1:1 basis. The warrants are exercisable at $2.387 beginning six months after their date of issue and expire 66 months after being issued, subject to some terms and limitations.
As of September 30, 2013 there were 17.7 million Bovie shares outstanding. The GPP-led investment could increase this total by 9.275 million shares if all preferred stock is converted and all warrants exercised. Exercise of the warrants would bring Bovie an additional $13.8 million beyond the $7 million already received. Although conversion of all preferred stock and exercise of all warrants would result in prior shares being diluted by about one-third of what they represent in company ownership, Bovie's war chest for product finalization and commercialization would be greatly enhanced. Potential partners may have been sitting on the fence waiting to see what happens and hoping to have an opportunity to drive a hard bargain. Seeing the large improvement in Bovie's financial situation could be what triggers them to get down, step up to the plate, and make a deal.
What's Really Going on With J-Plasma Sales
The Bovie Medical 10-Q reports for Q1, Q2, and Q3 of 2013 list quarterly sales figures for J-Plasma of $5,000, $11,000, and $12,000, respectively. A previous SeekingAlpha article ("J-Plasma Progress And Near-Term Prospects") by this author included the following statement:
"Although J-Plasma commercialization has nominally begun and some units sold, it appears that Bovie Medical's current J-Plasma focus is on marketing -- including building a solid track record of clinical results -- in preparation for the de facto product launch."
This still seems to still be the case. Although the Bovie Medical website has a list of manufacturer's representatives for Bovie's existing electrosurgical product line, it remains the case that there is no list of sales contacts for the J-Plasma. Even the dedicated J-Plasma website lacks such a list.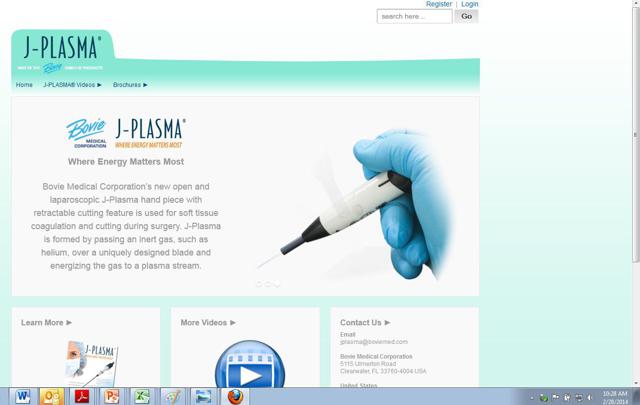 Click to enlarge
Figure 2: Screenshot of Bovie's dedicated J-Plasma website showing that no list of J-Plasma sales representatives is available (unlike Bovie's bread-and-butter product line).
Since writing the previous article discussing Bovie Medical's J-Plasma launch strategy, this author - who was unable to attend the Annual Shareholders' Meeting in July 2013 - has been informed by an attendee that company management confirmed the lending (rather than sale) of J-Plasma systems to physicians for use in different application spaces. This is consistent with the idea that management's focus is on building a public record (e.g., medical conference presentations, medical journal articles) of very positive results from J-Plasma as a base from which to later launch the real sales effort. Another possibility (which could actually be an option being pursued simultaneously) is a partnership with (or even a buyout by) a large medical devices firm that could render any large-scale J-Plasma sales effort by Bovie obsolete. The statement from Bovie's November 14, 2013 press release on Q3 results that "The Company is currently exploring funding opportunities to enable it to maximize the market opportunities for J-Plasma in various surgical specialties" (quoted at length and discussed earlier in this article) is consistent with the latter interpretation and will be discussed in greater detail in a future article in this series.
Underlying Strength
A previous SeekingAlpha article ("Bovie Medical and the Point of Value Recognition") on Bovie Medical made the case that Bovie's share price values the company based on sales of its existing product line, with little or no value imputed to its technology and product pipeline. This is still effectively the case. It should be pointed out that although Bovie has had some quarters here and there (particularly in 2013) when profitability has been minimal or losses have occurred; this is not a reflection of the underlying profitability (or lack thereof) of Bovie's product line. The company has incurred large expenses in connection with legal actions (e.g., over $1 million in 2013) and with R&D and other expenditures on new medical device technologies that are being prepared for market entry and not yet generating significant revenue (e.g., several million dollars have been spent over the past several years on J-Plasma).
The recent changes in Bovie management and the raising of additional capital (sufficient to pay off all the company's bond debt while simultaneously increasing its cash reserves by several million dollars) have further strengthened Bovie's position. If an interested party was waiting to consummate a deal in the hope that Bovie's situation would deteriorate and allow a hard bargain to be driven or assets to be acquired at fire sale prices by direct purchase from Bovie, any such opportunity has now past.
A final word of caution: Bovie Medical experienced a lot of volatility in its share price between 2006 and 2010. Its share price has been much steadier since then. Nevertheless, being a small company with a low market cap, anyone investing in Bovie should be mentally prepared for potentially large swings in the share price. Also as a consequence of its small size and comparatively narrow product range, Bovie has a higher than average risk of being overtaken by competitors or events such as sudden product obsolescence in face of new technology. Exercise care.
Disclosure: I am long BVX. I wrote this article myself, and it expresses my own opinions. I am not receiving compensation for it. I have no business relationship with any company whose stock is mentioned in this article.