Ralph Lauren founded the firm Ralph Lauren (NYSE:RL) in 1967 and has been CEO and chairman since the initial public offering in 1997. Recently he sold off a sizeable chunk of shares. For this article I'm relying on the data provided by Morningstar.
From my research on the subject it appears insider selling is less reliable of a signal as insider buying. This makes intuitive sense to most investors. You can sell stock for all kinds of reasons but you buy stock for only one reason: You think it's going up.
Over the past six months and one year, the stock price has been going down. This is significant because, according to the writing of insider trading expert George Muzea, insiders don't like to sell after declines. Behavior they share with regular investors.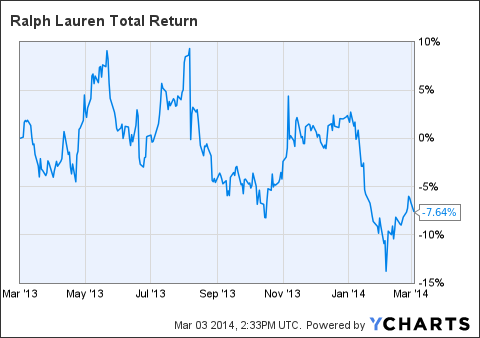 RL Total Return Price data by YCharts
I've developed a checklist to be able to discriminate between insider trades. I weigh a number of different factors to arrive at a HIT-score. After performing this analysis on a number of insider trades this will provide additional context to score the strength of the signals.
| | | |
| --- | --- | --- |
| Positive Insider Buying Signals | Ralph Lauren | Notes |
| Buying after 6mnth stock price decline | N/A | |
| Buying after 6mnth stock price increase | N/A | |
| Operations Officers Buying | _ | |
| CFO Buying | _ | |
| Directors Buying | _ | |
| Female insider buying* | _ | |
| Insider Increasing position by 33% in negative trending stock | _ | |
| Two or more insiders are buying | _ | |
| Four or more insiders are buying | _ | |
| Buying insiders have favorable track record | _ | |
| | | |
| --- | --- | --- |
| Negative Insiders Buying Signals | Ralph Lauren | Notes |
| Selling after 6mnth decline | X | |
| Selling after 6mnth stock price increase | N/A | |
Selling into weakness
I started this "investigation" into Ralph Lauren because the founder/CEO sold a large block of shares. Over the past 12 months he decreased his holdings by 6%. According to the Morningstar figures the average insider of Ralph Lauren decreased his holding by 8%. By itself insider selling is not very reliable. But the fact that the founder is selling after a price decline increases the importance of the signal. George Muzea describes this phenomenon in his writing but isn't sure about the reason behind it.
My theory is that insiders behave very much like regular investors and are not likely to sell after declines because the "losses" increase their appetite for risk. They are more likely to wait and make back their money. This means that it takes a greater threat to convince them to sell after all.
No mitigating factors
At this time there are a lot of factors that go into my checklist that could mitigate the insider selling. The checklist has been developed in the first place to score the strength of insider buying signals. The insider buying at Ralph Lauren qualifies for none of the mitigating factors.
Because of this lack of mitigating factors the HIT-score I've calculated is only 10. Although I've only scored a limited number of companies, this is the lowest HIT score so far. For example the HIT score of the insider buying at JPMorgan Chase & Co (NYSE:JPM) was 60.
This leads me to believe Ralph Lauren is likely to lag the S&P 500 over the next six months.
Cliff Notes
Insider selling is less reliable compared to insider buying
CEO/Founder selling
Insiders on average are selling over TTM
HIT score is lowest calculated so far
Ralph Lauren likely to lag the market
Disclosure: I have no positions in any stocks mentioned, and no plans to initiate any positions within the next 72 hours. I wrote this article myself, and it expresses my own opinions. I am not receiving compensation for it (other than from Seeking Alpha). I have no business relationship with any company whose stock is mentioned in this article.