Leader in Mobile Security Trading for Big Discount to Sum of the Parts Valuation
Business Description: AVG Technologies (NYSE:AVG) develops and provides internet users with software solutions and online services that simplify, optimize, and securely enhance the Internet experience. The company designs antivirus and Internet security products. Its product portfolio targets consumers and small businesses, and includes Internet security, personal computer performance optimization, online backup, mobile security, identity protection, and family safety software.
We view AVG as operating in three business segments: security subscription, platform, and mobile. AVG's security subscription business is the largest segment (78% of 2014 revenue), generating an estimated $300 million in revenue and $130 million of EBITDA in 2014. AVG has successfully grown subscription revenues at an 18% CAGR since 2011, driven by growth in subscribers, migrating users to higher ASP products, and through add-on products like PC TuneUp. AVG's platform business (22% of 2014 revenue) has been more controversial of late, given the changes to third-party search toolbar deals with the likes of Google (NASDAQ:GOOG) and Yahoo (NASDAQ:YHOO). AVG intends to exit this part of the platform business, which will cause the platform business to drop from about $155 million in revenue in 2013 to an estimated $90 million in 2014. The last, but not least, business is the mobile business. Technically, AVG includes this business within the subscription business, but we view this as a distinct opportunity given the rapid growth in subscribers over the last two years. While the mobile business does not generate a substantial amount of revenue today, given its user base in excess of 70 million, we believe that is about to change.
Hidden Value in Mobile Business: We believe that the investment community is massively undervaluing AVG's mobile security business. There is a substantial need for quality mobile security, particularly for Android devices, which are vulnerable to malware. With an installed base of over 1 billion Android devices globally, there is a huge opportunity to provide users with a secure experience. Given AVG's proven leadership in providing PC security software, the company has a strong advantage in attacking this opportunity. AVG's mobile suite of security products is already very successful, and AVG has the leading security app within Google Play store, with over 100 million downloads. The growing need for mobile security is evident in the fact that AVG grew its mobile subscriber base over 160% YOY in the most recently reported quarter. Currently, AVG has over 70 million users of its mobile security products, and we conservatively estimate that by the end of 2014, AVG's mobile user base will be well in excess of 100 million.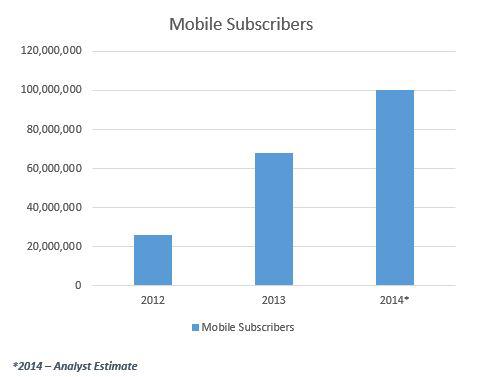 AVG's Mobile Business Value. It is abundantly clear that computing is migrating from a PC-centric world to a mobile world. This has driven rapid fundamental growth, as well as the value of mobile-centric businesses. In assessing how much AVG's mobile business is worth, we look at AVG's installed user base and compare it to other companies with a significant mobile presence. The below table highlights the average monthly user base for each of the comparison companies, as well as the enterprise value of each of the companies. From this, we calculate an enterprise value per mobile customer. The comparable group has an average enterprise value per monthly average user of $80.13.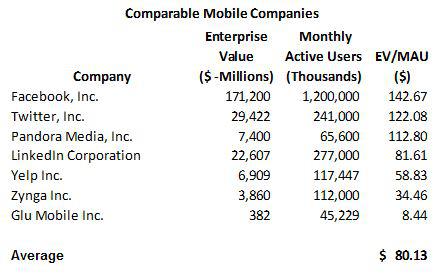 While the business models of the comparable companies may differ (advertising, gaming, stage of monetization, etc.), and not all of the monthly average users are mobile, what is very clear is that even at the low end of the range for the comparables, AVG's mobile business alone would be worth nearly as much as the total current enterprise value of AVG. With an installed mobile base of at least 100 million users by the end of the year, and using a conservative $10 value per user, drives a $1-billion valuation for AVG's mobile business alone.
Sum of the Parts Suggests AVG Shares Significantly Undervalued. To assess the total enterprise value of AVG, we look at the fundamentals and value of AVG's business segments. To be conservative, we ascribe NO value to the platform business, even though we believe there is sustainable revenue from organic search of about $40 million per year. We also approach our SOTP analysis using a "conservative" and "bullish" scenario and taking the average for our SOTP expectation. As can be seen in the table below, even the "conservative" scenario generates an expected stock price well above AVG's current level. The "bullish" scenario, which we believe incorporates more optimistic, but very reasonable assumptions, drives an expected stock price nearly triple AVG's current price. Averaging the two drives what we believe is a fair SOTP stock price of $36, representing substantial appreciation from the current stock price.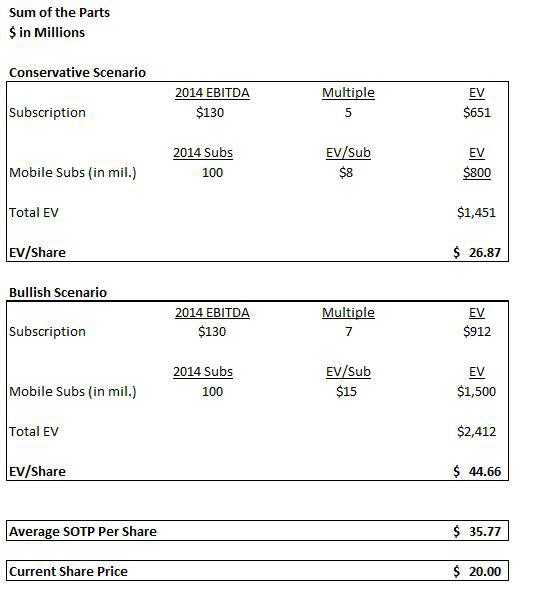 We recommend investors take advantage of the misplaced concerns around AVG exiting the third-party toolbar business and purchase shares immediately, with an expected return of 70% or more within twelve months.
Disclosure: I have no positions in any stocks mentioned, but may initiate a long position in AVG over the next 72 hours. I wrote this article myself, and it expresses my own opinions. I am not receiving compensation for it (other than from Seeking Alpha). I have no business relationship with any company whose stock is mentioned in this article.