Kudos to WhatsApp for fetching the mind-boggling USD 19B price tag. Interesting to see whether SnapChat can pull off something similar in 2014. However, from the perspective of us 99.9%, who have not invested in these two apps, this year's focus should be squarely on Tinder, a social dating app that is majority-owned by IAC/Interactive Com (IACI). In a nutshell, we argue that while Tinder's implied valuation today is very low, it could prove to be worth more than IACI's current market cap of $6.4B.
IACI: Healthy Earnings Growth In Core Segments
You might know IACI as a holding company of more than 150 online brands and products, mainly focused in the areas of online dating, search and streaming media. Its portfolio of websites includes Ask.com, About.com, Match.com, HomeAdvisor.com and Vimeo.com.
According to a recent 10-K filing, IACI's 2013 EBITA grew 21% from 2012. As seen in the graph below, this growth is driven by very healthy trend in IACI's two core units, Search & Applications and Match (i.e online dating brands). On this basis alone, we consider IACI's valuation as attractive, given that it is trading at forward P/E of 17.
Graph: IACI's segment EBITA, 2011-13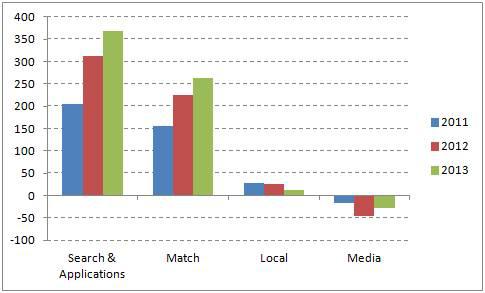 Tinder: Explosive Growth With Extreme Engagement
However, the fact that IACI owns Tinder makes us confident that this stock will double in 2014. The beauty of Tinder is its simplicity. Bloomberg Businessweek features an excellent summary of what Tinder does:
It's a pathologically addictive flirting-dating-hookup app. The first step in using it is to sign in with your Facebook ID, which gives Tinder your name, age, photos, and sexual orientation. There is no second step. You're immediately shown the face of a person of your preferred sex, and, again, there's only one thing to do: Swipe right if you like what you see, swipe left if you don't. Another face instantly appears for appraisal, and then another.
The genius stroke of the app is that when somebody right-swipes you back, a match is created, creating a chat connection and a warm fuzzy feeling of instant gratification. And if they left-swipe you, you will never know. All reward, no risk. Just google it, or better yet, try it, you will get it immediately.
IACI has not started to monetize Tinder and does not provide any data on the number of users or total downloads. However, according to a recent presentation by Tinder's CEO, the company is currently averaging 750 million swipes (i.e. profile views) and 10 million matches per day. This implies exponential growth, as these same metrics amounted to 100M swipes and 2m matches in August 2013, a mere six months ago. An average user is said to spend 60 minutes per day on Tinder.
Graph: swipes (profile views) and matches, Aug 2013 - Feb 2014 (source: various articles)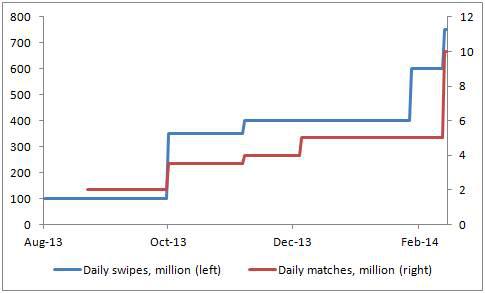 These numbers highlight clearly that Tinder possesses two extremely desirable characteristics: it is growing very rapidly and it generates high levels user engagement. Once it hits 1 billion swipes per day (likely to occur in the next 2-4 weeks), we would expect the company to celebrate this with a big publicity blitz, which is expected lead to increased awareness among investors as well.
Turning Hearts Into Dollars
It is difficult to estimate the addressable market for Tinder. A good starting point is the global online dating market, which is estimated to total some $4B annually. Assuming that Tinder would capture 5% of this would give it $200M in annual revenue.
However, this should be viewed as overly conservative estimate. Online dating services are mostly geared towards people, who are using the services to find the one person for a long-term relationship (singular). Hence, traditional dating services suffer from a 'winner's curse', i.e. once they deliver what the customer wants, they lose this customer. Tinder, in all honesty, is more geared towards relationships (plural), meaning that a successful experience with the service is likely to reinforce customer loyalty and engagement.
Moreover, the casual nature of Tinder means that it is used more flexibly than traditional online dating services. Once the service evolves, we argue that it could start to offer the functionality currently lacking in Facebook (NASDAQ:FB), i.e. how to meet new people of both sexes.
Potential Monetization Opportunities
Today, the use of Tinder is free and the service features no ads. The company has pilot-tested campaign advertising but it is unclear whether these have actually generated meaningful revenue for Tinder. We argue that Tinder's high engagement levels offer (at least) the following monetization opportunities:
Real-time vs. delay. Today, all Tinder users have access to new profiles as soon as they become available. We argue that Tinder users would be willing to pay to have access to new profiles in real-time, while those that use the free service would have to live with a e.g. 3-hour delay.
Pay as you go. In this approach, a user would get the first e.g. 50 profiles for free, after which he/she would pay USD 0.99 for the next 50 profiles.
Ads between profiles. For example, every tenth profile could be an ad, which could also incorporate the swiping feature of Tinder, i.e. users would be asked to provide feedback on the ad.
There are surely many other monetization opportunities. However, we argue that these three could be launched tomorrow without compromising Tinder's growth rates or engagement levels.
Potential Risks
In our view, IACI's current valuation (forward P/E of 17x) assigns very little value to Tinder. This means that if the company were to fail in its monetization efforts or if users would switch to a new dating app, the impact on IACI's valuation should be limited.
The End Game
Our conservative base case estimate is that once it starts to monetize, Tinder should generate $400M in annual revenues. This would require it to capture 10% of the current value of the global online dating market. As argued above, Tinder's use case is much broader compared to today's dating services, meaning that this estimate is likely to prove very cautious.
Assuming $50M in annual marketing and user acquisition costs, this would imply USD 350m boost to IACI's annual operating income. Taxed at 32%, these earnings would have boosted IACI's 2013 net income by 84%. Hence, once the potential of Tinder starts to become more obvious, we expect IACI's share price to double.
Tinder's rapid growth is likely to trigger acquisition speculations. An app like Tinder, where people spend an average of 60 minutes per day, would be a great complement to any company that is keen to expand or defend its position in the social networking space. Facebook could use it to strengthen its presence in the young adult segment and use the underlying technology as a tool for users to explore new friendships. Yahoo (NASDAQ:YHOO), which last year paid $1.1B for Tumblr, could buy Tinder to further extend its presence in social networking.
Conclusions
We argue that IACI's current valuation (2014 P/E of 17 for a company with expected EPS growth of 18% in 2015) assigns very little value for Tinder. In our base case, we argue that Tinder should add USD 350m to IACI's annual EBITA, motivating a 84% increase in annual EPS. Once achieved, this would contribute to significant expansion in IACI's multiples, indicating that its share price should at least double from current levels. Moreover, once Tinder starts to disclose its user statistics and outlines its monetization strategy, it is likely to attract interest from various potential bidders. This could produce an outcome, where IACI divests Tinder for a price tag that clearly exceeds its current market capitalization ($6.4B)
Disclosure: I am long IACI, FB. I wrote this article myself, and it expresses my own opinions. I am not receiving compensation for it. I have no business relationship with any company whose stock is mentioned in this article.