By Allen Good
Despite reporting another round of losses for the first quarter, independent refiners sounded an optimistic note during quarterly conference calls. Given the recent rally in refining margins, the fourth quarter of 2009 may prove to be the trough in refining margins. However, while margins have improved, they remain well below the levels seen only a few years ago and still may be insufficient for refiners to achieve profitability. The improvement, however, raises the question: Is now the time to finally buy refiners? To answer that question, it pays to examine why margins have rallied, as well as some factors that may contribute to additional upside.
Cutting Capacity
Refiners typically have little control over the market forces that determine much of their performance. Their largest cost of production, crude oil, is largely set by global supply-and-demand factors. Meanwhile the prices of their output, refined products, are generally set by regional forces. This disconnect can often cause refiners' profitability to vary depending on any number of global and domestic economic conditions. Such was the case in 2008, when accelerating demand in China sent oil prices to $150. Refined product prices in the U.S. failed to rise at a similar rate, resulting in dramatically narrowing refining margins. Since that time, regional factors have played more of a role in refiners' struggles. For the past year, demand levels for refined products waned as a recession in the U.S. resulted in parked cars and idle trucks. Suddenly, the U.S. became over-supplied and inventories ballooned. (Click to enlarge)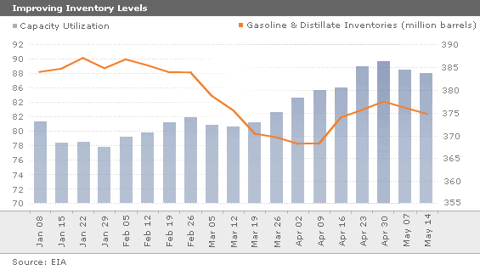 Click to enlarge
In this situation, one tool that refiners do have to combat weak margins is to cut capacity. While they were slow to do so, refiners eventually cut refining capacity by accelerating turnarounds, idling cokers, and in some cases closing entire facilities. As shown in the graph above, the industrywide cuts in production eventually led to lower inventory levels and improved utilization. Combined with a slight increase in demand, margins also began to improve from the fourth quarter, as shown in the graph below. The improvement continued well into the second quarter, and likely fueled refiners' optimism for second-quarter profits.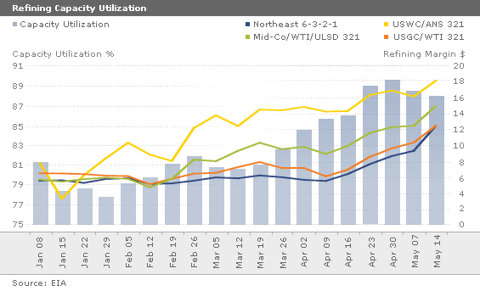 Click to enlarge
What to Look For
Though margins have certainly improved from the depths of the fourth quarter, we must have some faith in further improvement or at least sustainability of current margin levels in order for refiners to be considered a buy.
Predicting the future path of refining margins can be a precarious task. However, we can monitor various economic data to give us a clue as to the potential future relative strength or weakness of margins.
As we mentioned earlier, a key determinant of refining margins is demand. Generally, we divide demand into two categories, gasoline and distillate, given their different uses and sources of demand. Gasoline consumption is driven in large part by daily commuting to and from work. As a result, it is beneficial to look at the unemployment rate as a proxy for gasoline demand. The high unemployment levels of the past two years have led to weak gasoline demand.
As the graph below shows, gasoline demand has begun to pick up in recent months. Part of the increased demand is likely attributable to the improving, yet still weak, job picture. However, as the graph also shows, gasoline demand remains well below 2007 levels when refiners saw historically high refining margins.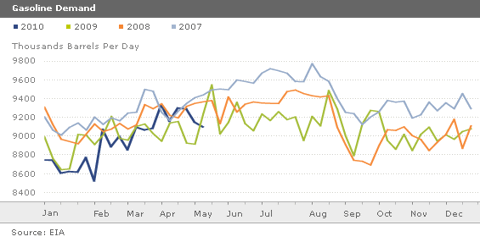 Click to enlarge
Something else to note in the graph above is the general rise in demand levels beginning in May and lasting through August. This is commonly referred to as the summer driving season. While demand levels will likely rise similarly in the coming months of 2010, like previous years the effect is simply seasonal and not necessarily an indicator of an improving refining environment. However, if the recent pullback in oil prices holds throughout the summer, we may see an even greater summer effect this year as consumers take advantage of the relatively low gasoline prices.
Looking at Distillate Demand
Contributions from the margins on distillate products (primarily over-the-road diesel) are also critical to overall refining margins. Given how heavily distillates are used as the fuel for trucks and trains, demand is largely determined by the general level of domestic economic activity and the shipping of goods across the country. Like gasoline demand, distillate demand suffered when the global economy entered a recession. However, recent signs indicate that distillate demand is slowly showing signs of recovery. For example, the American Trucking Associations' Truck Tonnage Index indicates trucking activity is increasing since the beginning of the year. While not necessarily indicating an increase in the number of trucks on the road (i.e. more diesel consumption), the index does reflect increasing volumes, which should lead to increased consumption. As shown in the graph below, diesel margins are also beginning to improve.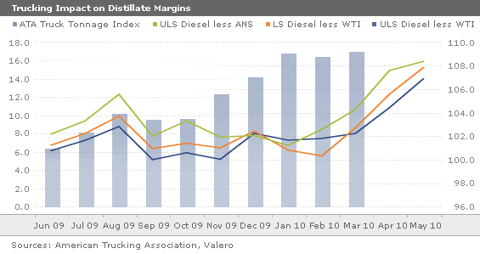 Click to enlarge
While the increasing trucking activity may portend future strength in refining margins, it likely has had little effect year to date. Several refiners mentioned in their quarterly conference calls that they saw trucking demand lag in the first quarter compared to strength in railroad and farming demand. Also, distillate margins likely benefited from a strong export market to Latin America due to refinery outages. However, the increasing trucking activity as measured by the index could indicate a future catalyst for distillate margins.
What Could Go Wrong
Even though margins have shown significant improvement since the fourth quarter and demand appears to be heading in the right direction, concerns still remain. One area of concern is the current level of capacity-wide utilization. As our first chart shows, refiners realized some success in reducing inventory levels by cutting production. However, as inventory levels fell and margins rose, refiners began to utilize once-idle capacity. As a result, inventories are once again on the rise. If demand does not continue to improve throughout the summer, refiners could once again build record inventories, resulting in depressed margins. Additionally, as margins in the U.S. improve, imports will likely also increase, potentially adding to inventory levels.
Also, it is important to keep in mind that increasing demand levels do not necessarily mean high levels of demand. As our third chart showed, during the past two years gasoline demand was well below 2007 levels, when the U.S. market was capacity constrained and refiners' stocks soared. A chart for distillate demand would tell a similar story. Only a small portion of the capacity cuts in the past year were permanent. Additional permanent refinery closures may be necessary to balance the domestic refining marketplace. Also, increasing global refining capacity combined with improving fuel efficiency likely will continue to pose a significant headwind for domestic refiners.
Is It the Time to Buy?
With refining margins rising year to date, we believe refiners should continue to report improved results in the coming quarters. However, doubts about the sustainability of the improvement in profitability currently outweigh the potential upside, in our opinion. While we believe that demand (particularly in the U.S.) will continue to rebound through the rest of the year should the economy not weaken, margins are unlikely to move much higher unless demand rises enough to challenge existing capacity levels, which we see as unlikely. In the first part of the year, margins not only benefited from lower refining activity in the U.S. but also internationally in Latin America and Europe. Refiners were able to export product to these markets and avoid competing with product from export-oriented refineries in Asia. Higher margins have already prompted U.S. refiners to raise production levels. Increased import volumes are likely to follow, threatening to build inventories and erode margins.
In the short term, stronger-than-expected demand or temporary production outages could send refining margins much higher. Given refiners' high level of operating leverage, profits and stock prices could respond positively to such events. However, any benefit is likely to be temporary, and stock prices will likely retreat if these positive fundamentals prove unsustainable. We continue to believe negative long-term trends, such as higher fuel efficiency, increased ethanol usage, carbon legislation, and foreign export oriented refineries, will limit the ability of U.S. domestic refiners to generate strong returns. However, for those inclined to gain exposure to the sector, we continue to recommend the refiners with the right competitive advantages.
Disclosure: Morningstar licenses its indexes to certain ETF and ETN providers, including Barclays Global Investors (BGI), First Trust, and ELEMENTS, for use in exchange-traded funds and notes. These ETFs and ETNs are not sponsored, issued, or sold by Morningstar. Morningstar does not make any representation regarding the advisability of investing in ETFs or ETNs that are based on Morningstar indexes.