Microsoft (NASDAQ:MSFT) Windows OS phone has been the whipping boy of the smartphone industry for quite a while, joining BlackBerry (NASDAQ:BBRY) in the ranks of smartphone operating systems ("OS's") considered almost irrelevant by many observers. The war between Android and iOS has been the centre of attention.
In my opinion, Window phone poses a greater threat to iOS than Android. While Windows phone is not as popular as iOS on a global basis, it actually leads iOS in terms of unit shipments in 24 countries according to a January 21, 2014 article in Forbes. More importantly, Windows phone OS is moving ahead in key markets which represented where most of the growth will take place in the next few years.
Charles Arthur published a January 13, 2014 article in The Guardian giving quite a detailed break out of the smartphone industry sales by country and where the growth was likely to be in 2014. The forecast data were from Mediacell and were also published by Quartz in Leo Mirani's January 16, 2014 article highlighting why Hewlett Packard chose India to launch is new voice enabled tablets.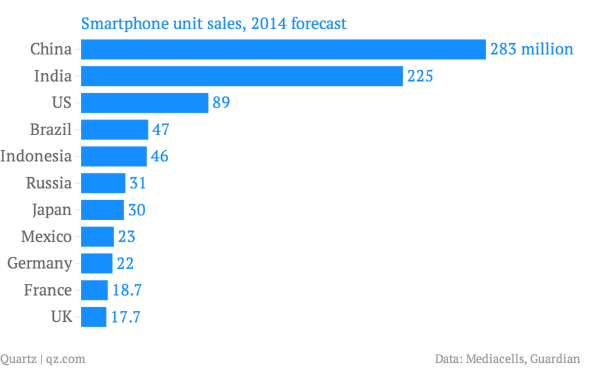 What was striking from the forecast data was just how critical emerging markets were going to be to smartphone vendors in 2014.
It is worth noting that the above forecast differs materially from the most recent IDC forecast for China which calls for over 400 million smartphones in 2014. For the purposes of this article I am using the lower forecast referred to above. Both forecasts show the shift of demand from developed markets to emerging markets.
Using the forecast data and applying current market share estimates to see what the regional growth meant to each smartphone platform I published an article concluding that Microsoft and Google (NASDAQ:GOOG) were in a strong position to benefit from the regional shifts in demand.
More recent data are in hand and they reinforce that story. Windows phone OS surpassed iOS in a number of key markets. The market share of iOS in China ended 2013 at 7% versus the 19% estimate in the prior article. If the shares hold, Windows OS smartphones will have a 5.3% share compared to 12.7% percent for iOS as set out in the table below. The green shaded rows are countries where Windows phone OS is outselling iOS.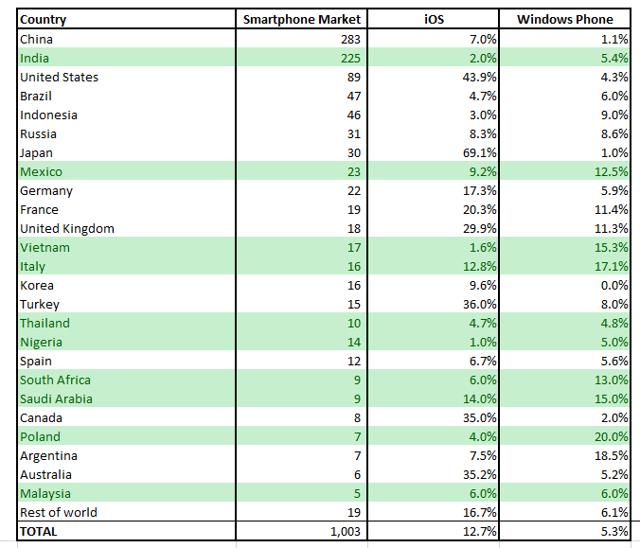 Source: Michael Blair analysis. Market share data from Kantar and my estimates
Market share is dynamic and not static. As a rule, trends in market share tend to persist until a supplier makes a key change that alters the state of things. The iPhone 5S introduction, for example, stemmed share erosion in many areas and saw market share grow in others. The launch of two Lumia phablets in India may have spurred higher sales of Windows phone OS devices. Recent news that the IPhone 4S may be put back into production and offered at a lower price point in India and Brazil could change the market dynamics in that country somewhat. No one should conclude that I am suggesting that market share trends cannot be changed. They can and frequently they do change.
Having said that, the starting point for an analysis should generally be the status quo. From that base, one can judge based on the available information whether a change is likely and in what direction.
Microsoft recently announced nine new OEM partners who are going to produce Windows OS phones: Foxconn, Gioneer, Lava, Lenovo, LG, Longcheer, JSR, Karbonn and ZTE. At the same time it announced support for a broader range of Snapdragon processors; support for all major cellular technologies including LTE; dual SIM capability; and, expansion of its application library to 245,000 applications.
If Windows OS only holds share in world markets it should be in over 50 million smartphones in 2014. With share gains that number could pass 70 million as I see it.
Microsoft is getting serious about mobile and it will have an impact. The Windows OS phones are excellent devices based on my experience with a Lumia 1020. By signing on more OEM's and making it possible for those OEM's to offer Windows OS phones at a broad range of price points by supporting dual SIM and more processors, Microsoft is likely to show strong share gains in 2014.
I have no current holding in Microsoft.
Disclosure: I have no positions in any stocks mentioned, but may initiate a long position in MSFT over the next 72 hours. I wrote this article myself, and it expresses my own opinions. I am not receiving compensation for it (other than from Seeking Alpha). I have no business relationship with any company whose stock is mentioned in this article.