SodaStream continues its volatile trading, but remains down 16.3% since the beginning of 2014 amidst the buzz of the Green Mountain (NASDAQ:GMCR) and Coca Cola (NYSE:KO) deal. From a technical perspective, traders are going to be watching whether or not the share price can break above the constantly descending 50DMA near $42.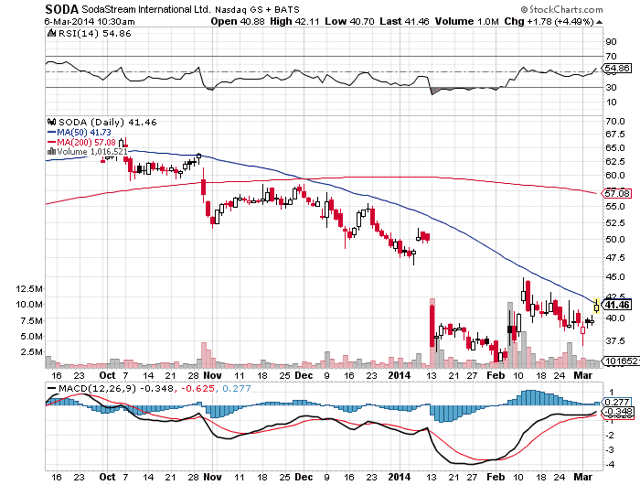 What are we learning about SodaStream (NASDAQ:SODA) this morning? We're learning that the public isn't judging it on the numbers - it may not even be judging it on the coveted rumors of the Pepsi (NYSE:PEP) partnership that hasn't materialized. What we're learning this morning is simply that it looks like the public just wants to know that the home carbonation system is here to stay.
And the good news is, that it likely is.
Why is SodaStream up this morning? Seeking Alpha dropped a hint about Whitney Tilson potentially taking a long position in the company - but it has been sans SEC documentation so far:
SodaStream (+3.6%) shoots higher in early trading on reports that Whitney Tilson has disclosed a long position.
Tilson agrees with the notion that SodaStream is more than a fad.
So far, it's all quiet on the SEC filing front for Tilson's hedge fund.
I wouldn't be surprised if Tilson does come out and stake a piece of SODA at these levels. The stock is trading well off of highs, and I do believe it has long-term potential. Ultimately, the GMCR/KO deal could actually have been one of the best things that could have happened for the company. If Coke's getting involved, it's unlikely that it's a fad that's just going to "go away."
As I said in a past article about SODA:
Sometimes, competition is a good thing. It can spur attention to a market, increase aggressiveness with companies, and create growth. Sometimes, like in the case of Pandora's (NYSE:P) CEO's statements about Apple (NASDAQ:AAPL) entering the streaming radio market, competition is not a good thing.

In this case, it's a positive - and the market seems to like it.
Rick Munarriz at Motley Fool echoes those sentiments almost exactly:
SodaStream shares popped last year on rumors that PepsiCo was interested in acquiring the company. It seemed crazy at the time, but now that Coca-Cola has a 10% stake in Green Mountain and a 10-year lock as a Keurig Cold partner, isn't this a dinner bell for PepsiCo to either partner with SodaStream or swallow it whole? The stock is now trading for a third of the rumored buyout price from last June.

Validation and education aren't always easy feats for a disruptive industry. SodaStream continues to sell a healthy number of beverage makers, but Coca-Cola and Green Mountain entering the market could draw more attention to the niche. This would be a positive for the entrenched and connected market leader: SodaStream.

It doesn't have to play out that way. Keurig Cold may start a price war. PepsiCo may decide to bankroll a third option. The education can come from a stateside company that doesn't carry the political stigma of SodaStream's main facility on the disputed West Bank.

However, the arrival of Keurig Cold is still likely to be more positive than negative for SodaStream.
As I talked about in my last article, SODA still has the edge from the "green" perspective. It seems like every day I see a new article about some earnest hard working mom explaining why she's not using K-Cups or isn't buying bottled water out of fear for bisphenol in her plastics. Regardless of whether or not there's a real threat there, the consumer is going to continue to gravitate towards a bit less plastic when they can.
And if Pepsi isn't going to be the company that takes advantage of that, perhaps some other major beverage company will. Names like Skinnygirl and Sunny Delight continue to partner with SODA - they obviously think the long-term potential is there.
The shorts seem to agree with me, as well. Though it hasn't been mass exodus, the short interest is down a bit since the GMCR/KO deal has been announced.
If you're looking for the answer to whether or not SODA is here to stay, it is. I continue to think SODA is cheap at these levels - I hold SODA calls and may increase my position at any point.
Best of luck to all investors.
Disclosure: I am long SODA. I wrote this article myself, and it expresses my own opinions. I am not receiving compensation for it (other than from Seeking Alpha). I have no business relationship with any company whose stock is mentioned in this article.