In late breaking news, the Department of Commerce International Trade Administration, preliminarily determined that countervailable
subsidies have gone to grain-oriented electrical steel (GOES) producers and exporters from China. This preliminary determination has set the stage for countervailing duties. The conclusion came primarily from an analysis of China's largest steel producer, Baoshan Iron & Steel Co., Ltd. Perhaps the most interesting finding within the 32-page document (login required) involves the specifics of China's latest 5-year plan, specifically around grain oriented electrical steel.
Nonetheless, this along with a recent critical circumstances filing by AK Steel (NYSE:AKS) and Allegheny Ludlum (NYSE:ATI) against three other countries (not China) will likely serve as the death blow for GOES imports into the United States.
Meanwhile, MetalMiner's monthly GOES MMI® registered a value of 216 in March, an increase of 2.9 percent from 210 in February, shown in the graph below. (Our GOES coil price rose 5.2 percent this month.)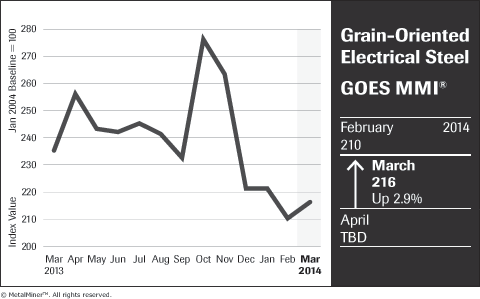 The Catch With "Critical Circumstances"
A critical circumstances petition does not carry a particularly high burden of proof. Essentially, only one of two conditions must exist: the petitioner must show a history that dumping exists (which they can, in this case); or, importers should have known that the prices quoted by exporters were offered at less than fair value and would cause material injury.
The last catch to prove critical circumstances? The Department of Commerce must determine if "massive imports" came in over the period in question.
So how does one define "massive"?
In this case, the period in question includes the third quarter of 2013 as compared to the fourth quarter of 2013. According to the critical circumstances letter filed by petitioners on Feb. 25, the evidence appears to substantiate that last claim ("massive" defined as anything greater than a 15 percent increase between the base case and test period). The letter made critical circumstances allegations of three countries - the Czech Republic, Poland and Russia. That letter provides data that suggests all three countries' exports during the time period in question.
All of this creates a chilling effect, limiting foreign mills from shipping in extra volumes to build inventories prior to the May 2 preliminary determination date. That means conservative importers, fearful of paying extra duties, stopped importing after Christmas, whereas others have continued to build up inventory levels.
What This Means for Metal Buyers
We can expect to see rising prices and, at the same time, falling volumes for the two domestic producers, as most industry participants have begun implementing their Plan Bs, which we have previously covered here.