History:
The summer months offered not only exceptional beach days, but also a wave of news and confusion surrounding BlackBerry (NASDAQ:BBRY). After initially following the company and writing several articles, I came to a sum of parts price tag of $14.51 on the company's shares in one such article.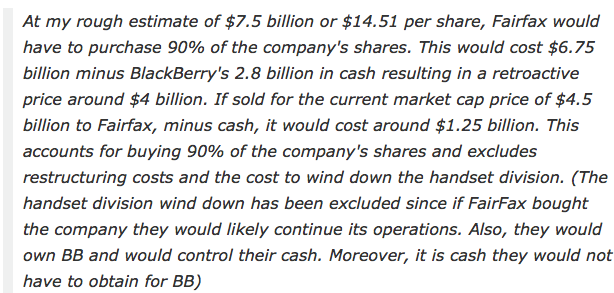 (Source)
It was a rocky time for BlackBerry and to be honest, the risk/reward ratio was hard to see in the face of confusion and numerous problems plaguing the company.

Regardless, I missed the boat on shares at $6.67 on November 5, 2013. Shares faded from those levels into December so I felt somewhat better about my decision. This was before shares began their move to current levels. Shares were higher when my initial article came out, although there may still be room for shares to move higher. It may be better to catch this boat later than never.
Looking Ahead:
Let's be honest, people are not talking about BBM with the same exuberance they were back when it became an app on every device. With 20M downloads, it was a hit. Facebook's recent deal with WhatsApp, BBM's user base gave a rise to BlackBerry's shares.
BlackBerry is moving forward, with a rocky past in the rear-view mirror of anyone in a car driving with Apple's CarPlay. BlackBerry's QNX OS is an automotive software solution that supports Apple's CarPlay platform. QNX's 200+ vehicle design wins are a plus for the company, with Ford set to have QNX leads its next generation of Sync in its vehicles.
BlackBerry is no longer the binary play it was back a few months ago. The rhetoric of it being bought out or being buried is not on the front lines anymore. It may have receded quietly, although this is a major plus for the company. BlackBerry has not only survived, it is moving forward.
CEO John Chen may have been trying to boost shares stating that the company is open to a BBM sale or spin off, although this can unlock serious shareholder value. The downfall is that it would be detrimental to the company as it is a key demand driver for BlackBerry, - so it may have just been lip service to attract attention.
Moving Forward:
BlackBerry is moving forward on all fronts. The company has brought BBM to Windows and Nokia X phones - as the number of BBM users has grown to 80M. The value of BBM has helped shares of the company as the value of BBM has grown to $800M.
BBM is valued in the face of Viber's $900M sale and WhatsApp's $19B sale - but that represents something in limbo. BlackBerry has only a few choices for the application that has grown to be a major part of the company.
They can monetize BBM to earn income from it while using it as a demand driver for its devices.
Put off monetizing BBM and continue to grow the user base.
Sell BBM - while this would kill a major business unit of BlackBerry that is far reaching across the company.
If I was John Chen, I would be selling BlackBerry as a whole deal, and I would not be looking to sell BBM separately - as it encompasses the company's image and devices. I think BlackBerry will continue to grow BBM in the interim, and with Viber and WhatsApp being bought up, it is ever more valuable.
Looking above to my old estimate out of context, I used a cash level of $2.8 billion. BlackBerry's latest report sports a cash and investment level at $3.2 billion. This does not tell the whole story, as BlackBerry raise $1B of cash proceeds from the issuance of convertible debentures back on November 13, 2013.
Dan Loeb's Third Point LLC's 10M-share stake speaks to his confidence in the company to deliver. The company is moving in the correct direction. The tunnel-vision focus of management to focus on enterprise users is a niche market that the company can serve. The company is focusing on emerging markets with the new Z3 BB10 full-touch 5-inch smartphone. The release of the QWERTY Q20 as its new flagship device for enterprise users as well.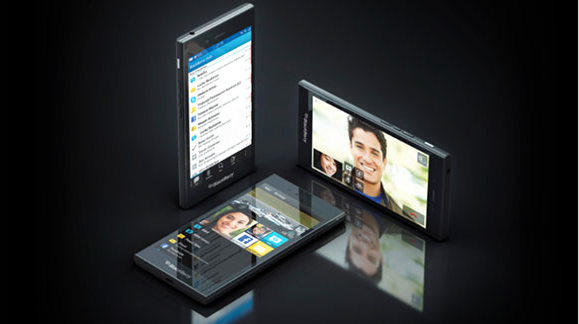 (Source)
This gives off the iPhone 5S and 5C feel - with a focus on two separate demographics. The Z3 is set to launch in April for an unsubsidized price of $200. BlackBerry has faced a declining global market share with a 77% decline in Q4. Granted it was a small market share to begin with, it will be interesting to see if the Z3 can boost international sales.
Slow Down Boeing:
Boeing (NYSE:BA) unveiled a pretty interesting phone last Wednesday. The self-destructing nature of the phone is an attention grabber - but that is not what organic security is looking for. Secure communications is at the top of the pyramid for security - a level of security that BlackBerry offers. BlackBerry is the only company that has been awarded an authority to operate on U.S. department of defense networks. As such a self-destructing phone may steal the show - real secure communications is key to mobile devices. Boeing's plans do offer some interesting key points, such as operating on various frequency bands through the use of dual SIM cards while offering the ability to connect with biometric sensors.
Risks:
BlackBerry is at a point in time where there everything seems to be going great - a time that investors need to be most skeptical. The same imaginary wall that held me back from buying at $6 is holding me back now - is the risk/reward really compelling?
There are several risks affecting BlackBerry. Recently Chen's BBM rhetoric has been unsettling to me. This is due to the fact that a BBM sale will not compensate investors to the degree that would cover the far-reaching damage that a BBM-less BlackBerry would offer. BBM is a key demand driver on BlackBerry's devices, an application that can be monetized successfully and is a secure application that is now available across the device spectrum for free and offers secure messaging. As such without a full company sale, I would not want to see BBM sold. It will be hard to monetize BBM as well, as BBRY has stated they have no intention of putting ADs on the application.

(Source)
BBM is burning cash, fast. Some are stating that the company's $2.6B in cash would be burnt in 18 months. This was before the company raised a billion in debt though. Others have stated that the company could reach cash flow breakeven by 2016 or earlier. If device sales in the Z3 internationally or for the Q20 on an enterprise level squander it, that would be detrimental to the company. RBC Capital Market's view lackluster device sales as a key reason for the cash burn at BlackBerry. As I have discussed earlier, other companies such as Apple offer secure messaging solutions to compete with BBM, such as iMessage. The move in by Boeing and other companies on a security front could be detrimental if any one company gains the compliance level that BlackBerry has with the DOD. Although that is a high mark to reach.
On a consumer level, there are just too many alternatives for someone to choose a BlackBerry. That's why BlackBerry is moving towards international markets (Z3) and enterprise level markets (Q20). If this fails, BlackBerry will be in a very tough position. Early channel checks confirm a rocky picture, as 94% of T-Mobile's customers taking part in the BlackBerry trade-in program switched devices completely.
Conclusion:
At the end of the day, I am neutral on shares of BlackBerry. The company in its entirety (BBM, devices, patents, technology) could be worth a significant amount and shares may reach $14.51 - although the water is just too murky. There is a much better risk/reward ratio in other companies. Some of these companies include Crossroads (NASDAQ:CRDS), International Commercial Television (OTCQB:ICTL) and ViryaNet (OTCQB:VRYAF) - three companies that I have been invested in.

I may have missed the boat on BlackBerry, but I am not missing it. As one of my favorite authors stated in agreement - the risk reward ratio was just not there. If you are looking for ideas to invest in, check out the top three linked articles and let me know what your thoughts are. It's especially hard to make an investment in BlackBerry when the CEO himself is only giving BlackBerry a 50/50 survival rate.
Disclosure: I have no positions in any stocks mentioned, and no plans to initiate any positions within the next 72 hours. I wrote this article myself, and it expresses my own opinions. I am not receiving compensation for it (other than from Seeking Alpha). I have no business relationship with any company whose stock is mentioned in this article.
Additional disclosure: This article is informational and in my own personal opinion. Always do your own research and contact a financial professional before executing any trades.