Our two prior lists of conservative equity income prospects (part 1 and part 2) were based on a series of quantitative operational dimensions that we feel are important. The list in this article is based entirely on the judgment of Standard and Poor's.
In this filter, we identified 60+ companies that meet these criteria:
Yield of 2% or more
Payout ratio of 100% or less
Paid dividends each year for at least 10 years
Rated "B" or better for Earnings and Dividend Strength
Rated 3 or better (on a 1-5 scale) for current Fair Value
Rated 3 Stars or better (on a 1-5 scale) for expected 12-month ahead price performance
The sum of Fair Value and Stars must be at least 7 (at least one of the two as "above average")
S&P rates 4,002 companies for Earnings and Dividend Strength. They rate 2,181 for Fair Value, and they rate 1,394 for Stars (year ahead performance).
Some of these companies may be of interest for further research by "do-it-yourself" equity income investors. We do not make any recommendation with respect to any security in the list. We simply present them as a service to those who are seeking lists of reasonable prospects to study further.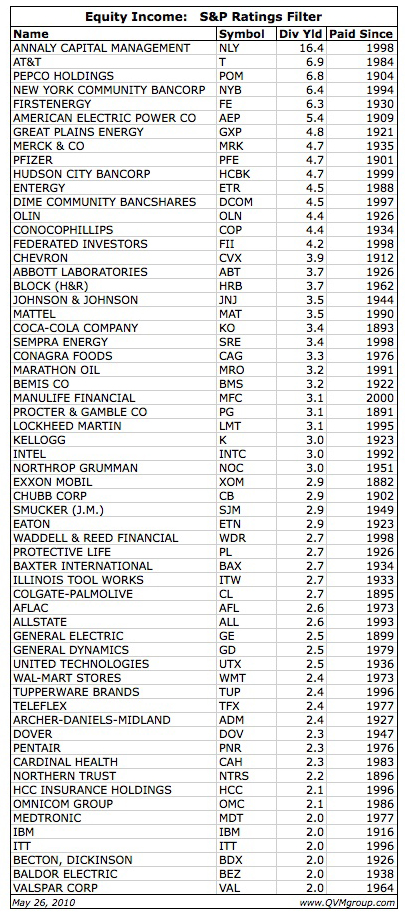 S&P Dividend Aristocrats
You may find it interesting or useful to compare the filtered list above with the S&P Dividend Aristocrats, defined as follows by Standard and Poor's:
The S&P High Yield Dividend Aristocrats index is designed to measure the performance of the 50 highest dividend yielding S&P Composite 1500 constituents which have followed a managed dividends policy of consistently increasing dividends every year for at least 25 years.

The S&P Dividend Aristocrats can be owned in a single security (NYSEARCA:SDY). Its indicated yield is 3.61% after a 35 basis point expense ratio.
Holdings Disclosure: As of May 26, 2010, we have some exposure to PEP mentioned in this article in one managed account as a legacy asset. We do not have current positions at this time in any other securities discussed in this document in any managed account.
Disclaimer: Opinions expressed in this material and our disclosed positions are as of May 26, 2010. Our opinions and positions may change as subsequent conditions vary. We are a fee-only investment advisor, and are compensated only by our clients. We do not sell securities, and do not receive any form of revenue or incentive from any source other than directly from clients. We are not affiliated with any securities dealer, any fund, any fund sponsor or any company issuer of any security. All of our published material is for informational purposes only, and is not personal investment advice to any specific person for any particular purpose. We utilize information sources that we believe to be reliable, but do not warrant the accuracy of those sources or our analysis. Past performance is no guarantee of future performance, and there is no guarantee that any forecast will come to pass. Do not rely solely on this material when making an investment decision. Other factors may be important too. Investment involves risks of loss of capital. Consider seeking professional advice before implementing your portfolio ideas.