Apple (NASDAQ:AAPL) has announced its own car infotainment system called CarPlay. It will be introduced by major car brands later this year, with the aim of replacing their current infotainment systems and implementing Apple's offering from the get-go. Premiere presentations of the system by Ferrari, Mercedes-Benz and Volvo, as well as additional information about Carplay, will be found at the Geneva International Motor Show, which kicks off today.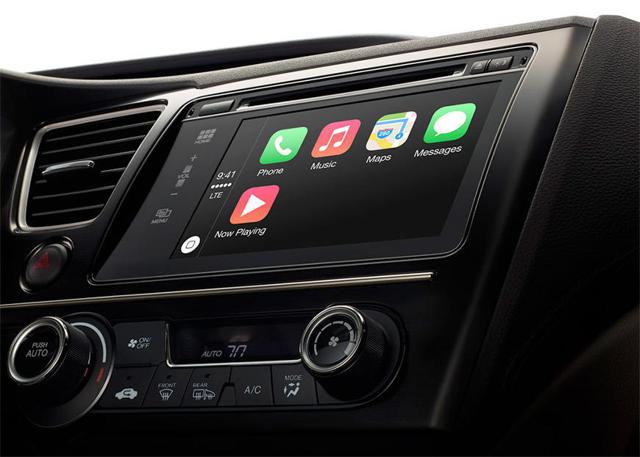 At a first glance, CarPlay might seem like a glorified Microsoft (NASDAQ:MSFT) Sync that is being used in Ford (NYSE:F) cars. CarPlay has similar features to Sync such mobile phone integration, voice control, a touchscreen and a full media center. Some even might criticize it for requiring an iPhone to be connected to the car for the system to function, potentially forcing car buyers to use iPhones for their non-driving activities as well.
Even though more details are needed to make a full assessment, there is enough information already out there that makes me believe that CarPlay is shaping up to be a great future value investment for Apple. Here are the reasons why:
Even deeper brand integration. The car manufacturers who are debuting CarPlay are no ordinary ones. Ferrari is the ultimate status symbol. Mercedes-Benz oozes luxury and professionalism. Volvo has strong family appeal. Integrating CarPlay into their cars right out of the factory will have a powerful effect. It will convert additional non-iPhone users, and when those users drive a Ferrari or a Benz, it will boost the already high-quality image of the Apple brand even further.
Strong future support. Ferrari, Benz, and Volvo are just a start. Apple plans to integrate CarPlay into an army of different car brands in the coming years as it has made deals with major manufacturers, including the other luxurious German giant BMW, General Motors (NYSE:GM), Honda, Mitsubishi, Nissan, Peugeot-Citroën, Suzuki, and Toyota, among others. A notable one that plans to use CarPlay is Ford, which will most likely start replacing Sync for its favor. On the contrary, competitor Google (NASDAQ:GOOG), with it's own solution for an Android-powered infotainment system (called at the moment the Open Automotive Alliance), has lacked behind. They have announced deals with only General Motors, Honda, Audi, and Hyundai so far.
Can work as iPhone insurance. iPhones and the iOS are here to stay and evolve for years to come. By connecting cars and phones, it will create familiarity between the systems for the drivers, who will more likely choose an iPhone again when it is time to replace their phones. Cars last for decades and anchoring iPhones to cars can make the iPhone brand last for decades as well. It will raise the amount of loyal long-term Apple hardware users. Apple could even make a deal with those car manufacturers who will be installing CarPlay to offer free iPhones with a new car purchase. The future value of this is too high to ignore. Besides, even if such a deal isn't being offered, people who buy costly Ferraris and Benzs won't have a big financial issue with getting an iPhone as well so they can get the full features out of their brand new shining cars.
Will boost the sales of the latest iPhone models. Apple is making the new iOS 7 upgrade mandatory for connecting an iPhone to CarPlay. However, since only the iPhone 5 and later models (that have the Lightning connector) can integrate with CarPlay, it is inevitable that people will buy newer iPhones so they can use CarPlay in their new cars.
The "Apple" experience. CarPlay doesn't actually have any new, groundbreaking features. But it is Apple, and that means consumers can expect the slick "Apple experience" from it. In addition to touchscreen control, it has voice control as well. Sure, other "smart car" systems have voice control as well. But it's not just any voice control. It's the infamous Siri, which raised the bar for the quality and capabilities of digital assistants. It might have been a bit gimmicky on the iPhone, but implementing it on a car hub is genius. You can use it to use your phone's functions like answering calls or you can ask it to read an SMS aloud. I assume that you will be able to dictate messages to it so it can send them. You can ask it to speak out loud instructions on GPS directions (which will be in the form of Apple's Maps) or start playing a song. And all that can be happening while driving. "Minimal distractions" is the advertising motto for CarPlay by Apple.
Third-party support. The potential support for third-party applications on CarPlay is huge (assuming that it will use the same programming framework as the rest of the iOS using hardware). Developers have gotten very experienced by now on developing apps for iOS. Already announced are Spotify, which streams chosen songs to the user, and iHeartRadio, which lets users listen to live radio. Notably absent from its library at the moment, however, is Pandora, a widely used Internet radio application.
What Apple Will Need to Watch Out For
Although it's still early, Apple seems to have a good head start on the particular market. They have a lot of car manufacturers backing them up, and that says a lot. It still needs to watch out for competition, though. And by that I mean the major competition, Google's Android car system, which has a possibility to be announced/shown at Geneva as well.
The major feature that a car needs from infotainment, and hence should be given the main focus, is navigation. Apple has ditched Google maps from its iOS interfaces in iPhones to promote its own version of a navigation app called Maps. So it is unlikely that it will use Google Maps on CarPlay.
Apple's Maps got a bad reputation the first few years after it was launched, but it has been improved since then. The application will offer some interesting features on CarPlay such as analyzing messages, maps, and phone calls and offer directional suggestions. If it's working properly, that sounds all right. However, Apple really needs to invest heavily in the development of Maps. Google Maps is way ahead of the game. It is more advanced and developed compared to Apple's offering, with support from big projects like Google Earth, its search engine, and no-driver car projects. Navigation can make or break an infotainment system, and Apple shouldn't shy away from making it the top priority for CarPlay.
Disclosure: I have no positions in any stocks mentioned, and no plans to initiate any positions within the next 72 hours. I wrote this article myself, and it expresses my own opinions. I am not receiving compensation for it (other than from Seeking Alpha). I have no business relationship with any company whose stock is mentioned in this article.