Potash (NYSE:POT) has been one of my highly touted long positions for the better part of a couple of months. When the stock was down in the $31 range in the midst of the Uralkali crisis, I claimed it was a good buy based on its dividend yield and likelihood that an eventual end to the crisis would bring the stock back towards $40.
In November 2013, I penned a piece called "Still Riding Potash to $40 For 30% Gains". My thesis at the time was:
Fueled by a technical recovery, guided by excellent dividends, and catalyzed by an analyst upgrade that I believe is going to be foreshadowing for several more, I'm confident in my Potash long position and will continue to hold until the $40 region. Long term, it's not a question of "if," it's a question of "when."
Since then we have creeped closer and closer to the end of the uncertainty surrounding the Potash market. In early December 2013, Potash cut 18% of its staff in the U.S., Canada, and Trinidad to deal with lower demand. Potash had to make the cuts in order to continue its lucrative dividend, one of the reasons many people have flocked to the company as an investment amidst the uncertainty.
CEO Bill Doyle came out and said that the cut had nothing to do with Uralkali, rather that demand had been decreasing and supply stacking up.
In January 2014, Uralkali reached a sales deal with Chine for $305/ton, which JPMorgan cited as a return to price rationality. Goldman, who was bearish on Potash, lifted its price target from $24 to $32. Raymond James, in late January, also upgraded its price target to $37 from $30,. TD came out in late January as well, telling people (along with myself) to buy the dip after POT had fallen off a bit as well.
And, just yesterday, Seeking Alpha reported on the potential talks of the Uralkali uncertainty really coming to some sort of resolution:
Potash Corp. ( +3.9%) and other fertilizer makers rally as FT reports the two largest shareholders in Uralkali have endorsed the logic of restarting a partnership with the Belarus potash export cartel, opening the door to a deal that would end the potash war that has roiled the industry.
No formal negotiations have occurred between the two companies about restarting their partnership, but the subject is said to have been mentioned informally.
Which leads us to logical conclusions - what goes up, must come down. Or, in this case, uncertainty has to eventually come to an end, like with the macro markets, volatility doesn't last forever.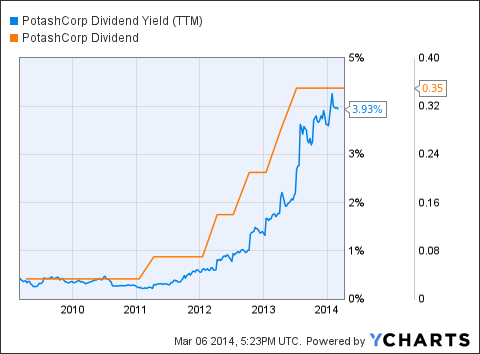 POT Dividend Yield (TTM) data by YCharts
But, why advocate buying Potash on the dips? The dividend yield, 4.4%, is a major reason. Aside from being fundamentally sound, every time you're loading on the dips, your dividend yield goes up - and Potash isn't likely to touch its dividend anytime soon. That's like a nice security blanket, collecting those payouts quarter after quarter while waiting for the stock to bounce back. Potash is telling you, "it's okay to be patient". If you're going to pick a stock that's not going to move to keep your money in, why not do it with one that's got a large dividend - but not so large that it's counterproductive.
If China comes through and continues its increased demand, we could see a real return to normalcy for Potash prices - which would, in turn, boost Postash back up as its bottom line benefits from the cuts it recently made.
I continue to hold Potash and will continue to add on dips as it inches closer to my price target of $40.
Best of luck to all investors.
Disclosure: I am long POT. I wrote this article myself, and it expresses my own opinions. I am not receiving compensation for it (other than from Seeking Alpha). I have no business relationship with any company whose stock is mentioned in this article.