Thursday's decision by the European Central Bank to not make any major policy changes has had the predictable effect of igniting a rally in the euro (NYSEARCA:FXE) and gold (NYSEARCA:GLD). But the bigger issue is that it has caused further technical breakdown of the trade weighted U.S. Dollar Index (NYSEARCA:UUP) confirming last week's close below the heavily-defended 80 level. This non-move by the ECB has major implications for current geopolitical events unfolding in Ukraine.
But, if the EU was partner to the U.S.'s involvement in fomenting regime change in Ukraine why would the ECB not make moves to back up that play?
All about Oil
The answer can be summed up in the chart of Brent Crude (NYSEARCA:BNO) in euro terms.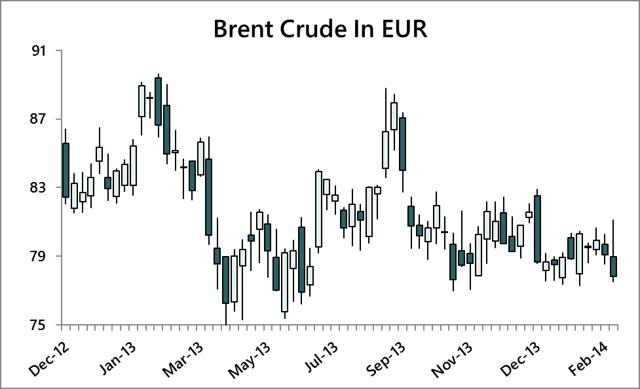 Any potential recovery of the southern European economy is heavily dependent on oil and gas prices remaining relatively cheap if the region has any hope of growing its way out of its current depression. Not that I think this is likely, mind you, but this is definitely on the minds of policy makers in Brussels. ECB president Mario Draghi's statement on Thursday alluded to this directly.
Looking ahead, the ongoing recovery is expected to proceed, albeit at a slow pace. In particular, some further improvement in domestic demand should materialize, supported by the accommodative monetary policy stance, improving financing conditions and the progress made in fiscal consolidation and structural reform. In addition, real incomes are supported by lower energy prices. Economic activity is also expected to benefit from a gradual strengthening of demand for euro area exports.
The reason why Brent crude prices are important is that natural gas contracts with Russia's Gazprom (OTCPK:OGZPY) are tied to oil prices. The price of natural gas fluctuates with the price of oil. So, a stronger euro supports lower imported energy costs for the struggling EU economy. This is what Draghi means by 'real wages are supported by low energy prices.'
And this is why the EU will not put economic sanctions on Russia for its actions in the Crimean Peninsula. This is especially true now that it looks like the predominantly ethnic Russian population has finally gotten its wish to be rejoined with Russia. The probability of any more blood being shed over the splitting of Ukraine rises with each move made in the country. Putin can now play the peace card and be on the side of self-determination and the EU/U.S. will have to acquiesce.
But, this works to the EU's advantage as a lack of open warfare means that oil and gas prices remain subdued on a release of tensions.
What about the Dollar?
In response to the ECB's policy statement the USDX broke down further on not only euro strength but also strength in the Canadian Dollar (NYSEARCA:FXC), the Australian Dollar (NYSEARCA:FXA) and the British Pound (NYSEARCA:FXB) despite a major downside move in the Japanese Yen (NYSEARCA:FXY) back above ¥103.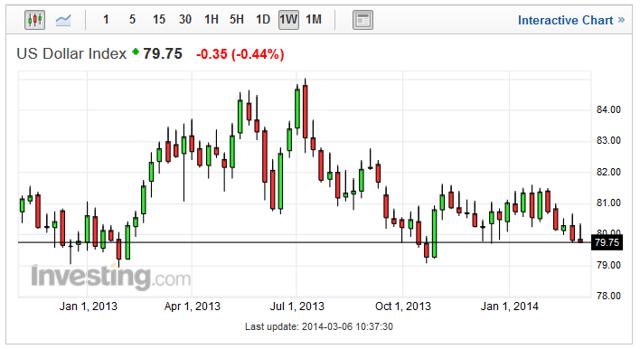 Now the USDX has violated last week's low of 79.81 and further weakness is likely especially on a weekly close below the December low of 79.69. Any further unwinds of short Yen carry trades will create that event. The USDX is dangerously close to falling to support at 79.
A close above $1.3805 on the euro this week would be the highest weekly close in more than two years and creates a high probability setup for further strengthening. The monthly chart of the EUR/USD is quite clear that the area between $1.38 and $1.39 is important long-term resistance that if violated will usher in a new phase in the global currency war, signaling an end to the current strength in the U.S. Dollar, which is only being held together by global energy trading.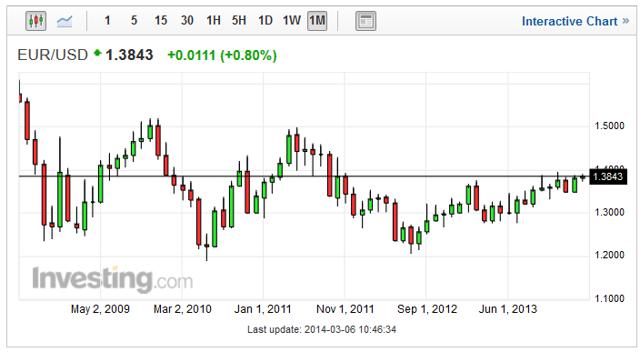 The Big Winner is Gold
If the USDX is headed for a re-test of support at 79 then the big winner here will be gold. If there is a run on the dollar precipitated by Russian and/or Chinese selling to push the markets through their current trading ranges then when that happens expect gold to blast through overhead resistance at $1355-$1360 and push back towards the August peak at $1435 very quickly on short-covering.
Having already violated February's high this week, gold is ready to make a serious attempt at $1360 but not as much for overt safe-haven reasons as for the re-balancing of foreign exchange flows. The clue to that being the big drop in U.S. Treasury prices in response to the ECB's announcement and news coming out of Ukraine. The 10 year note has risen 14 basis points this week to 2.74% as the situation in Ukraine has moved out of the crisis zone.
For those who have not jumped on the current gold rally I would wait for confirmation of continuation of the current uptrend. That means waiting out a weekly close above $1361 for fear of a pullback. The odds of that happening are high given that gold has been trading with a bullish bias on Fridays so far in 2014.
Disclosure: I have no positions in any stocks mentioned, and no plans to initiate any positions within the next 72 hours. I wrote this article myself, and it expresses my own opinions. I am not receiving compensation for it (other than from Seeking Alpha). I have no business relationship with any company whose stock is mentioned in this article.
Additional disclosure: I own physical gold, silver, a few dairy goats and what's left of my sanity.