End of Rent Slump in U.S. May Protect Economy From Deflation
I'd like to point out why that journalist is dead wrong.
A slump in rents that has curbed inflation in the U.S. may soon end,protecting the economy from further slowdowns in consumer prices or a destructive bout of deflation, say economists ....
She goes on to say later:
Lower vacancy rates, gains in employment and rising real-estate investment trusts all indicate rents are about to bottom, if not turn higher, economists and analysts said.
For an update on the REAL world, refer to the graph below from the homeboys at Bianco. As you can see, this component of CPI is indicating inflation concerns are a joke.
While the economists can explain why its turning, what is changing, etc... They can't stop supporting and refuting ... and ultimately decide: " It can't.. It won't .. It shouldn't .. But we can print money..."
If you'd like to know what contributes to my dark side, simplistic economic forecast, I'll give you a taste. It's pretty simple:
Sub 3.5% 10year - The bond market doesn't lie son: No growth - google Richard Koo or David Rosenberg. They say there will be no demand for funds at any rate. Companies are in shock and will focus on debt minimization

Taxes are set to skyrocket: Self explanatory

Wage price deflation: Ask someone who just faced the choice of being laid off or taking a 10% pay cut

U6 unemployment accelerating again - (below). Let's look at the last 4 months:
January - 16.5
February - 16.8
March - 16.9
April - 17.1
(Unfortunately, finger crossing in Washington isn't going to turn this around)
Click to enlarge: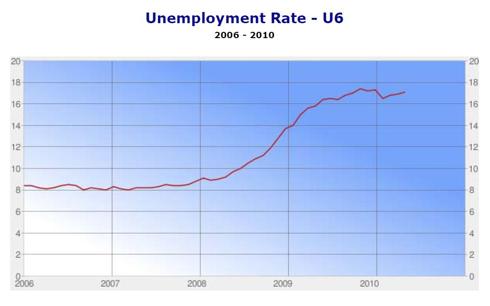 Below is the industry wide % of U.S. Non Performing Mortgages. Mortgages are continuing to deteriorate. Do you think strategic defaults are factored into any bank's assumptions? How is the 2012/2013 Prime ARM reset going to work out? If your bookie will give me the over on 20% by the end of 2012, I'll take it. (Break down the individual insolvencies bank by bank at bankregdata.com)
Click to enlarge: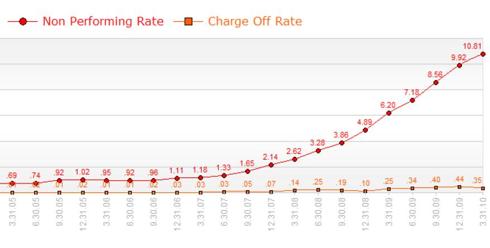 In summary, if a 300 point turnaround in the Equity market has you feeling comfortable, you're about to be turned inside out. We haven't begun the painful part of this process. Debt destruction, both sovereign and corporate, is going to sink some big ships.
In terms of Equities, ask someone (who doesn't sell mutual funds or trade "the SSO" and is over 40 years old) what a long period of multiple compression is like.

Disclosure: No positions mentioned