Late last month, independent refiner Tesoro Corporation (NYSE:TSO) announced its financial results for the first quarter ended March 31, 2010.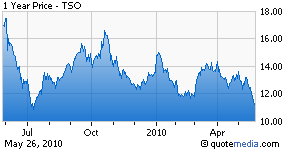 Now that the Wall Street analysts have had some time to digest the quarterly performance of Tesoro, they are weighing in with their estimate revisions. Below we cover the results of the recent earnings announcement, subsequent analyst estimate revisions and Zacks ratings for the outlook for the stock.

Earnings Review

On April 29, 2010, Tesoro reported first-quarter 2010 results that came in weaker than expected, pulled down by depressed refining margins and lower throughput on the back of weak fuel demand and high inventories. The situation was further aggravated by higher costs and expenses.

Loss per share, excluding certain charges, came in at 97 cents -- wider than the Zacks Consensus Estimate of 85 cents. In the year-ago period, the Texas-based company earned 37 cents. However, revenue of $4.6 billion was up 40.5% from the first quarter of 2009.

(Read our full coverage on this earnings report: Tesoro Posts Wider Loss)

Agreement of Estimate Revisions

The following table reflects a strong negative agreement among the analysts regarding Tesoro's outlook. In particular, we see a notable number of estimate revisions over the past 30 days.

Out of 19 analysts covering the stock, 6 have revised downwards their estimates for 2010, while 4 have gone in the opposite direction. Looking forward to 2011, the trend is more or less similar. Out of 17 analysts, 7 reduced their estimates while just 4 had positive revisions.

Estimates are down for the June and September quarters of 2010 as well. For the current quarter, 5 of the 17 analysts have decreased their estimates over the last 30 days, as compared to 4 positive revisions. Third quarter estimates have also been revised downwards by 8 analysts (out of a total of 16) with no upward revisions in the last 30 days.

This downtrend in estimate revisions reflects poor near-term financial results with the apprehension that cash flows will be highly volatile throughout the refining cycle. We see limited room for margin gains over the coming months, especially given the current above-average levels of gasoline and distillate inventory.

However, the last 7 days have hardly seen any estimate changes (as is clear from the table below), indicating that the revisions were in response to the company's earnings announcement.





Magnitude of Estimate Revisions

As a result of the analysts revising estimates over the past 30 days, the Zacks Consensus Estimates for fiscal 2010 and 2011 have gone down 11 cents (from a loss of 45 cents to a loss of 56 cents) and 6 cents (from $1.28 to $1.22), respectively. Meanwhile, estimates for the June and September 2010 quarters are down by 6 cents and 5 cents, respectively. The decreases are based on sluggish profit margins for West Coast gasoline and diesel, as well as a narrowing of the sweet/sour crude spread.





Our Recommendation

Despite the dismal first quarter results, management indicated that gasoline demand and margins showed signs of improvement during the quarter. However, we believe that the outlook for domestic refiners still remains bleak.

Refining margins have been significantly lower for quite some time now, as a result of narrower spreads on crude oil and oil products. We believe that this imbalance between supply and demand will remain in place for the next 6 - 12 months and negatively impact the bottom line.

As such, we maintain our cautious view on Tesoro, reflected by our short-term as well as long-term recommendations of Hold (Zacks #3 Rank) and Neutral, respectively. Utilization rates are likely to hover around the high 80's/low 90's during the near-term amid too much supply of petroleum products. Supply is expected to swell further as more conversion units resume operations from their turnaround activities over the next few weeks.