Full Circle Capital Corporation (FULL) is a business development company with a wide range of investments, from companies that manufacture office supplies to Internet service suppliers and everything in between. A new and very quickly profitable investment in that "in between" area has this company hiding a massive gain, more than doubling its NAV. In the meantime, the stock has only risen 20%.
Full Circle invests primarily in asset-based senior secured loans and, to a lesser extent, mezzanine loans and equity securities issued by smaller and lower middle-market companies that operate in a diverse range of industries. Our investments generally range in size from $3 million to $10 million or more.
The Edge
The crux of this article is that FULL is trading to a substantial discount to NAV due to a very timely investment in Advanced Cannabis Solutions (OTCQB:CANN). The company is not a retailer of marijuana, but rather hopes to become a lessor of real estate and supplies to growers of the drug now legal in Colorado and Washington.
Advanced Cannabis Solutions, Inc. provides services to the regulated cannabis industry throughout the United States. We lease growing space and related facilities (commercial real estate and equipment) to licensed marijuana business operators for their production needs. We are pursuing ancillary business products and services including customized plant nutrient lines, regulatory compliance consulting and advanced logistical support for grow operations.
This is not an article about the merits of CANN, nor the marijuana industry in general. We are using what the market is paying today for CANN, rightly or wrongly, and showing that it is not reflected in FULL's stock price. At this point, investors can get the BDC business for free, as FULL's $84 million market cap is fully accounted for by a huge gain in a $7.5 million investment it made earlier this year.
Assumptions and Methodology
I will assume for this article that the underlying business of the BDC is healthy and has not fundamentally changed. The founder of the company is still the co-CEO, and they have not filed any forms to show that the company is changing direction.
I will also not try to figure out a correct market value of CANN. Valuing a business that had $455 in revenue last quarter would be maddening.
While this investment thesis is heavily contingent upon a marijuana stock, we are not hoping and praying that a stock in this very hot sector will go up from here. This article will only use current and past prices for CANN to show an upside potential of over 90% with minimal downside risk. Any price increases in CANN will add more upside potential, but I want to be conservative in my methods.
A press release on Jan. 21 details the very fortunate situation for Full Circle Capital:
The agreement provides that the investment fund will initially provide $7.5 million to the Company in the form of Senior Secured Convertible Notes, subject to certain conditions. An additional $22.5 million can be borrowed by Company with the mutual agreement of the Company and the investment company.

At least 95% of the loan proceeds will be used to acquire properties which the Company, consistent with its business plan, will lease to licensed cannabis growers.

The six-year loan will be secured by real estate acquired with the loan proceeds, and will require interest-only payments at a rate of 12% per year.

The initial loan can, at any time, be converted into shares of the Company's common stock, at a conversion price of $5.00 per share. It is contemplated that further advances will be convertible at 110% of the share price on the day of advance, or the ten-day volume-weighted average price leading up to the day of advance, whichever is lower. In addition, the investment fund will receive 1,000,000 three-year warrants to purchase common shares at $5.50 per share.
The Math
On Jan. 21, the stock price of CANN closed at $18.40. That means at the time of the press release, the convertibles profited the company more than $20 million.
$7.5 million / $5 conversion a share = 1.5 million shares x $18.4 = 27.6 million - $7.5 million of original capital = $20.1 million
The warrants were worth $12.9.
1 million shares x 18.4 = $18.4mm - (1 million x $5.50) = $12.9 million
That is a $33 million profit on day one of the announcement. Using the same math, the value of these warrants and convertibles has risen significantly over the past several weeks.
At CANN's most recent closing price of $42.50, the convertibles have added $56.25 million to NAV, while the warrants gained the company another $37 million. That is just over $93.25 million gain, equaling almost $9.75 a share of FULL. Meanwhile, shares of FULL are trading at $8.84.
While CANN has skyrocketed, FULL has stayed comparatively flat.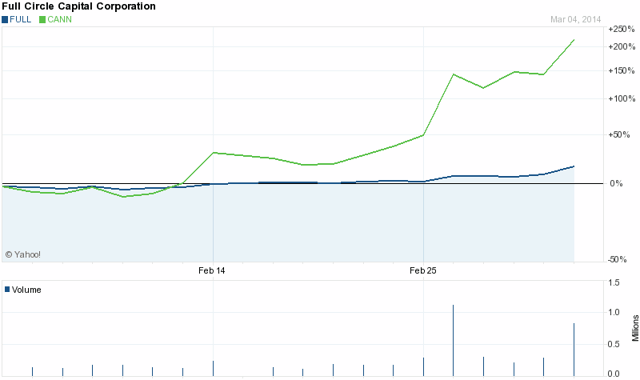 Source: Yahoo Finance.
This disparity means that by buying a share of FULL now you receive an in the money call option in CANN, and the rest of the BDC business for free. If you add $9.75 to the most recent NAV of $7.09, we come up with a NAV of $16.84. This is over a 90% upside compared to the most recent close at $8.84.
The Downside
The stock, along with most BDCs, has typically traded right around its NAV. The latest NAV provided by FULL was at the release of earnings on Feb. 11 at $7.09 per share on Dec. 31.
In an absolute worst-case scenario for the underlying business, suppose that the NAV could drop $1 (not including the CANN warrants and convertibles). This would double the largest loss in NAV in a quarter ever for the company. At $6.09, adding in the $9.75 at today's price of CANN would equal a NAV of $15.84.
Furthermore, to give us a little more cushion, let's cut CANN's price back down to $18.40 a share, where we started this little ride from. Fully diluted that is $4.20 a share. Adding that to our already low number of $6.09, we get an NAV of $10.29.
Let's increase our margin of safety more by assigning a 20% discount to NAV in order to account for liquidity issues that come with the warrants. That gives us a share price of $8.23, just 10% below the most recent close of $8.86.
Conclusion
The market has not factored in the windfall that Full Circle Capital has achieved with its deal with Advanced Cannabis Solutions. On Jan. 21, FULL announced a huge win with this financing, essentially saying it had made $33 million in warrants and convertibles on the first day alone. That number has since tripled with the rise in the price of CANN. Yet, the market has only bid up shares of FULL by $15 million.
CANN is a very volatile stock, but unless the company loses more than 75% of its market cap by March 31, the NAV reported by FULL in Q3 will increase dramatically. If CANN does fall, FULL will still be fairly valued at today's prices. This disparity will not last long. The market will get a huge shock when FULL releases its Q3 financials three months from now. But we don't have to be shocked. All we have to do is a little math.
And while we wait, we can collect a 10% dividend.
Disclosure: I am long FULL. I wrote this article myself, and it expresses my own opinions. I am not receiving compensation for it (other than from Seeking Alpha). I have no business relationship with any company whose stock is mentioned in this article.
Disclaimer: This is not investment advice or an offer to invest. This article is for general information purposes only.