By Sumit Roy
Natural gas was last trading up by more than 2.5 percent to $4.64/mmbtu after the Energy Information Administration reported that operators withdrew 152 billion cubic feet from storage last week, more than the 135-140 bcf that most analysts were expecting.
The latest withdrawal was above last year's draw of 146 bcf, and the five-year average draw of 106 bcf.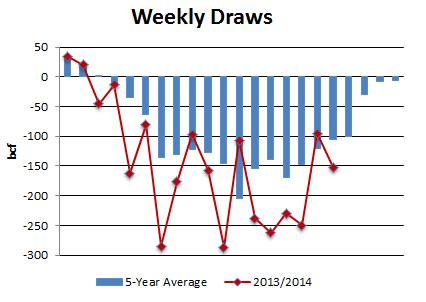 In turn, inventories now stand at 1,196 bcf, which is 887 bcf below the year-ago level and 762 bcf below the five-year average (calculated using a slightly different methodology than the EIA).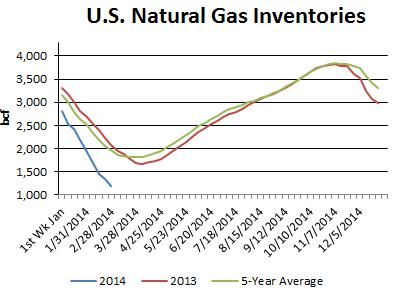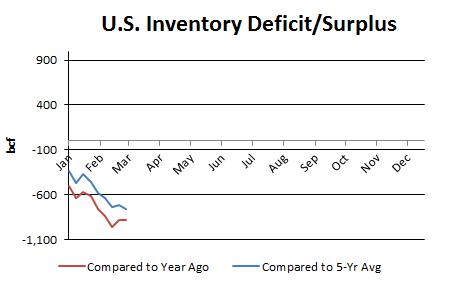 The weather last week was colder than normal.
According to the Edison Electric Institute, utilities generated 78,087 GWh in the week ending March 1, which was 2.7 percent above the same week a year ago.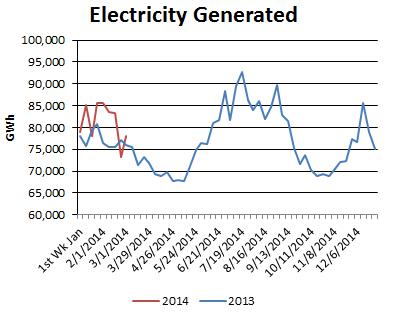 Looking forward, the NOAA's 6- to 10-day outlook calls for colder-than-normal temperatures across the eastern half of the country.
NOAA 6- TO 10-DAY OUTLOOK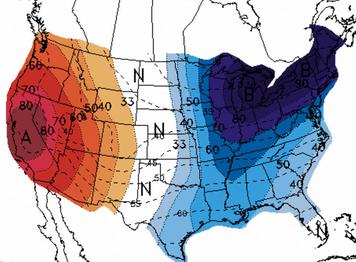 Meanwhile, Baker Hughes reported that the number of rigs drilling for natural gas in the U.S. fell by seven to 335 last week, the lowest level since 1995.
Natural Gas Rig Count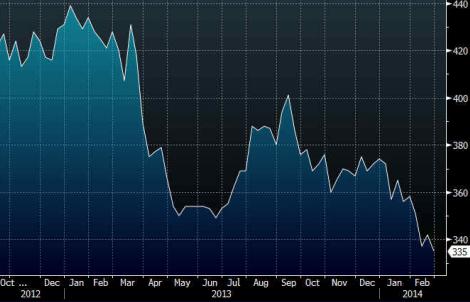 NATURAL GAS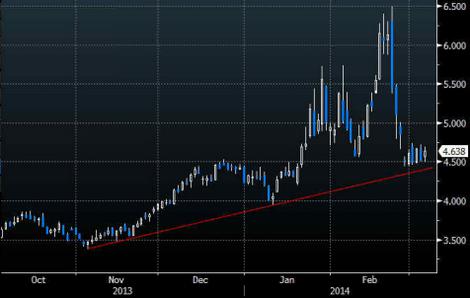 Bottom Line: The latest inventory data from the EIA were bullish, as the inventory deficit against the five-year average rose from 716 to 762 bcf.
The inventory deficit is expected to continue to expand through at least mid-March amid the relentless cold in the eastern half of the country. In fact, storage levels may drop below 1,000 bcf as soon as this week (to be reported next Thursday). With perhaps as much as a month of cold temperatures ahead, storage is likely to trough somewhere between 600 and 900 bcf.
Sub-1,000-bcf inventory levels haven't been seen since 2003, and will support prices through spring and summer, when demand wanes and inventories are refilled. As we've written before, natural gas production must accelerate in order to build inventories back to adequate levels ahead of next winter.
If production doesn't increase enough, or hot temperatures unexpectedly boost demand during the summer months, inventories may end up at uncomfortably low levels by November. Of course, prices may spike dramatically under that scenario.
Currently, natural gas is attempting to form a bottom near $4.50/mmbtu. We've been recommending that traders consider buying on dips below that level, a view we still hold.