Fertilizer equities and crop futures traders have jumped on the Ukraine's position as an important wheat and corn exporter to bid prices higher. Any embargo or sanctions threatening Russian wheat markets and exports could add to the bullish sentiment.
Adding momentum to the bullish agriculture trade is that a Brazilian heat wave threatens the yield of their all-important soybean crop, which was supposed to exceed that of the US for the first time until the latest drought.
But yesterday, the United Nations FAO (Food and Agriculture Organization) revised its estimate for world cereal production upwards to 2,515 million metric tons, 13 million over the February forecast and 9% more than the previous year's level.
The UN FAO also estimated the world wheat crop at 704 million tons, a drop of 1.7% from last year's record harvest, but still the second largest crop ever, indicating supplies would be ample.
Nevertheless, new crop CME futures for the three main crops have been rallying, and these prices help determine how farmers all around the world will feel about their revenue potential in 2014.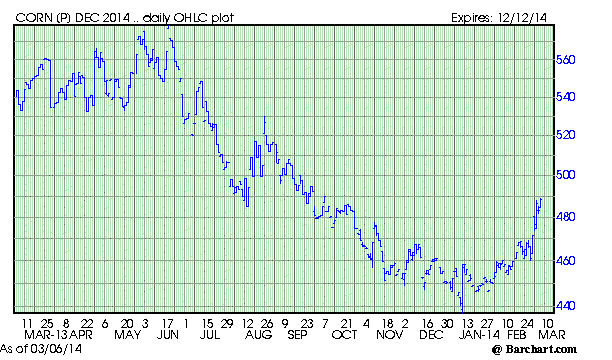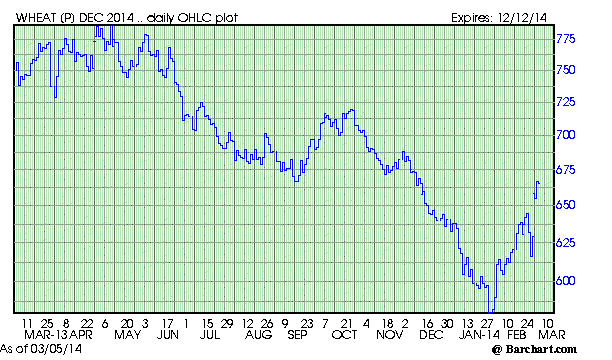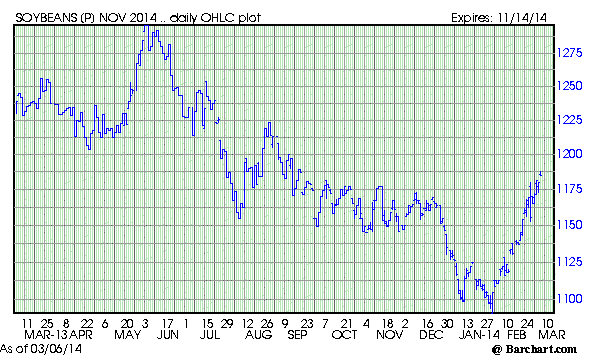 US and international fertilizer stock prices have responded to the higher crop prices and the possibility economic sanctions against Russia could restrict fertilizer exports from that country, especially potash and phosphate.
Here is a chart of one of the ETFs tracking international fertilizer stocks, the Global X Fertilizers/Potash ETF (NYSEARCA:SOIL). Its top three holdings are OCI N.V. (OTCQX:OCINY), Chemical & Mining of Chile aka Soquimich (NYSE:SQM) and K+S Aktiengesellschaft (OTCQX:KPLUY):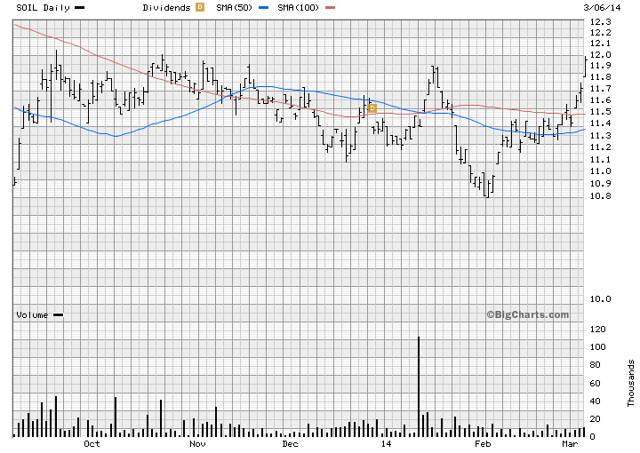 Let's look at some facts, as opposed to the bullish sentiment.
The most recent USDA World Agricultural Supply and Demand Estimates or WASDE report dated February 10 estimated Russian and Ukrainian exports in 2014 of 16.5 million (10.4%) and 10 million tons (6.3%) of wheat, respectively, of a total export market of 159.4 million tons. Huge producers such as India and the EU-27 use their production internally, although the EU is also an exporter, estimated at 27.5 million tons this year. The next WASDE report will be released Monday at noon.
Ukraine is also a relatively new but growing world corn exporter, and was expected to rank third in the world this year, after the USA and Brazil, followed closely by Argentina.
The USDA forecast 18.5 million tons of Ukrainian corn or 16.2% of 114.4 million tons of global exports for 2014, up from 12.7 million tons or 13.5% last year.
Complicating matters is also the fact Ukraine is an important nitrogen fertilizer producer, exporter and conduit for Russian ammonia at the ports of Yuzhny and Odessa, the latter being the end point for a pipeline from Russian N producer JSC Togliattiazot.
I wrote about the importance of Ukraine to global nitrogen fertilizer trade and world pricing of urea, the potential impact of the protests and a falling Ukrainian currency (the hryvnia), here.
You don't have to be a market historian to realize any disruption to farming, harvesting, transloading and shipping of wheat and corn, and similarly of production and shipment of fertilizers, would cause a general and possibly a market impact. How deep the impacts would be is the question. Currently, the indication is little actual impact, according to the BlackSeaGrain website.
Any labor disruption or restriction of marine traffic at Ukrainian ports of Odessa, Yuzhny or the new port of Nika Tera, owned by the largest Ukrainian fertilizer producer, Group DF, would have potential impacts on world supply and prices of nitrogen fertilizers.
These bullish arguments favor US nitrogen fertilizer producer equities such as CF Industries Holdings (NYSE:CF) and Agrium Inc. (NYSE:AGU) and MLP units Terra Nitrogen (NYSE:TNH), CVR Partners (NYSE:UAN), Rentech Nitrogen (NYSE:RNF) and OCI Partners (NYSE:OCIP).
Unfortunately, not all the information is clearly conducive to a big rally in US fertilizer stocks. The main problem is the snowy, cold winter that refuses to vacate the Midwest and Western Canada.
The snow cover is over 2 feet in the upper Midwest and a cold, wet and therefore late spring fertilizer application and planting season is almost guaranteed. Compounding the problem are the grains and beans from last year in storage on farms and in elevators has yet to be shipped for export due to logistical problems at railways, barges and ports. It is hard to see how farmers will be aggressively planting new crops when old crops are collecting mold in the bin.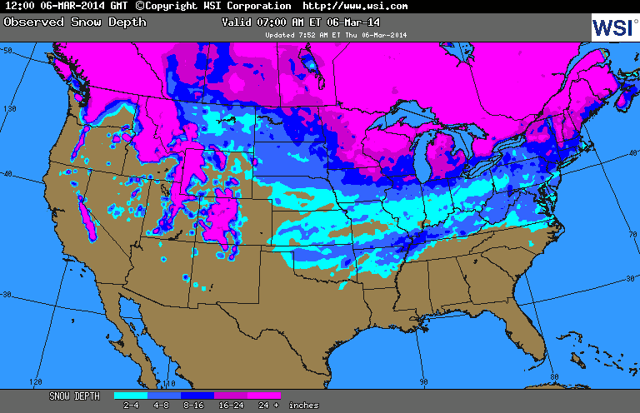 Although the American Corps of Engineers has yet to warn of flooding, it would seem inevitable that when the snow melts, we are going to experience some flooding in the upper Mississippi, Missouri, Assiniboine of Canada, and other mid-continent river basins.
In previous years, such as 2011, the river flooding was relatively unexpected, and it destroyed planted crop acreage in June after fertilizers had already been applied. Prevented planting insurance preserved farmer incomes. All in all, in 2011, flooding was a net benefit to fertilizer prices and producer revenues.
This year, we may have a delayed spring fertilizer application season even though the fall application season was curtailed due to a late harvest. That delay, plus flood warnings, may stall farmer fertilizer ordering and application, as they take a "wait and see" attitude to determine which crops would be best to plant. We won't get the Prospective Planting report from the USDA until March 31.
Although it is a relatively small exporter of urea, ammonium sulfate and anhydrous ammonia, the Ukraine Yuzhny port price is a benchmark for global seaborne prices. If the Ukraine does not export enough nitrogen fertilizers as expected, the Chinese and the Middle Eastern producers will easily fill the gap. Swap prices for late spring settled at New Orleans, LA, indicate a sharp drop off in prices for nitrogen fertilizers, although this situation could change rapidly. Nevertheless I believe oversupply in nitrogen exists today.
I see trade embargos of Russian and Ukraine wheat to be relatively unlikely, as the customers of the exported wheat trade are numerous and include many countries in North Africa (Egypt, Tunisia, Libya, Algeria, Morocco), Southeastern Asian countries (Indonesia, Malaysia, Philippines, Thailand and Vietnam) as well as Syria, Iran and Turkey.
I doubt very much the governments of these countries are going to voluntarily sanction Russia and restrict their food imports due to the actions of its President Vladimir Putin, as many of them were governed, or even today are governed, by dictators themselves.
I see the current cross-currents in the fertilizer markets to be in conflict, particularly, for North American nitrogen producers, and would advise investors to be cautious in their enthusiasm.
Disclosure: I have no positions in any stocks mentioned, and no plans to initiate any positions within the next 72 hours. I wrote this article myself, and it expresses my own opinions. I am not receiving compensation for it (other than from Seeking Alpha). I have no business relationship with any company whose stock is mentioned in this article.