With many equity markets plunging around the globe, investors are flocking towards safe-haven investments. This flight to quality has left many investors piling into US Treasury bonds and the US dollar in general. This has helped to sink commodity prices and send T-Bill yields lower decreasing the desirability of each substantially as asset classes to stash cash in. This leaves one type of investment that most investors would not consider given recent market events; real estate.
Despite their position at the epicenter of the recent mortgage meltdown, many US real estate ETFs have rebounded nicely in 2010. In fact, of the 13 ETFs in the domestic real estate ETF category only 1 has posted a loss for the year. This is in sharp contrast to the global real estate ETF category, which has seen all ten of its funds post a loss on the year.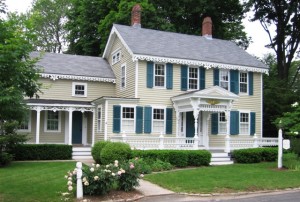 This divergence between the domestic and international real estate markets is due to several factors. Although unemployment in the US remains well above its long-term average, the situation is even worse in many developed nations; Spain, for example, recently saw its unemployment rate top 20%. Because many REIT ETFs have heavy allocations to commercial and industrial real estate, demand for office space can significantly impact real estate prices.
More importantly, credit markets in the US have continued to thaw, and concerns about an imminent commercial real estate collapse have eased considerably. Real estate markets in the rest of the world have not been so fortunate; chaos in Europe has hammered real property values, while deflation in Japan and bubble worries in China have weighed on Asian markets.
Below, we profile four real estate ETFs that have been impacted by the recent slump: two domestic leaders and two international laggards.
DJ Wilshire International Real Estate SPDR (NYSEARCA:RWX)
RWX tracks the Dow Jones Global ex-US Real Estate Securities Index, a market capitalization-weighted benchmark designed to measure the performance of publicly traded real estate securities in developed and emerging countries outside the US. Close to one-third of assets are in European real estate firms while developed Asian markets and Australia each make up about 20%. Given the high European allocation, it is not surprising to see that the fund is down about 13% over the past four weeks.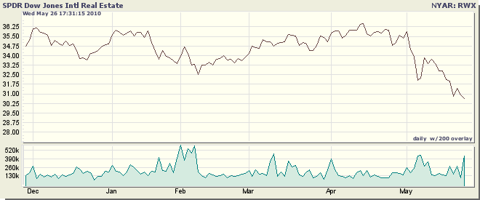 (Click to enlarge)
iShares FTSE EPRA/NAREIT Europe Index Fund (NASDAQ:IFEU)
IFEU focuses exclusively on companies engaged in real estate ownership and development in Europe. The fund has a tilt towards medium and small-cap securities, with 51% going towards mid-caps and 22% going towards small-cap firms. In terms of individual countries, the UK makes up the biggest allocation (34.9%) while France (29.2%) and the Netherlands (7.6%) round out the top three. Due to its focus on smaller more volatile securities in Europe the fund has had a devastating 2010; it is down 23.3% since the beginning of the year and 17.5% over the past month.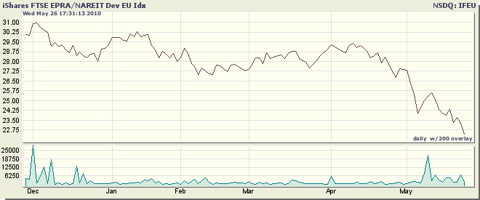 (Click to enlarge)
Vanguard REIT ETF (NYSEARCA:VNQ)
VNQ tracks the MSCI US REIT Index, a benchmark of US property trusts that covers about two-thirds of the value of the entire US REIT market. Top holdings include Simon Property Group (NYSE:SPG) (10.1%), Vornado Realty Trust (NYSE:VNO) (5%), and Public Storage (NYSE:PSA) (4.6%); VNQ is heavily weighted towards medium sized firms, which make up 55.4% of the fund's total assets. Over the past four weeks the fund is down 7.7% but since the first of January VNQ has produced a gain of 6.2%, far outpacing its international peers.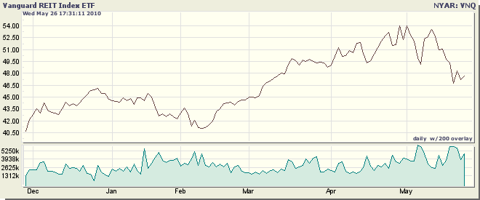 (Click to enlarge)
iShares FTSE NAREIT Residential Index Fund (NYSEARCA:REZ)
REZ tracks a more targeted benchmark, the FTSE NAREIT All Residential Capped Index. This index focuses on residential real estate, healthcare, and self storage sectors of the market. Its top individual holdings include Public Storage (10.2%), Equity Residential (NYSE:EQR) (9.5%), and HCP, Inc (NYSE:HCP) (8.4%). The fund is down just 5.1% over the past four weeks and has produced a gain of 9% since the beginning of the year, by far one of the best performers in the real estate ETF space.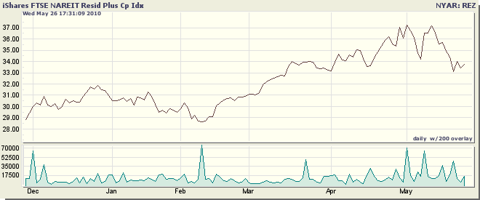 (Click to enlarge)
Disclosure: No positions