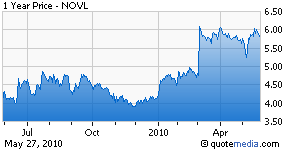 Novell (NASDAQ:NOVL) is expected to report Q2 earnings after the market close on Thursday, May 27, with a conference call scheduled for 5 pm ET.
Guidance
The consensus estimate is 7c for EPS and $204.85M for revenue, according to First Call. A number of private equity firms have been "kicking the tires" on Novell after the company announced in March that it will review alternatives to enhance shareholder value, including a potential sale of the company. This comes after Elliott Associates' $2B bid was rejected as "inadequate". Elliott already owns 8.5% of Novell. Since then, the Wall Street Journal reported that 20 bidders have been eyeing the company. Last week was the deadline for interested parties to submit bids, but the auction is expected to take longer.
Novell has four separate businesses, each of which could be attractive to a rival technology company. Speculation is that it's unlikely that a tech company would bid for all of Novell. A private equity firm could break up Novell, and either sell off the pieces or run them as standalone businesses. Given this latest auction action, Q2 results will be irrelevant. Nevertheless, management provided Q2 guidance on their last earnings call for a non-GAAP operating margin of 12%-15% and revenue similar to Q1's $202.4M. Novell came in a bit light last quarter, so expectations aren't high for a Q2 upside.