SandRidge Energy (NYSE:SD) is a US-based company with its headquarters located in Oklahoma. The company and its subsidiaries are operating in three segments: exploration and production, drilling and oil field services, and mid-stream services. SandRidge primarily operates in the Mississippi region, which is rich in gas and oil located in the northern Oklahoma and southern Kansas. The company also provides other oil and gas related services and drilling rigs through its wholly owned subsidiary, Lariat Services Inc. The company's development and production activities are in the Mid-Continent, Gulf of Mexico and Permian Basin in West Texas. As of December 31, 2012, the company's estimated proved reserves were 565.9 million barrels of oil equivalent, 6,082 gross producing wells, approximately 4,274,000 gross total acres under lease and 33 rigs drilling in the Mid-Continent, 2 rigs drilling in the Gulf of Mexico and 4 rigs drilling in the Permian Basin.
Fundamentals
SandRidge has been struggling to make profits for the last three quarters and reported a net loss of $493 million, $34 million and $87 million in Q1, Q2 and Q3 of 2013, respectively. However, the company's current ratio is better than the industry average, as reflected by a positive EBITDA of $152 million in the third quarter, showing that there isn't much concern about its liquidity position. The company faced a huge decline in share price during the first half of 2013, which might have been due to heavy losses of $493 million in the first quarter, but it managed to recover these losses as shown in the graph below.
(click to enlarge)

The shock to net income during the first quarter of 2013 was due to the recognized net loss on the sale of assets. SandRidge sold its assets in the Permian Basin to Sheridan for $2.6 billion, from which it was producing 24,500 barrels of oil equivalent a day utilizing 225,000 acres. The aim behind this deal was to strengthen the company's financials by paying off debt and to fund drilling in the Mississippi Lime field. But this deal resulted in a net loss of $399.1 million, which greatly affected the bottom-line.
"All shareholders should conclude that this is a great outcome for them," Greg Dewey, a spokesman of SandRidge Energy Inc. said in response to e-mailed questions. "We are simply doing what we said we would do, staying true to our brand and doing things quickly and efficiently and once again making a move that creates tremendous value for the Company and its shareholders."
Despite the fact that the oil company was trying to increase its efficiency by focusing more capital on the Mississippi Lime field, some of the shareholders started demanding that the company should put itself up for sale. Among these were TPG-Axon Capital Management LP and Mount Kellett Capital Management LP, which own 6.5% and 4.5% shares, respectively. Such calls were also another contributing factor to the plunge in share price during the first half of the financial year 2013. The company was not sold but board members were changed, including four TPG-Axon nominees, and CEO Tom Ward was fired after which the company's performance rebounded as can be seen from share price trend.
Furthermore, it is expected that the company can gain from its natural gas production due to the fact that gas export to Mexico will more than double by 2016. The expected increase is from demand levels of 2 Bcf/d in 2013 to 2.2 Bcf/d in 2014, 3.5 Bcf/d in 2015 and will reach 4.5 Bcf/d in 2016. Mexico's production of natural gas is decreasing while the state-owned oil company, Pemex, is focusing on oil production, which means that there is not much growth expected in gas production. However, demand for gas is expected to increase by 2.7 Bcf/d in 2018, of which 1.4 Bcf/d will be used in gas fired generation. State-owned Comision Federal de Electricidad (CFE) has planned to increase its gas-fired generation capacity by 24.5 GW (from 2010 to 2025), which will further increase the demand for natural gas by 3.9 Bcf/d. The export of natural gas to Mexico will greatly help SandRidge in generating high revenues as the expected production of the company for 2014 is 102 Bcf and the projected increase in demand from abroad will push the price of natural gas upwards.
Natural gas is also giving a tough time to coal and other energy industries due to its cost efficiency and low emission of CO2. It is expected that local power generation in the US will increase by 96.65GW (by 2015), of which 21.2 GW, or around 22%, will be natural gas generation, even though the price of natural gas is rising. This increase in demand will expand the market for SandRidge to sell its gas production.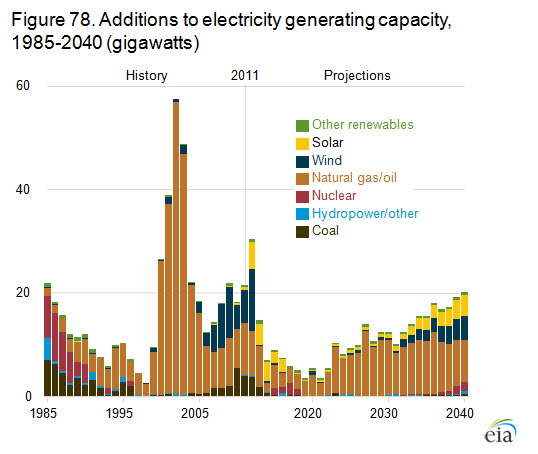 Cost Cutting
SandRidge is also cutting its costs. The company spent $280.4 million on capital expenditure during the third quarter of 2013, whereas in the third quarter of 2012, it spent a total of $477 million on drilling and other infrastructure expenses. In other words, it spent 58.8% less in the third quarter of 2013. It has also developed low cost disposal wells, which will save approximately $1 million compared to previous designs. Furthermore, the company's Mississippian lease operating expense was $7.02 per Boe during the third quarter, which is a 5% sequential decrease and a 22% year-over-year decrease. These cost cutting measures, along with the expectation of increased revenues due to high demand and low costs, will greatly help in bringing the company back to its feet after a tough financial year. EIA expects that natural gas spot price, which averaged $2.75 in 2012, will average $3.69 per MMBtu in 2013 and $3.78 per MMBtu in 2014.
Valuation
The enterprise value of the company is $5.4 billion, while the total number of outstanding shares is 483.58 million. It can be calculated that the EV per share will be approximately $10.96. Currently, the share is priced at around $6.47, which means that at the current price, the shares are undervalued.
Conclusion
Although the company faced a tough year in the market, it is finding its feet and entering the new financial year with promises of both bottom-line and share price growth. SandRidge is cutting down its costs without foregoing its exploration and development projects, which means that the growth rate will not be compromised by the planned decline in operation costs. Although oil cannot be substituted with any other commodity due to its usage (some might argue about natural gas being a substitute), it should not be of any concern to the company, as it has a solid capacity to produce both oil and natural gas. Expected future increase in natural gas demand, locally and from other countries, means that the company can benefit from future sales due to an increased demand and higher prices. Mexico is going to play a very important role in the growth of the industry due to its increasing natural gas demand. The top-line improvement will lead to a valuation surge and supports our buy recommendation for the company.
Disclosure: I have no positions in any stocks mentioned, and no plans to initiate any positions within the next 72 hours. I wrote this article myself, and it expresses my own opinions. I am not receiving compensation for it (other than from Seeking Alpha). I have no business relationship with any company whose stock is mentioned in this article.
Additional disclosure: Equity Flux is a team of analysts. This article was written by our Basic Material and Financial analyst. We did not receive compensation for this article (other than from Seeking Alpha), and we have no business relationship with any company whose stock is mentioned in this article.