Luxottica (NYSE:LUX) is the world's largest eye-wear company. The Italian firm was founded in 1961 by Leonardo Del Vecchio and now employs more than 70,000 persons in more than 130 countries. Its best known brands are Ray-Ban, Persol and Oakley but the company also produces glasses for several luxury and designer brands including Chanel, Tiffany & Co and Prada.
The company recently announced very positive 2013 revenues and good prospects for the coming years. Sales increased by 3.2% to €7,313m ($9,715m) in 2013, which accounts for the best year in the history of the company. The operating margin also improved to 14.6% and the company decided to increase the dividend by 12% from €0.58 ($0.74) to €0.65 ($0.86), which accounts for a 1.6% dividend yield. Finally, EPS increased by 12.2% from $1.55 to $1.74.
LUX is becoming a strong income investment but the shares look expensive at current prices.
| | | | | |
| --- | --- | --- | --- | --- |
| $m | 2010 | 2011 | 2012 | 2013 |
| Net sales | 7,778 | 8,078 | 9,342 | 9,715 |
| Operating income | 955 | 1,048 | 1,295 | 1,415 |
| Operating margin (%) | 12.3 | 13.0 | 13.9 | 14.6 |
| Net income | 546 | 595 | 720 | 820 |
| Net income margin (%) | 7.0 | 7.4 | 7.7 | 8.4 |
Source: YE results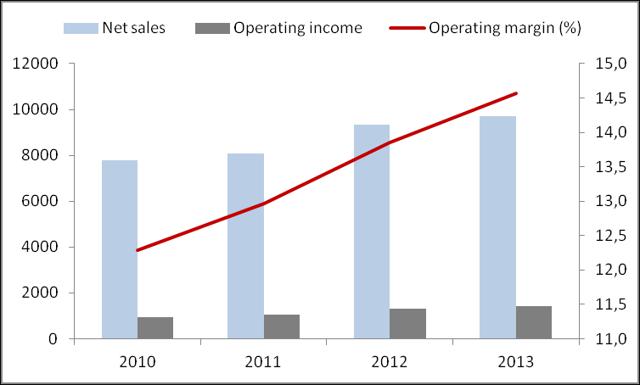 Strong prospects in the eye-wear industry
According to Transparency Market Research, the market was valued at approximately $81b in 2011 and is expected to reach $130b by 2018, which should drive Luxottica's revenues over the coming years.
The main segments are spectacles ($63b in 2011) and contact lenses but sunglasses are expected to witness an increase in market share over the next few years.
The most dynamic regions are North America (30% of market share in 2011) but Asia remains the fastest growing area with revenues expected to grow at a CAGR of 9.0% from 2012 to 2018. Emerging markets in general should keep driving the revenues.
According to Euromonitor and Luxottica, the market should finally be driven by the premium and luxury segments.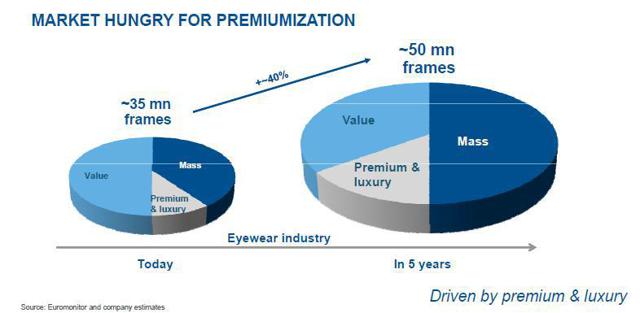 Luxottica is well positioned to benefit from luxury eye-wear growth drivers
I believe that Luxottica is developing a smart strategy in order to deal with the main growth drivers and trends that are high net worth individuals and "True Luxury Consumers," emerging markets and E-commerce.
The Italian Group is positioned on the Premium segment with Brands such as Ray-Ban, Persol or Oakley and can target high net worth individuals and "True Luxury Consumers." According to the company, this specific segment should represent 20% of the total eye-wear market in 2020, which accounts for a CAGR of more than 15%.
Luxottica is also well diversified in terms of geographical areas and should benefit from increasing revenues in emerging markets such as Brazil, India, Turkey or China. In 2013, the exposure to emerging markets increased by 22% yoy and according to the company, they will account for 50% of the revenues by 2019.
Moreover LUX also has a nice exposure to North America and should benefit from the improving economy.
Finally, the Italian company is reducing its exposure to Europe, which is positive even though sales were up 11% in 2013.

Source: Company
LUX heavily invested in Brazil and should benefit from the World Cup in 2014. The company expects to double its manufacturing capacity by 2016 and sales should grow by 20% CAGR by 2016. Moreover, total sales from China nearly doubled in the last three years with online sales growing by 40% CAGR. Finally, total sales from India are also up 70% in the last three years. The future looks bright for Luxottica in emerging markets.
The Italian company will also invest €50m in 2014 in order to boost its online sales and enhance customer experience, which is very positive. E-commerce already represented $190m in 2013, driven by North America (+21% yoy). LUX expects online sales to grow by 50% in 2014 in North America. According to Bain, online sales continue to grow faster than the rest of the market, turning in 28% annual growth for 2013.
The group should also invest €40m in order to enter new countries/markets.
A sustainable dividend
The dividend should increase by 12% from €0.58 ($0.74) to €0.65 ($0.86), which accounts for a 1.6% dividend yield.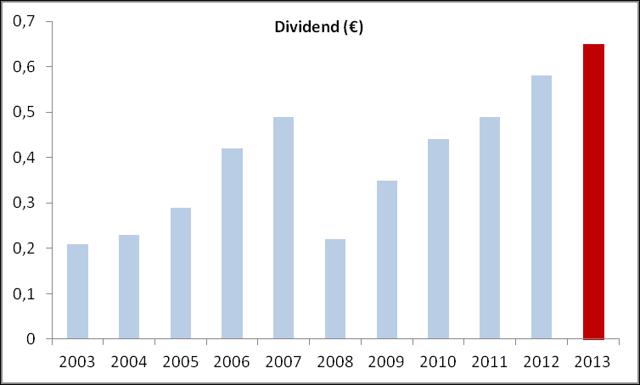 Source: Company
The dividend looks sustainable given the company's perspectives, cash flows and debt profile. Moreover, LUX has been able to maintain a 50% payout ratio for the last 5 years.
The net debt decreased by 12.1% from €1,662m ($2,136m) to €1,461m ($1,941m), which accounts for a 1.0x net debt/EBITDA ratio.
The free cash flow decreased by 10% from €720m to €648m, mainly due to increasing tax payments but the operating cash flows increased by 2.3% to $1,509m. Be that as it may, the cash flows are sustainable and easily covered a €273m ($362m) dividend payment and €370m ($491m) of capex.
I believe that LUX should keep increasing the dividend over the upcoming years.
Valuation
In order to get an indicative value of the shares, I ran a DCF model based on the following assumptions:
3% long-term growth to reflect the perspectives of the company and the premium positioning. I believe that 3% is conservative.
16% EBIT margin in order to reflect the objective of annual €50m of savings.
10% WACC (WACC of the luxury industry)
5% Capex in order to reflect the investments realized by the Group in order to enter new markets and to boost online sales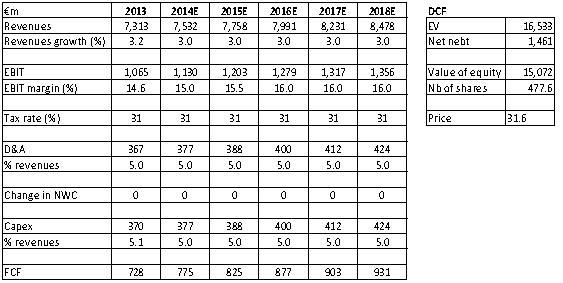 According to the model, the fair value of the shares should be about €31.6 or $43.2 compared with the current price of $55, which makes the company overvalued.
Conclusion
Luxottica benefits from a strong positioning on the premium segment and can target many markets worldwide. Moreover the company is quickly adapting to new trends such as E-commerce. As a consequence, the Group is able to deliver a strong performance and profitability. The dividend is sustainable and should increase over the next years. LUX is a strong income investment and a good play for long-term investors.
However, the shares look expensive right now. The best strategy should be to wait for a pullback even though an uptrend seems to be going on.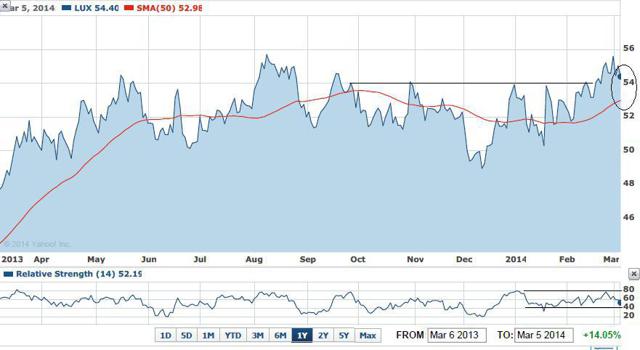 Source: Yahoo Finance
Disclosure: I have no positions in any stocks mentioned, and no plans to initiate any positions within the next 72 hours. I wrote this article myself, and it expresses my own opinions. I am not receiving compensation for it (other than from Seeking Alpha). I have no business relationship with any company whose stock is mentioned in this article.