Upon publication of my article on Ford (NYSE:F) and forward earnings as a determinant of future stock price, a reader reached out and asked me to use the same analysis on General Motors (NYSE:GM). Like Ford, GM's stock has been beaten up by recent weather and a huge fourth quarter earnings miss.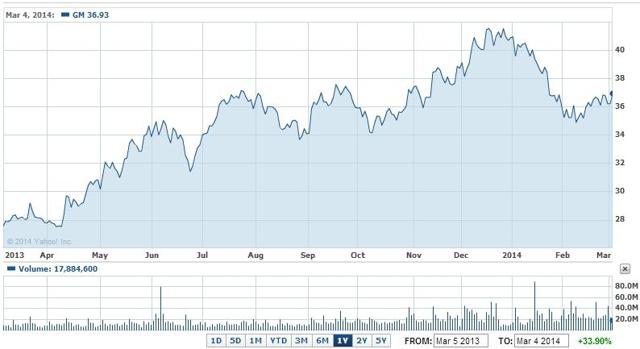 Source: Yahoo Finance
In graphing General Motors' trailing P/E and forward P/E history, I found that the range on trailing P/E was very wide, but the forward earnings range was more within a predictable range. The gap between trailing and forward P/E widened in November, likely from a positive earnings release and appears to be holding.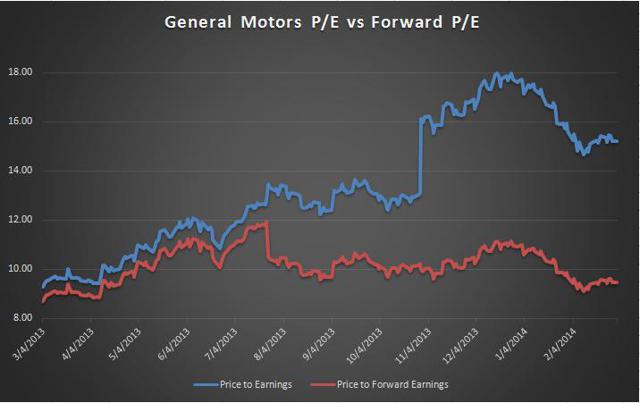 Value investors may shy away from GM due to the higher P/E ratio, however, the stock is trading relatively cheap in relation to forward earnings. The wide gap between trailing and forward P/E indicates expectations of strong earnings growth over the next four quarters.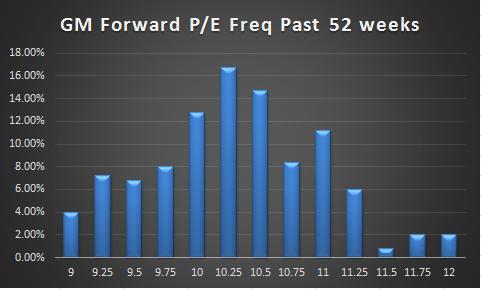 GM is trading at a range of 9 to 12 times forward earnings over the past year, which is tighter than Ford's 9 to 13 times forward earnings. As of March 5th's close, GM is trading at 9.8 times forward earnings, below 75% of the past year's trading sessions.
The next step in this process is to select a conservative forward P/E to assume that General Motors will trade towards in the future. According to the probability distribution, there is a 61.5% chance of GM trading at 10.25 forward earnings or above. At 10 times forward earnings and above, that probability goes to 74%. In order to be fair to my Ford analysis (where I picked a forward P/E at 66% probability, in case people want to compare), I chose 10.1 as my forward earnings multiple.
Nasdaq is my favorite source for forward earnings information, although Yahoo Finance is also good. In order to make up for the lack of quarterly data beyond Q1 2015, I calculated the projected year over year % increases and applied them to the quarterly estimates in 2014.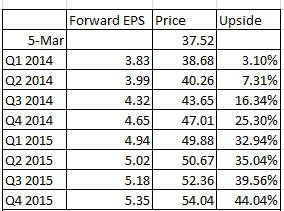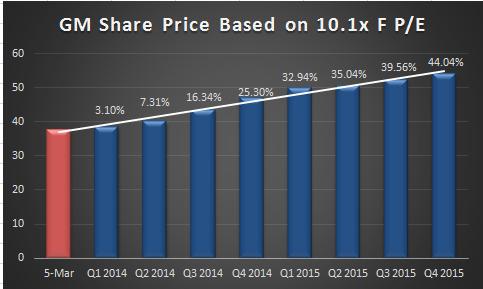 Interestingly enough, Bret Jensen recently wrote an article putting GM at $45 by year end. That article gives information on how GM is performing in its major markets.
Once again, this method presently demonstrates a near fair price on share value. The upside is not quite as sharp as Ford's, but investors should expect a 25% return if GM meets earnings and affirms guidance through 2014.
In terms of earnings performance, GM has met or exceeded six of the last eight quarters of earnings, with the third and fourth quarters being the toughest. In fact, GM has not had a positive fourth quarter earnings report since 2010. This is important for a potential investor as the market, fearing those fourth quarter results, may suppress the price of the stock until its release.
Two wild card factors to GM's stock performance are the weakening/strengthening of the global economy and the results of Ford's new product launch. In the event that consumers are turned off by Ford's new products, they may find solace in a GM product, thus boosting earnings.
Disclosure: I have no positions in any stocks mentioned, and no plans to initiate any positions within the next 72 hours. I wrote this article myself, and it expresses my own opinions. I am not receiving compensation for it (other than from Seeking Alpha). I have no business relationship with any company whose stock is mentioned in this article.