Staples (NASDAQ:SPLS) reports fourth-quarter results later this week - 39 cents vs. a year-ago 46 cents, excluding extraordinary items, is what's expected - and value investors may sniff a bargain.
After all, Staples has a lovely dividend yield of 3.6%, it has often raised its payout, it's trading at a forward P/E ratio of just 11, and it has a big restructuring underway aimed at restarting sales growth, cutting costs, broadening the products it sells and better competing with the likes of Amazon (NASDAQ:AMZN) and Wal-Mart (NYSE:WMT).
Staples through the first three quarters ended November 2, 2013 bought back 18.2 million of its shares for $269 million. Not a large gesture, to be sure, but the message seems to be: it's cheap, so we'll buy some, and maybe you should, too.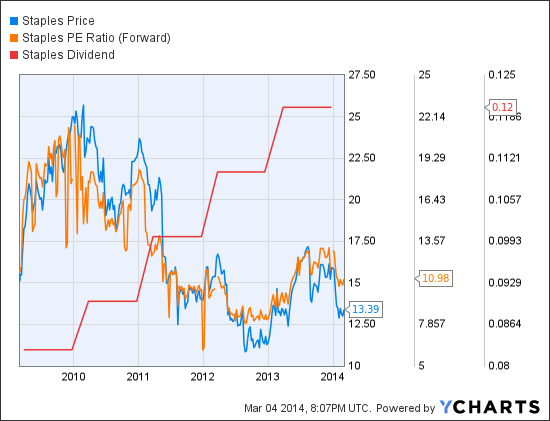 The view here, however, is that Staples is cheap for reasons its management mightn't be able to overcome. And whether or not encouraging news is passed along this week, its competitive position isn't strong. The category it once stood astride, office products, has deep secular problems; as in, young people don't use this stuff, as we reported last year.
Once known as a category killer, Staples could be facing a steady and bruising decline. YCharts Pro's Staples rating shows strong fundamentals and also good ratings on value, though these historical and relative valuations don't take into account a deteriorating business model such as that of Staples.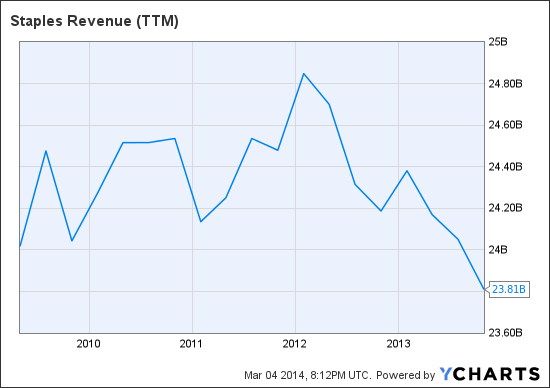 SPLS Revenue (TTM) data by YCharts
The Staples buybacks, viewed over a longer period, don't look so smart. Sure, they reduced shares outstanding by a lot. But given the stock's swoon, and the need now to invest in a newer business model, it looks like money misspent.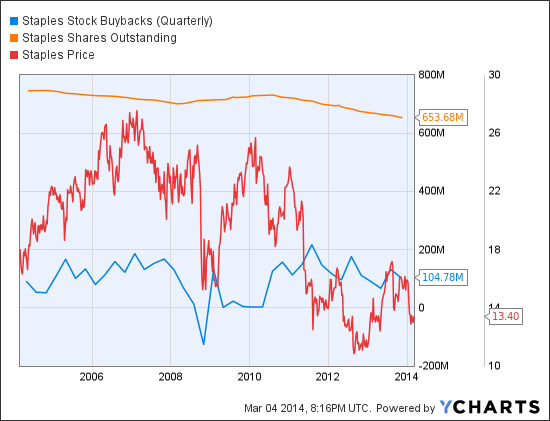 SPLS Stock Buybacks (Quarterly) data by YCharts
The restructuring likely seems radical inside Staples, but from here it looks likely to leave the company still not price competitive with Amazon and other online sellers and still concentrated in slow/no-growth product categories. North American sales account for about five-sixths of revenues, which were $17.2 billion for the first nine months of the fiscal year. One wonders why Ron Sargent, CEO, doesn't bite the bullet and jettison the international operations, and focus all his energies where he has scale and market share.
Jeff Bailey, The Editor of YCharts, is a former reporter, editor and columnist at the Wall Street Journal and New York Times.
Disclosure: None