By Jeff Bailey
No one's words - save, perhaps, Vladimir Putin's - were parsed more closely over the weekend than Warren Buffett's, as he issued his annual letter to Berkshire Hathaway (BRK.A, BRK.B) shareholders.
There were the usual shout-outs to Berkshire managers for doing a great job, a tutorial on how to think about investing that featured Buffett's Nebraska farm and a commercial building near New York University, a mild mea culpa on some crummy bonds he bought without first asking Berkshire Vice Chairman Charlie Munger's opinion, and praise for his equity managers, Todd Combs and Ted Weschler, each now running a $7 billion-plus portfolio, for beating the S&P 500 in 2013.
Oh, and this: Buffett gave such prominence to Berkshire's investment in Bank of America (NYSE:BAC) that it wouldn't be surprising to see it become a permanent holding, and a big one. As you'll recall, when BofA was really in the dumps in August 2011, Buffett engineered a deal to buy $5 billion in preferred shares. It was not unlike similar deals he struck earlier in the financial panic with Goldman Sachs (NYSE:GS) and General Electric (NYSE:GE), lending money at a high rate of interest but also lending his name at a time when the companies needed to calm markets.
With BofA, as with the others, Buffett drove a hard bargain. The BofA preferred, paying 6% annually, included warrants to buy 700 million BofA common shares at $7.14 apiece. So, in addition to the $300 million a year income Berkshire gets, the warrants are currently in the money by about $9.39 a share, or some $6.6 billion.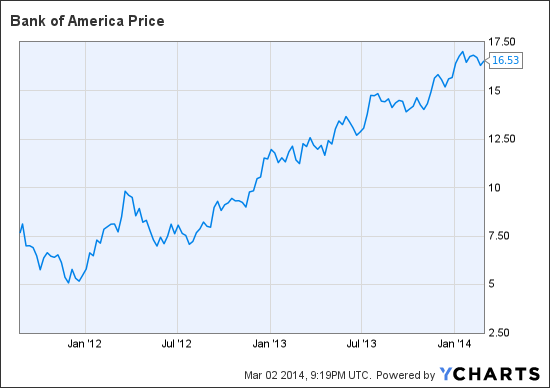 BAC data by YCharts
Be greedy when others are fearful, indeed. But it helps your name is Warren Buffett. It's doubtful Carl Icahn - or you or me - could have won those terms.
Anyway, if Buffett thought BofA was a dog, he could lock in his gains and take a victory lap on this one, but he isn't. After displaying the usual table of Berkshire's largest stock holdings, which includes Buffett's Big Four - Wells Fargo (NYSE:WFC), Coca-Cola (NYSE:KO), American Express (NYSE:AXP) and IBM (NYSE:IBM) - Buffett had this to say:
"Berkshire has one major equity position that is not included in the table: We can buy 700 million shares of Bank of America at any time prior to September 2021 for $5 billion. At year-end these shares were worth $10.9 billion. We are likely to purchase the shares just before expiration of our option. In the meantime, it is important for you to realize that Bank of America is, in effect, our fifth largest equity investment and one we value highly."
Get that? Likely to buy just before the expiration in September 2021, "our fifth largest equity investment and one we value highly."
Sure sounds like BofA is a keeper, not just an opportunistic trade. You weren't around to buy it at $7.14 a share (well, sure you were, but you probably didn't; if you did, bully!) so what's the appeal going forward?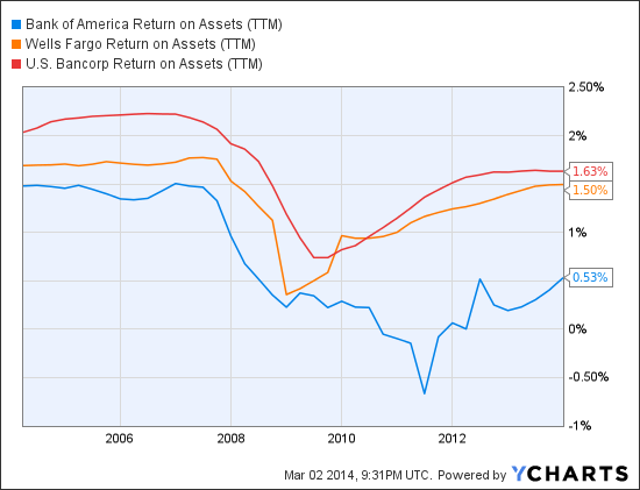 BAC Return on Assets (TTM) data by YCharts
BofA had a better 2013 than 2012. It had net income of $11.4 billion, or 90 cents a diluted share, more than double its year-earlier profit. But it remains a poor performer, as we see above in the return on assets chart. That's a great metric for bank evaluation. Regulators allow a certain amount of leverage - assets piled on top of capital. And squeezing a return out of those assets - which include loans, bonds and other stuff - is the job of a banker. ROA of 2% is fabulous and rarely achieved.
I made a 10-year chart so you'd see that even in the height of the boom, BofA wasn't close to performing as efficiently as Buffett's other two bank investments, Wells Fargo and U.S. Bancorp (NYSE:USB). That's not surprising. Wells and U.S. Bancorp are the cream of the banking crop, eschewing investment banking and trading and other Wall Street activities in favor of grind-it-out consumer and business banking. That approach lowers their risk. And it seems to have forced them to manage costs and to market fiercely.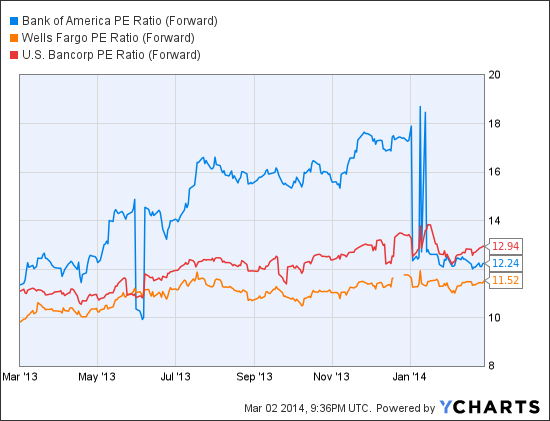 BAC PE Ratio (Forward) data by YCharts
That said, BofA will probably have an easier time getting back to 1% ROA than Wells and U.S. Bancorp have getting to 2%. And given that the market is valuing the three banks at very similar multiples, based on forward PE ratio, the easier upside on BofA earnings may also represent an easier upside on the stock. Even if it doesn't outperform its rivals, it stands to do well by merely cleaning up its balance sheet, continuing to cut costs and hopefully avoiding some of the stupid mistakes that got it into trouble in the first place.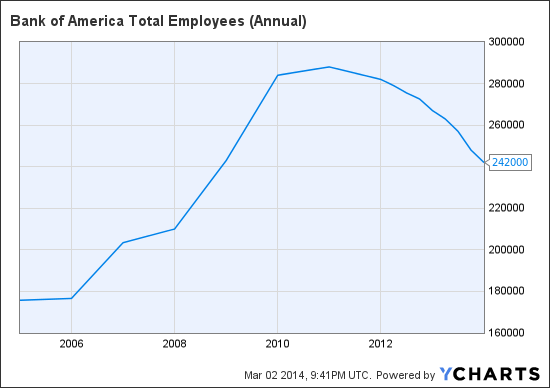 BAC Total Employees (Annual) data by YCharts
And if BofA's CEO, Brian Moynihan, falters at some point, Buffett would be well-armed to give the bank's board some advice on a successor. His investment in Wells has grown to $22.4 billion, nearly double its cost, making it the largest holding by far at Berkshire. And Wells has traditionally produced CEO candidates for the rest of the banking industry.
Buffett likes well-established businesses with high barriers to entry to protect competitive positions - as if surrounded by moats, he likes to say. The big banks are certainly this. Through acquisitions, the biggest banks have come to dominate consumer and commercial lending and deposit-taking. Building anything like that from scratch - or cobbling one of similar size together from available acquisition candidates - looks iffy at this point.
Buffett rarely says more than he means to. His statement on BofA this year suggests he sees it as a long-term holding. And by September 2021, Berkshire's BofA position could well be larger than some of the existing Big Four.
Disclosure: None.