Only three of the top 10 Most Admired Companies in Fortune's latest survey also happen to be among the most widely-owned stocks among institutional investors.
Apple (NASDAQ:AAPL) took the top spot in Fortune's Most Admired survey for the seventh straight year, and was the most widely-held stock in the fourth quarter, according to FactSet. Amazon (NASDAQ:AMZN) nudged its way past Google (NASDAQ:GOOG) for the second spot on the most-admired list.
Both Apple and Google happen to be in the top 10 of most widely-held stocks among institutional investors in the fourth quarter, according to FactSet. The only other stock to be on both top 10 lists is General Electric (NYSE:GE).
Granted, the most widely-held list is pretty much a reflection of institutional money doing a whole lot of index hugging and/or worrying about tracking error. Nine of the 10 most widely-held stocks also happen to be the top 10 stocks in the market-cap weighted S&P 500 stock index.
Not only is Apple big and admired, a bit of financial research shows it's also cheap. If you can divorce yourself from the "Apple-isn't-gonna-grow-like-it-once-did" rants, you'd notice that Apple isn't priced to need explosive growth, nor is it the operational basket case the yowlers would have you believe: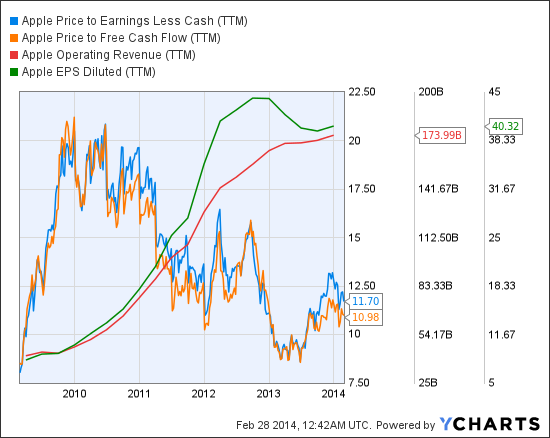 AAPL Price to Earnings Less Cash (TTM) data by YCharts
According to S&P Capital IQ, the forward PE estimate for the S&P 500 is 15.5. For the tech sector within that index, the average PE is 15.2. Apple's forward PE ratio is around 12.
General Electric, the seventh-largest stock in the S&P 500, moved up from #11 most admired to #10 this year. General Electric is still a bit difficult to value, given a chunk of earnings are derived from GE Capital, its financial services arm that torpedoed the company during the financial crisis. But management has been actively working since then to focus more on its old-roots industrial prowess. As this chart shows, investors did indeed get slammed during the financial crisis, but there's also been a steady climb back as management continues its transformation act.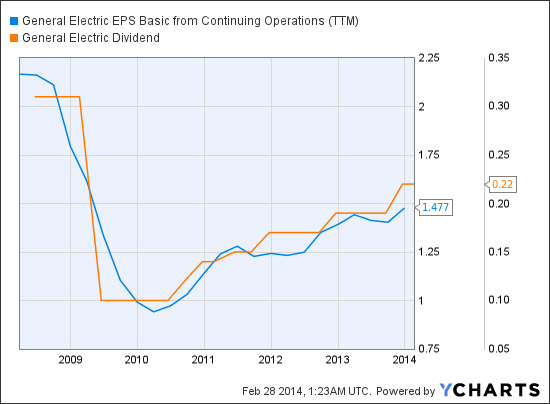 GE EPS Basic from Continuing Operations (TTM) data by YCharts
Meanwhile, General Electric currently serves up a dividend yield near 3.5%.
Among the Most Admired Top 10 that aren't among the most widely-held, there's an interesting mix of growth darlings -- Amazon and Starbucks (NASDAQ:SBUX) -- where valuations don't seem to matter, and older school stalwarts Berkshire Hathaway (NYSE:BRK.B), Coca-Cola (NYSE:KO) and Walt Disney (NYSE:DIS), along with FedEx (NYSE:FDX) and Southwest (NYSE:LUV). Given the range of trailing PE multiples is 14 for Berkshire Hathaway and north of 600 for Amazon, a chart is not useful.
Over the past year, as the bull run has gotten a bit long in the tooth, it hasn't been Seattle's dynamic growth duo that led the charge. (Sustained operational excellence caused my YCharts colleague, Jeff Bailey, to reassess Starbucks' stock.)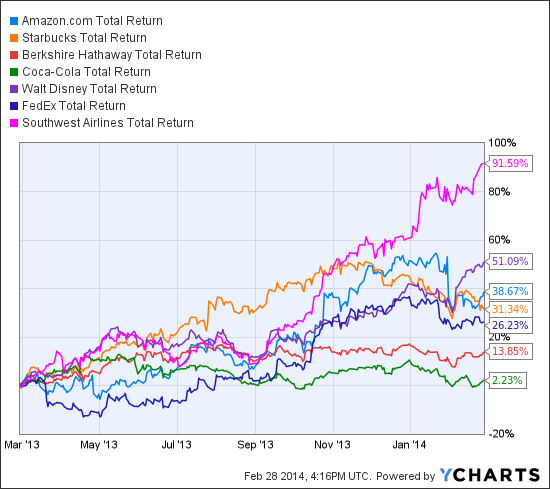 AMZN Total Return Price data by YCharts
Even with its outsize performance last year, Southwest Airlines' 21 trailing PE ratio hasn't experienced troubling bloat.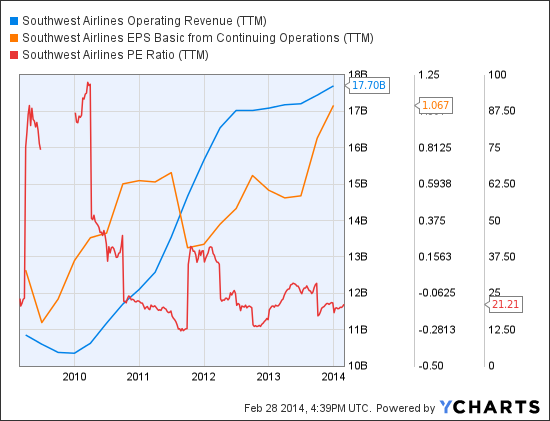 LUV Operating Revenue (TTM) data by YCharts
While Berkshire Hathaway rose from eighth to fourth in this year's admirable bake-off, two of the conglomerate's biggest stock positions saw their admirability fall. Coca-Cola dropped from fourth to six place this year, and IBM (NYSE:IBM) fell from sixth all the way out of the top 10, into 16th place.
Negative trend lines are something IBM shareholders have been having to deal with of late, as seen in this chart. Don't be fooled by the small EPS rise; that was made possible by a near-5% reduction in outstanding shares over the past year. (IBM is one of a group of major stocks that would have reported EPS declines but for aggressive buybacks.)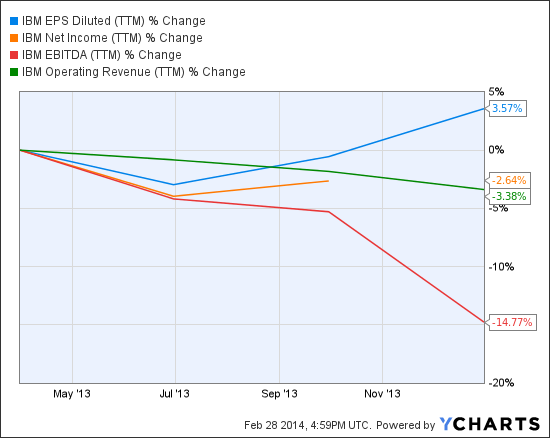 IBM EPS Diluted (TTM) data by YCharts
That said, IBM stock is trending toward its recession valuation level. If CEO Virginia Rometty can pull off the cloud-based turnaround that management is pushing, this price could look like a cheap entry point for the patient.
Carla Fried, a senior contributing editor at ycharts.com, has covered investing for more than 25 years. Her work appears in The New York Times, Bloomberg.com and Money Magazine.
Disclosure: None