By J. Royden Ward
There are many interesting corporations located in Canada. Most major Canadian corporations are located in large cities within a short distance of the U.S. border. The fastest growing Canadian companies with five-year revenue and earnings growth of 15% or higher are:
Agrium (NYSE:AGU)
Barrick Gold (NYSE:ABX)
Baytex Energy (NYSE:BTE)
Iamgold (NYSE:IAG)
Open Text (NASDAQ:OTEX)
Quicksilver Resources (NYSE:KWK)
Research in Motion (RIMM)
Rogers Communications (NYSE:RCI)
Sierra Wireless (NASDAQ:SWIR)
SXC Health Solutions (SXCI)
There are many more companies worth noting: companies with slower but dependable growth such as Canadian Pacific Railway (NYSE:CP), as well as newer companies with exciting growth prospects such as Lululemon Athletica (NASDAQ:LULU).
I am a value investor. I follow the teachings of Benjamin Graham, which are now utilized by many leading investors, including Warren Buffett. I look for quality companies at bargain prices. It doesn't matter in what industry the company operates and where the company is headquartered. Lately, my attention has been drawn to a larger number of Canadian companies that are clearly undervalued and offer excellent appreciation potential during the next one to three years.
Two of the most attractive Canadian companies are Canadian Pacific Railway and Lululemon Athletica.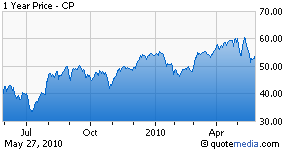 Canadian Pacific Railway, founded in 1880 and based in Calgary, Alberta, operates over 15,000 miles of rail serving the Midwest and Northeast U.S., and more importantly, the major business centers of Canada. The railway offers coast-to-coast freight transportation for goods produced in Canada and the northern U.S. Canadian Pacific Railway's low-cost freight transport is taking market share from trucking, which is burdened with rising fuel prices.
Intermodal container shipping offers an efficient means to transport goods over long distances. Goods typically arrive in the port of Vancouver on the west coast in containers and are hauled to their destinations efficiently by rail. Likewise, freight arrives in the port of Montreal near the east coast from Europe and is hauled to other areas in Canada and the U.S. Freight is frequently transferred to other railroads in Canada and the U.S. to reach destinations not served by Canadian Pacific Railway.
Revenues increased 3% during the past 12-month period ending 3/31/10. Earnings per share (EPS) fell 5% during the same period, but will likely increase 27% during the next 12 months. Revenues should rise 8% during the next 12 months led by intermodal container transportation.
Canadian Pacific Railway generates excellent cash flow and pays an attractive dividend yielding 1.6%. CP shares are undervalued at 16.4 times 12-month forward EPS of 3.64. In comparison, Warren Buffett paid 20 times EPS for Burlington Northern. I recommend buying CP at 60.00 or below.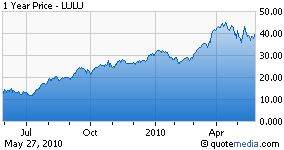 Lululemon Athletica, founded in 1998 in Vancouver, British Columbia, makes athletic clothing for yoga, dancing, running and other active endeavors. The company sells women's pants, shorts, tops and jackets in 106 company-owned and 13 franchised stores in Canada, the U.S., Australia and Hong Kong.
The company has distinguished itself from competitors by utilizing superior fabrics and unique clothing designs. The company works with athletes in local communities to obtain valuable product feedback.
Lululemon's sales increased 40% and EPS soared 55% during the last 12-month period. For the most recent quarter, same store sales increased an amazing 29% and earnings per share doubled. We expect sales to increase 23% during the next 12 months accompanied by a 33% jump in earnings per share.
Share price, as measured by Lululemon's price to earnings ratio, is expensive at 33.8 times our 12-month forward earnings estimate, but the company's exciting growth potential provides an advantageous investment opportunity. Lululemon has a strong balance sheet with no long-term debt and lots of cash. I recommend buying LULU now.