By Brad Zigler
Amid all the hoopla and volatility of the past few days, you might not have noticed the compression in refining margins. Normally, refiners' profits fatten through mid-May as gasoline for the summer driving season is contracted.
Of course, this has been anything but a normal year. Nor was last year.
It was just a month ago—April 22 to be exact—that gasoline refiners crossed over the 15 percent threshold, a signal that the "high season" was upon us. Margins got as high as 23.8 percent by mid-May, but since then have backed off.
Product Cracks: Heating Oil and Gasoline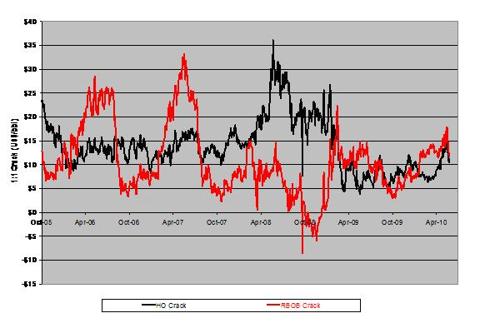 Click to enlarge
Gross profit margins hadn't widened enough and hadn't lasted long enough to have much positive effect on refiners' bottom lines. For that to happen, the cost of goods sold has to be at least five percent below the gross refining margin, a condition we haven't seen since February 2009. The last time we saw those kinds of profits ahead of the summer driving season was 2007.
All this doesn't mean that margins can't recover, but seasonality argues against it. There was, after all, a double top—with peaks in both May and June—in the gasoline crack last year. Unfortunately, an offsetting drop in middle distillate returns kept a lid on refiners' profits.
Investors in independent refiners, such as Tesoro Corp. (NYSE: TSO) and Valero Energy Corp. (NYSE: VLO) should keep track of each Wednesday's Desktop columns for margin updates.