Current Market Conditions
Yes, the market seems to be continuing its bullish trend (as of the close of March 5, 2014), and as long as it does, we want to be in equities in some degree. But we must be prepared for the inevitable: a bear market is coming. Interest rates are going to increase as the Federal Reserve tries to stop an overheated market, and everyone will flood into bonds when that happens.
But will bonds come to the rescue this time like they have in the past? For over 30 years, whenever we have had a bear market or even a correction, money flows into long-term treasuries. In a bear market, the Federal Reserve usually cuts rates to encourage the economy, and investors then make a lot of money in long-term treasuries.
But in today's environment, long-term treasury rates are very low, and there is no where to go but up. They will eventually go up, and long-term bonds will lose value. We tasted what is going to happen in the near future when even the talk of a taper caused long-term rates to go higher and long-term bonds to go lower in 2013. There has been a recovery of long-term treasuries in early 2014, but the recovery will be short-lived, in my opinion. Interest rates are going to go up, and long-term treasuries will not be the safe haven as they have been in the past in a bear market.
Discussion of Tactical Bond Strategy
With this in mind, I set out to develop a tactical strategy using low volatility bonds that will produce good performance in a rising rate environment. I call this new strategy the RisingRatesBondStrategy, RRBS. One way to enhance performance in a rising rate environment is to include an inverse long-term treasury bond ETF in a general suite of bond ETFs. There aren't too many inverse bond ETFs to choose from; I selected ProShares Short 7-10 Year Treasury ETF (NYSEARCA:TBX). I selected an inverse treasury bond ETF that was mid-term (7-10 years) in duration in order to limit volatility. A longer term treasury ETF would produce better performance, but at the expense of volatility.
To keep things simple, I only selected five ETFs for my bond ETF universe:
1) AdvisorShares Peritus High Yield Bond ETF (NYSEARCA:HYLD),
2) PIMCO BofA ML 0-5 Year High Yield ETF (NYSEARCA:HYS),
3) iShares Barclays 7-10 Year Treasury ETF (NYSEARCA:IEF),
4) TBX, and
5) SPDR 1-3 month T-Bill ETF (NYSEARCA:BIL).
At least one of the first four ETFs (HYLD, HYS, IEF, or TBX) should be profitable in any market condition, and, if not, the fallback ETF is BIL.
One of the challenges of backtesting strategies in bonds is the relatively short life of most bond ETFs. HYLD has an inception date in late 2010, and TBX and HYS have inception dates in 2011. So backtesting is problematic. There is a proxy that I like to use for HYLD or HYS: Vanguard High Yield Bond Mutual Fund (MUTF:VWEHX). It's not a perfect match, but VWEHX is in the same high yield, low duration bond class as HYLD and HYS. And VWEHX goes back to 1991. However, there is no proxy for TBX. Please note that shorter backtesting timeframes make the results suspect, but it is the best we can do.
I searched for relative growth and volatility parameters and moving average limits that gave the best backtest results for RRBS. I started out by using VWEHX as a proxy for HYS and a timeframe of 2004-2014. In this analysis, HYLD and TBX were included but only used after their inception dates. Also, Barclays Low Duration 2-Year Treasury (NYSEARCA:SHY) was used as a proxy for BIL since BIL's inception date was 2007.
I ranked the ETFs in two categories: six-month growth and 20-day growth. The rankings were weighted 40% and 60% respectively, and added together to get a final ranking. The top-ranked ETF was selected if it passed a moving average filter of three months. Otherwise, cash was selected. Updates were semi-monthly.
Backtested Results
The backtested results (2004-2014) for RRBS using the ETFreplay software are shown below. The compounded annual growth rate, CAGR, is 12.1%, the volatility (annualized standard deviation of daily returns) is 5.4%, the maximum drawdown is 5.5%, and the Sharpe Ratio is 1.87. For comparison, the benchmark iShares Core Total U.S. Bond ETF (NYSEARCA:AGG) has a CAGR of 4.4%, a volatility of 5.3%, a maximum drawdown of 12.8%, and a Sharpe Ratio of 0.43. The total return (including dividends) of RRBS is 219.4% over this timeframe, while it is 55.0% for AGG. RRBS has positive returns every year, and beats AGG every year.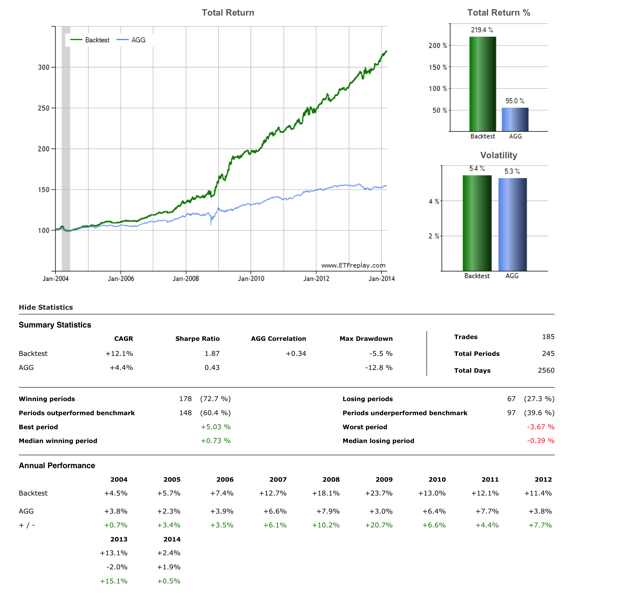 After obtaining these results, I ran the strategy for the 2012-2014 timeframe, and compared the performance using VWEHX and using HYS. The results (not shown) were very similar as they should be.
Shown below are the ETFreplay results of the final RRBS from 2012-2014.The CAGR is 13.4%, the volatility is 4.7%, and the Sharpe Ratio is 2.74. To get a feel for the selection process, I have included the semi-monthly picks from 2012-2013 and their returns each period.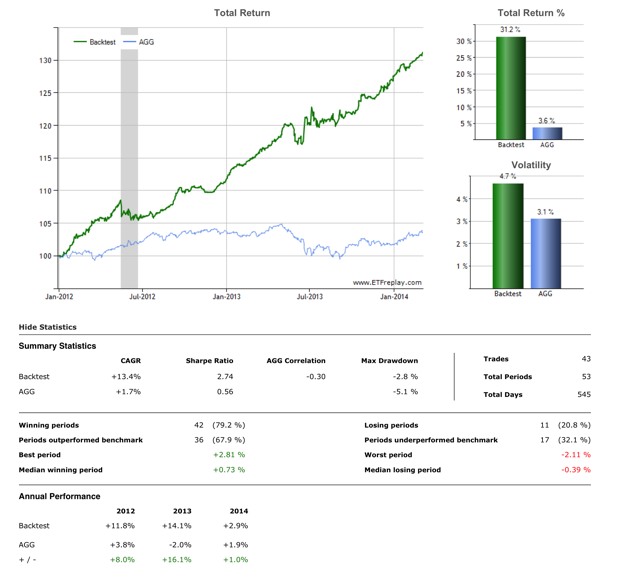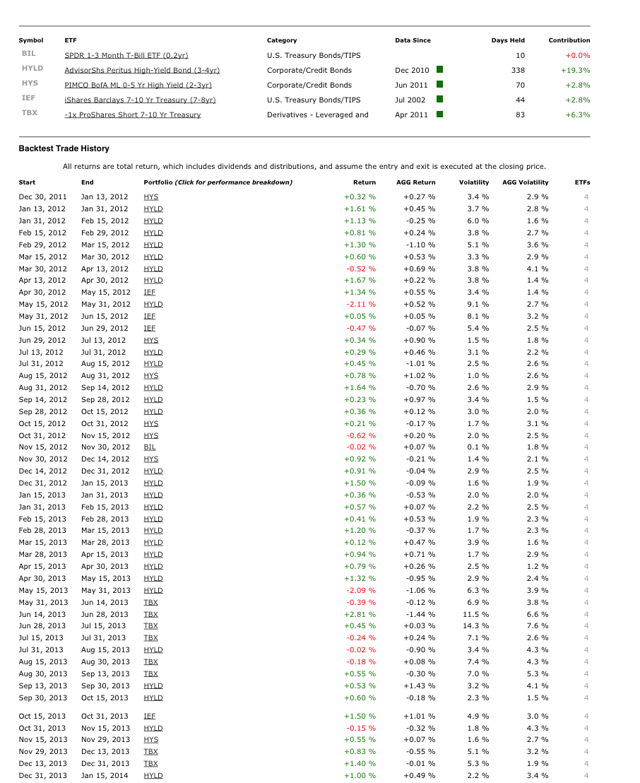 I will post the semi-monthly selections of RRBS on my Instablog, along with the recommendations of the other tactical strategies I have developed. The recommendations will be posted the night before the next trading day.
Disclosure: I am long HYLD. I wrote this article myself, and it expresses my own opinions. I am not receiving compensation for it. I have no business relationship with any company whose stock is mentioned in this article.