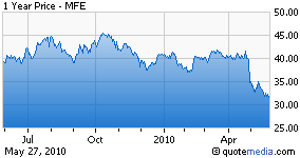 Internet security company McAfee Inc. (MFE) has announced an agreement to acquire Trust Digital, a technology provider of enterprise mobility management and security software. The customer base of Trust Digital mainly includes the Global 2000 companies, among others. Economic details were not disclosed.
McAfee expects to integrate Trust Digital's enterprise mobility management solution with its own endpoint protection capabilities, which is expected to result in a comprehensive mobile security solution.
We believe that the growing number of mobile phone manufacturers turning to smartphone production will drive the mobile security solutions business. Trust Digital has a strong grip on this market, which is expected to increase the customer base of McAfee in the coming days.
This apart, the other business segments of McAfee are also expected to do well in the coming days. As per the findings of the technology research firm IDC, the Asia-Pacific region (excluding Japan) is expected to generate stronger demand for IT security in 2010, as companies and users respond to emerging threats to IT security.
IDC believes that the security and vulnerability management (SVM) market will be posting the largest growth this year, increasing 19.0% to $115.44 million in 2010. The secure content and threat management (SCTM) market is expected to grow at 18.4% to $1.13 billion, whereas the identity and access management (IAM) market is expected to grow at 15.2% to $326.38 million. We believe this is good news for McAfee as the company dabbles in more or less all the segments mentioned above.
McAfee reported decent first quarter 2010 results, with revenue moving up 12.0% compared with the year-ago quarter, attributable to the increase in revenue across all business segments, although EPS of 41 cents, remained below the consensus estimate of 50 cents per share. The company provided decent second quarter guidance (see conference call transcript here).
The strong product portfolio, growth prospects in all its served markets, acquisitions, customer win momentum and good cash generation ability are positives. On the other hand, we are a bit concerned about the intense competition that it faces from smaller players, as well as hardware and software manufacturers entering the IT security business.
We maintain a Neutral rating on McAfee shares.
Disclosure: No positions