I don't normally buy stocks that are near parabolic, but the valuation case for Spreadtrum Communications (NASDAQ:SPRD) is compelling. Further, it's in one of my favorite sectors - chips for wireless - so this can replace some of the tech stock exposure in the same space I've sold off in the past few weeks. The company deals both in baseband and RF semis, the latter being the same space as TriQuint (TQNT), Skyworks (NASDAQ:SWKS) et al... but in China.
Via the company's website:
Spreadtrum Communications, Inc., a fabless semiconductor company, designs, develops, and markets baseband processor solutions for the mobile wireless communications market. It sells products directly to brand manufacturers, independent design houses, and original design manufacturers primarily in the People's Republic of China, Hong Kong, and Macau.
That said, I'm hoping for some sort of pullback and the name is relatively new to me so I am going to start small - 0.5% exposure - to become familiar with how it acts. I'll throw a starter position on and monitor from there. Being a Chinese stock I expect the typical wicked volatility but if analysts' estimates of 91 cents are anywhere near correct we have a 9x forward PE ratio for a company whose revenue has jumped from $8M to $52M in a year. That estimate is up from 32 cents just 30 days ago but the range is massive ($0.54 to $1.17) so analysts are guessing wildly.
Technically? It's the best stock I can find right now. It even came back to fill the gap created from it's earnings surprise. (Click to enlarge)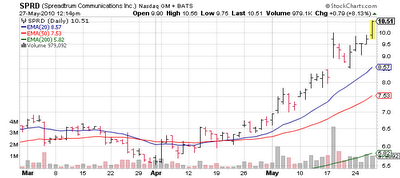 A look at last earnings report is here.
China's Spreadtrum Communications Inc., which makes chips for wireless phones, posted a first-quarter profit Monday, reversing a loss a year earlier as revenue grew more than six-fold.
The

company earned $6.6 million, or 13 cents per American Depositary share, compared with a loss of $8.3 million, or 19 cents per share, in the same period a year earlier. Adjusted earnings were $8.7 million, or 17 cents per share, in the latest quarter.
Revenue jumped to $52.1 million from $8.2 million, beating the average forecast of $42 million.
The company said improvements to product quality and customer service helped it gain market share during the quarter.
For the second quarter, Spreadtrum is forecasting revenue of $65 million to $68 million. Analysts expected $44.4 million.
There was a compelling announcement in late March as well... a quite prominent PE firm named Silver Lake Partners made an investment. This helps not only from a credibility standpoint but in terms of potential management or industry expertise. It also appears to be Silver Lake's first foray into China.
From the announcement:
Spreadtrum Communications, Inc., one of China's leading fabless semiconductor providers supporting both 2G and 3G wireless communications standards, and Silver Lake, one of the world's preeminent technology investors, today jointly announced that Silver Lake has acquired a minority stake in the Shanghai-based company.
"We are very pleased to have Silver Lake become not only one of the largest shareholders of our company, but also an important strategic partner," said Dr. Leo Li, President and CEO of Spreadtrum. "We believe that Silver Lake's deep domain expertise and extensive industry network will benefit Spreadtrum significantly. We look forward to our partnership with Silver Lake as we enter our next phase of growth."
Dr. Eric Chen, Managing Director at Silver Lake, said, "We believe Spreadtrum will be a key enabler of China's home-grown 3G national wireless standard, representing the power of technological innovation in the Chinese economy." He added, "The management team has put the company on a convincing growth trajectory and we are excited about Spreadtrum's prospects as China becomes home to globally competitive fabless semiconductor players over the coming decade. We are committed to working with the company to seek transformative growth opportunities."
.... pleased to announce this transaction as Silver Lake's inaugural investment in a Chinese-based entity. We look forward to working closely with Spreadtrum to execute its growth strategy."
Disclosure: Long Spreadtrum Communications. TriQuint Semi in fund; no personal position