Preface: If there is anything we have learned from recent financial crises it is the failure to "stress test" a widely-held financial assumption can lead to unpleasant consequences. Just ask John Meriwether and his two Nobel Laureate partners who, on behalf of their clients, lost 90% of their capital. Or, ask AIG regarding its maximum possible loss of $109 billion based on its asset backed derivatives business.
This article is not intended to predict a market crash in 2011, but to simply overlay the '08 crash on the '10 stock market cycle based on a series of similar events. It's better to stress test a scenario than to live through it, however remote the possibility.
Summary: The usual source of a stock market crash is a series of events that feed on each other causing market destabilization as investors' "loss thresholds" are breached. It culminates in a sense that "no one's in charge" and a fear of governments' inability to stem the cascading of events. As a consequence, panic selling ensues. US investors came perilously close to full-scale meltdown in 2008.
Is it the same movie in 2010? As I've commented in a previous article, investors seem to be taking a "run" at European countries (Greece, Portugal, Spain and Italy), just as they previously attempted with US financial institutions (Bear Stearns, Lehman (OTC:LEHMQ), Merrill, etc.).
So, if we sat through this movie once, what does it look like when we start it at a lower level?
Stock Cycles' Comparisons: The chart below looks at a comparison of the 2008 market meltdown (blue line) to a potential meltdown in 2010 (red line) if a similar set of circumstances were to occur and the S&P 500 were to retrace itself.
Signposts: I have labeled events (white boxes) highlighting a series of events contributing to the '08 meltdown. I have highlighted events (yellow boxes) that have already occurred in 2010 as well as those events that could occur in 2010 (scarlet boxes).
Gray Swan: While highly unlikely, the chart below demonstrates that it is possible for the S&P 500 index to hit the 500's if it were to follow the trajectory of the previous market crash.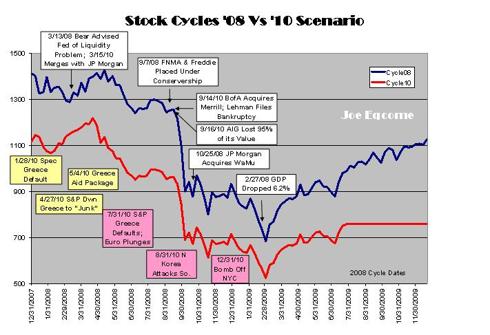 (Click to enlarge)
Sometimes history rhymes, sometimes not, but knowing the possibilities: priceless.
Disclosure: No positions