A pair of the better performing MLP IPOs from 2013 show how the spin-off of energy assets into a limited partnership company provides a proven method to increase the value of those assets and allows investors to take part in an almost guaranteed growth process. The unit prices of both Phillips 66 Partners, LP (NYSE:PSXP) and Valero Energy Partners, LP (NYSE:VLP) have taken off recently, with PSXP up 61% and VLP trading 38% higher than the first day of trading closing prices in July and December 2013, respectively.
Note: Master limited partnerships are not corporations, so investors in an MLP own units and not shares. Income payments made to investors are distributions and not corporate dividends. However, to keep things moving along and not become repetitive, the words shares and dividends may be used in this article with an understanding that the use is not technically correct.
The Traditional MLP Drop Down Approach
Both of the two new MLPs were spun off by companies that own the types of midstream energy assets that you often find in the portfolios of master limited partnerships. With the drop down process, assets owned by the parent corporation can be transferred to the more tax-efficient limited partnership structure. This lets the parent earn a growing income stream from the LP, GP and incentive distribution rights it retains, and the transfer of assets to the MLP can convert those holdings into cash that can be reinvested into other parts of the parent company's business. A well structured drop down benefits both the parent providing the asset and the MLP buying the asset.
When Phillips 66 (NYSE:PSX) spun off Phillips 66 Partners, the new MLP received enough of the parent company's midstream assets to provide a 1.1 times distributable cash flow coverage on the initially projected $0.85 annual dividend rate, which was increased to $0.2248 for the fourth quarter, or $0.90 annually. PSXP also retained the net cash proceeds from the IPO, giving the company dry powder for future acquisitions. Last month, PSXP announced the company's first drop-down acquisition, a $700 million purchase from Phillips 66 of a product pipeline and two newly constructed refinery-grade propylene storage spheres. The purchase will be funded with $400 million of cash on hand, a 5-year $150 million note from PSX, and the issue of $140 million of new units. The new assets are forecast to produce $70 million of annual EBITDA with $3 to $4 million of maintenance capex. For comparison, PSXP reported $18.8 million of EBITDA for the fourth quarter. The drop down increases PSXP's annual EBITDA by 90% with a 3% share dilution.
Valero Energy Corporation (NYSE:VLO) used the IPO template of Phillips 66 to spin off a midstream MLP, even using the same initial dividend rate, IDR splits and IPO price. VLP will announce Q4 earnings on March 7, but with a December 11 launch, there is not much of a track record to report. If VLO does stick with the $0.85 annual/$0.225 quarterly distribution rate for the 2014 first quarter payout, at $38.60 per unit, the current yield on VLP is 2.2%.
The fact that asset purchases are immediately accretive to DCF per unit is the strength of the parent to MLP drop-down process. This is in contrast to the large, stand-alone MLPs which must wait several years for growth capex projects to be built and brought online before the cash flow is available to increase the distribution rate.
Projected Distribution Growth vs. Recent Share Price Increases
Management at PSXP has stated distribution growth goals of at least 20% per year for the first several years after the IPO. It is likely that Valero will shoot for similar growth results for VLP. I use a rule of thumb that the share price should increase annually by the rate of increase in the distribution. Under this "rule," the increases to date for the units of PSXP and VLP put those gains well ahead of schedule. Note from the unit value charts below, that the PSXP unit price followed the not uncommon path of a flat share value for several months after the IPO and then much steeper price gains when distributions start to be actually paid and earnings announcements reinforce the growth potential of these companies. The VLP gains have been steady from the start, mirroring the recent gains for PSXP.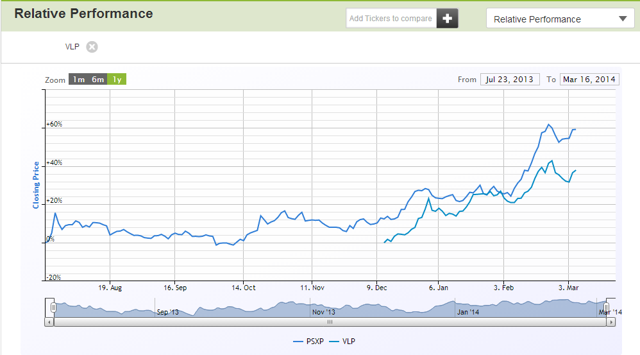 Additionally, with a limited number of units in the public hands (26% of PSXP sold at the IPO, 29% of VLP), investor discovery of the growth prospects can quickly push the unit value higher. The low float percentages can lead to unit price volatility in either direction and the limited number of available units discourages institutional ownership, which can be a stabilizing factor.
Is There Still Value in PSXP or VLP?
Low yield, fast distribution growth MLPs like these need to be evaluated for a total return: dividend yield plus unit price appreciation. The approach is different than the typical MLP with an attractive yield and a moderate distribution growth projection. A 20% rate of distribution growth should produce a share value double in about 4 years. These two MLPs have gotten halfway to the double in less than a year, so investors getting in at the current prices should not expect another 50% in the next year. However, neither company has yet announced significant distribution increases, which could propel further unit value increases.
Applying some real math to the discussion, if the market chooses to keep PSXP at the current 1.9% yield, 20% distribution growth puts the unit value at about $60 in two years and over $80 in three, compared to $47 currently. However, if the share price adjusts to a future yield of 3%, PSXP units would be worth just $43 two years from now and $52 a year later. With the same 20% projected distribution growth and holding the current 2.2% yield, VLP - now at $38 - would be up to $59 in two years and over $70 at the three-year point. A shift to a 3% yield gives 2- and 3-year values of $43 and $52. Of course, yields, prices and distribution growth rates are not static. For example, a 25% distribution growth rate should be both better for the unit price and keep the ultimate yield at a lower value.
As a final note, the EBITDA numbers from PSXP listed previously point to a potentially much greater than 20% distribution increase in either the first or second-quarter earnings announcement. The drop down will add about $0.70 per year of accretive DCF per unit.
Check the distribution growth rates and DCF coverage of any MLP quickly and easily using the tools and tables available on the MLPData.com website.
Disclosure: I have no positions in any stocks mentioned, and no plans to initiate any positions within the next 72 hours. I wrote this article myself, and it expresses my own opinions. I am not receiving compensation for it (other than from Seeking Alpha). I have no business relationship with any company whose stock is mentioned in this article.