When a company raises its dividend, potential income-driven investors tend to become a bit more interested as to what may be going on with that particular company. In this article, I not only wanted to examine Devon Energy's (NYSE:DVN) most recent dividend increase but also highlight a number of reasons behind my decision to remain bullish on shares on this moderately-yielding oil & gas play.
Recent Performance & Trend Behavior
On Wednesday, shares of DVN, which currently possess a market cap of $25.92 billion, a forward P/E ratio of 9.90, and an annual dividend yield of 1.36% ($0.88), settled at a price of $64.47/share. Based on its closing price of $64.47/share, shares of DVN are trading 2.97% above their 20-day simple moving average, 5.38% above their 50-day simple moving average, and 9.49% above their 200-day simple moving average. It should be noted that these numbers indicate both a short-term as well as a very strong mid-to-long-term uptrend for the stock, which generally translates into a moderate buying for most near-term traders and most long-term investors.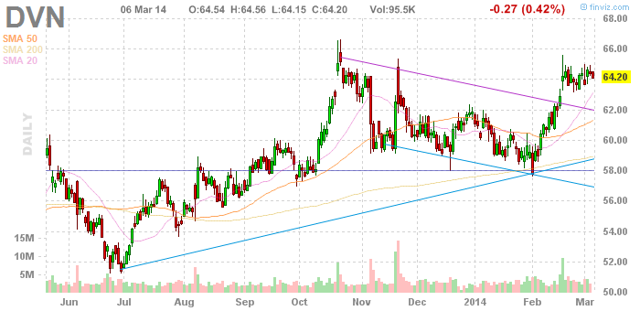 Devon Energy's Latest Dividend Increase
On Wednesday, March 5, Devon Energy announced a quarterly dividend increase of $0.02/share to bring its upcoming dividend payout to $0.24/share. It should be noted that not only does this boost represent a 9.1% increase from its prior dividend of $0.22/share (paid on December 31), but was also in line with its previous increase that was announced on March 6 2013.
The company's forward yield of 1.49% ($0.96) coupled with its ability to maintain its quarterly distribution over last several years make this particular oil & gas play a highly considerable option, especially for those who may be in the market for a moderate stream of quarterly income.
Canadian Assets Sale Will Fetch $3.13 Billion
When a company considers the sale of an underperforming asset or project, potential investors tend to become a bit more interested as to what may be going on with that particular company. That being said, I think Devon's recent move to sell a portion of its Canadian-based liquids-rich natural gas assets to Canadian Natural Resources (NYSE:CNQ) not only generates $3.13 billion in cash but also alleviates the headache Devon was facing with regard to its Canadian gas assets that were fetching lower prices over the last several years.
A Look At Devon Energy's Q4 Earnings
On Wednesday, February 19, Devon Energy reported the results of a fairly solid fourth quarter, even the company missed revenue estimates by a margin of $70 million. Analysts had been expecting the company to earn $1.07/share on revenue of $2.69 billion; however, DVN still managed to impress both investors and analysts when the company reported earnings of $1.10/share even though its quarterly revenue only grew 1.6% on a year-over-year basis. Contributing to the company's solid Q4 results was a 26% increase in operating cash flows as well as a 17% increase in its company-wide oil production when compared to the year-ago period and a 7% increase when compared to Q3 2013.
If Devon can continue to demonstrate sustainable increases in terms of its net income, operating cash flows, and oil production over the next several quarters there's a very good chance the company can meet and/or exceed its both full-year EPS and revenue estimates which are calling for Devon Energy to earn $5.70/share in terms of EPS and $12.41 billion in revenue.
Conclusion
For those of you who may be considering a position in Devon Energy, I strongly recommend keeping a close eye on the company's near-term trend performance, long-term dividend behavior and its ability to continue to enhance shareholder value through the continued sale of its Canadian-based assets, as each of these factors could play a role in the company's mid-to-long-term growth.
Disclosure: I have no positions in any stocks mentioned, but may initiate a long position in DVN over the next 72 hours. I wrote this article myself, and it expresses my own opinions. I am not receiving compensation for it (other than from Seeking Alpha). I have no business relationship with any company whose stock is mentioned in this article.