I've written many articles about how the value of Yahoo (NASDAQ:YHOO) is largely due to its Alibaba holding. A similar story is developing right now with eBay (NASDAQ:EBAY). eBay owns PayPal, and Carl Icahn has recently taken notice. What should make this an interesting story to follow is that Carl knows how to piss in a pool like no other.
We are therefore naturally skeptical of recent articles reporting eBay CEO John Donahoe's claims of widespread stockholder support for keeping the companies together.

While I find the Bernstein data points astounding in light of the fact that we have not yet even begun to formally reach out to our fellow eBay stockholders to make our case, I cannot say that I am particularly surprised at the level of apparent stockholder dissatisfaction with this board - especially in light of (among other things) -

what we believe was an epic blunder in which the board allowed an investor group which included director Marc Andreessen's venture capital firm to capture the lion's share of the enormous upside from Microsoft's acquisition of Skype at the expense of

eBay's stockholders;

the fact that during Mr. Andreessen's time on the eBay Board he has made investments in and actively advised, no less than five direct competitors of eBay (four of which are competitors of

PayPal), including Boku (mobile payments platform), Coinbase (Bitcoin wallet), Dwolla (secure online money management), Jumio (online and mobile credit card payments) and Fab (design e-commerce); and

the fact that Board member Scott Cook, the founder of Intuit (which competes with PayPal) allegedly asked

eBay not to recruit any Intuit employees, according to an ongoing Department of Justice investigation.
The case Carl makes however is very compelling, and with the recent developments with the Bitcoin, an independent PayPal may be just the right approach to expanding its market and value.
What I see as some of the obvious potential benefits of a spinoff -

a spinoff of PayPal could eliminate the conglomerate discount that we believe the market has afforded

eBay;

a spinoff could allow two separate management teams to focus more closely on the core businesses and make better strategic decisions regarding the long-term health of their respective companies;

an independent PayPal could provide an even more valuable currency for bolt-on acquisitions as

PayPal strives to remain the market leader in mobile payments;

a spinoff of

PayPal could provide a more compelling currency to attract top talent to the respective companies; and

separately, PayPal may be more able to facilitate strategic partnerships with companies that may now be reluctant to do so due to competitive concerns with

eBay -

seem already to be apparent to many, many other eBay stockholders. Again, we are encouraged.
I would add one additional point to the above list, PayPal could develop its own merchant centric virtual currency called a Palcoin that is designed with the merchant's needs in mind, unlike the currency speculator centric Bitcoin. I imagine PayPal could do that now, but given that they haven't, I assume eBay either hasn't thought of it or isn't interested. An independent PayPal would likely be forced to address the virtual currency issue.
Right now eBay has a market capitalization of $77 billion, and its stock has dramatically underperformed the S&P 500, Amazon (NASDAQ:AMZN) and YHOO over the past year. A PayPal IPO could be just the thing eBay needs to jumpstart its stalled company. Even talk of one is likely to be a positive for the stock price.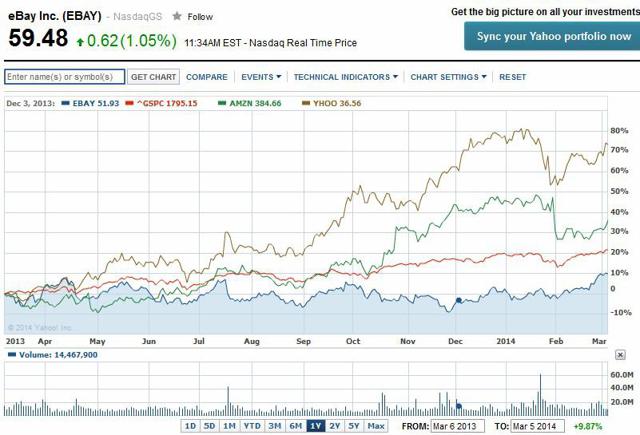 PayPal is estimated to be worth $40 billion, or over 50% the value of eBay, right now, but having followed the YHOO Alibaba story last year, early estimates tend to be wrong, every wrong. When I wrote my first article on Alibaba, it was valued at $38 billion.
Currently Alibaba is valued at $38 billion.
The last article I wrote on the subject had Alibaba valued at $153 billion.
Estimates now place Alibaba over 4x the original estimate of $38 billion, valuing its IPO at $153 billion.
While I doubt PayPal will show the explosive increase in valuations that Alibaba has, a virtual currency angle to the PayPal IPO could dramatically change the calculus. Personally I've been amazed at the passion, fanaticism and longevity that surrounds the Bitcoin, even after all the bad press. The Bitcoin has survived the Mt Gox and other disasters, and is still trading over $600 with a market value of over $8 billion. Personally I think the Bitcoin is being manipulated to give the illusion of success, but still, it currently trades at over $600, manipulation or not. Bitcoin is designed to be manipulated, and that will forever prevent it from being a widely accepted currency. If the Bitcoin can take a very bad idea and make it a semi-success, imagine what PayPal can do with a good idea. The Bitcoin is designed to attract currency speculators, not merchants and consumers. PayPal could be the first to make a virtual currency for merchants and consumers, users that demand stability, certainty and reliability, not volatility, uncertainty and speculation.
Bottom line, Carl's attention towards eBay will likely drive the stock higher on its own. While I don't know what the eBay board or shareholders will do, I imagine that I will be writing future articles highlighting how analysts are boosting the valuation of a possible PayPal IPO. As/if those valuations go higher, so will the chances of a PayPal IPO.
Disclaimer: This article is not an investment recommendation or solicitation. Any analysis presented in this article is illustrative in nature, is based on an incomplete set of information and has limitations to its accuracy, and is not meant to be relied upon for investment decisions. Please consult a qualified investment advisor. The information upon which this material is based was obtained from sources believed to be reliable, but has not been independently verified. Therefore, the author cannot guarantee its accuracy. Any opinions or estimates constitute the author's best judgment as of the date of publication, and are subject to change without notice. Past performance is no guarantee of future results. For my full disclaimer and disclosure, click here.
Disclosure: I have no positions in any stocks mentioned, and no plans to initiate any positions within the next 72 hours. I wrote this article myself, and it expresses my own opinions. I am not receiving compensation for it (other than from Seeking Alpha). I have no business relationship with any company whose stock is mentioned in this article.