Phillips 66 (NYSE:PSX) reported an impressive fourth quarter with both adjusted earnings and total operating cash flow of around $808 million or $1.34 per share and $1.3 billion (excluding working capital), respectively. The improved earnings were led by the refining segment with a contribution of $450 million, higher than $363 million during the same period in 2012. Apart from this, the company's midstream segment reported impressive earnings of $121 million during the fourth quarter of 2013. The refining and midstream segments accounted for 45% and 24%, respectively, of the company's net operating income last year.
I expect the company will report strong quarters going forward while considering the following key takeaways.
Focusing more on the midstream segment
After increasing earnings in its refining segment, Phillips 66 is now focusing on its midstream segment to strengthen its operations. It will transform the free cash from its refining segment to its midstream segment to reduce the high exposure of the refining segment. The company's midstream segment includes energy transportation, storage, and processing infrastructure. With pipeline access to higher U.S. shale production, the total export volume in the fourth quarter was nearly 200,000 barrels per day (bpd) with the increased export capacity of more than 400,000 bpd. Last quarter, the company achieved a refining margin of around $10.75 per barrel by accessing lower-cost crude in the U.S., which in turn resulted in to improved earnings.
The company is trying to gain more access to the cheaper U.S. crude through expanding midstream segment, ensuring increased earnings going forward.
While focusing on midstream this year, Phillips 66 will invest $3 billion, around 70% of its total projected capital investment of $4.6 billion, in two growth projects under this segment. As North American shale players experience a production glut due to the increase in oil and gas production, efficient transportation of these crudes could benefit Phillips 66.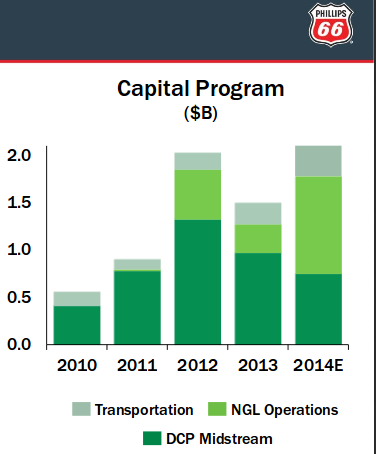 Source: Company presentation
Phillips 66 plans to build a new fractionation facility in Old Ocean this year, which will increase its total throughput volume of processed natural gas liquid (NYSE:NGL) by 100,000 barrels per day. The new facility will be close to the company's Sweeny refinery and expected to come in service during the third quarter of 2015.
This fractionation project will separate NGL into chemical-like ethylene that is primarily used in plastic manufacturing and will also supply purity NGL products like propane, butane to petrochemical industry, transportation, and heating markets. The lower natural gas price and abundant shale gas presence in the U.S. have increased domestic plastic production and expanded by 7%, from August to October 2013. This growth is expected to continue by 4% and 7% in 2014 and 2015, respectively. Along with the U.S. domestic plastics market, the global plastics market is also estimated to grow at a compounded annual growth rate (CAGR) of 6.2% from 2011 and 2016. I expect Phillips 66's new NGL fractionation facility will strengthen the company's midstream segment's earnings with the increasing demand of plastic and plastic-related products.
The total NGL supply to this fractionator will be delivered through major pipelines, including Sand Hill, in which the company with Spectra Energy (NYSE:SE) owns a 33.3% direct interest. With the help of this 720-mile-long pipeline, Phillips 66 can access the increased total production from the Eagle Ford and Permian basins. This pipeline has around 200,000 bpd of initial capacity for supplying NGL, and it is expected that the capacity can further increase to 350,000 bpd with the installation of additional pumps. So, with direct pipeline access, the company can increase its total throughput volume over time to meet the growing demand of NGL in different industries.
Moreover, the company also received approval for construction of a liquefied petroleum gas (NYSE:LPG) export terminal, which will complement its marine terminal in Freeport. As the global demand of LPG as a fuel is growing rapidly, especially with the emerging regions such as India, Thailand, and Turkey, other countries are taking initiatives to use LPG in domestic appliances. North America and Europe together accounted for 38.9% of the overall LPG global demand market in 2011 and it is expected to grow further with the growing production of NGL in North America. Phillips 66 with a presence in these regions could benefit through its new export terminal that will have the total export capacity of 4.4 million barrels per month by mid-2016. This project will include storage and pipeline access to the Mont Belvieu hub that will improve its market accessibility in the mid-continent. So, these two growth projects expect to add more opportunity in the midstream segment, which in turn will help the company strengthen its cash-flow structure.
Strong free cash flow: improvement opportunities ahead
Phillips 66 has generated $5.9 billion in cash from continuing operations and ended with $5.4 billion as cash and cash equivalents at the end of 2013. During the year, the company has paid $1 billion as debt repayment and left with total long-term debt obligation of $6.1 billion. Along with that the company has also spent $1.8 billion as capital expenditure and investment while paying $807 million in dividends. The free cash flow is a key indicator of how strong the company's base is for future capital investment and how well the company will value its shareholders in the longer term. So with the higher free cash flow, the company will be able to invest more in its growth projects in coming years without sacrificing the dividend payment to shareholders. In the coming quarters, Phillips 66 will generate more free cash flow with its midstream growth projects, while reducing its total long-term debt this year.
Conclusion
With the substantial amount of capital investment in its midstream segment, the company is expected to further improve earnings in quarters ahead. Moreover, the upcoming projects will enable the company to achieve higher free cash flow while meeting the increasing domestic and global demand of NGL and LPG. Looking at its potential and earnings performance, I recommend a strong buy.
Disclosure: I have no positions in any stocks mentioned, and no plans to initiate any positions within the next 72 hours. I wrote this article myself, and it expresses my own opinions. I am not receiving compensation for it (other than from Seeking Alpha). I have no business relationship with any company whose stock is mentioned in this article.