The market jumped out of the gate today on China's show of confidence in European debt, even though the latest jobs report may not have been inspiring. Investors rushed back in to pick up tech stocks, sending Nasdaq roaring up +81.8 points and into the green for 2010. Google (NASDAQ:GOOG) added $15 to close above $490. GOOG has completed its $750 million acquisition of mobile advertising network AdMob and will start buying $750 million of its stock on the open market. High-flyers back in April were flying again: SanDisk (SNDK) +7.55%, Broadcom (BRCM) +6.25%, F5 Networks (NASDAQ:FFIV) +6.59%. Apple (NASDAQ:AAPL) added +9.24 to close at $253.35. Baidu (NASDAQ:BIDU) vaulted +8.74%, trading at $73.5 (that's back to $735 pre-split)! Amazon (NASDAQ:AMZN) and Research in Motion (RIMM) also made nice gains, up +2.83% and +4.05%, respectively.
Miners were very strong. In my Sector Watch for this week, we discussed the coal stocks bouncing with the market. This sector was among the strongest today: Walter Industries (NYSE:WLT) +6.45%, Cliffs (NYSE:CLF) +8.32%, Peabody (BTU) +5.82%, Arch Coal (ACI) +6.05%.
The Dow was up +284.54 points; SPX gained +35.11 points; Nasdaq jumped +81.80 points: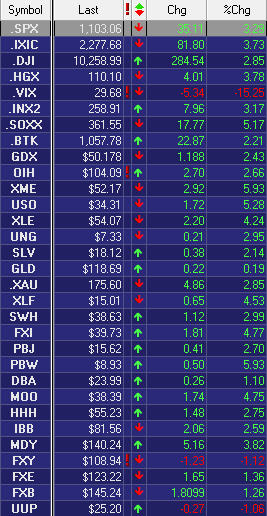 USO (oil) and UNG (natural gas) continued to trade higher, with USO adding another +5.28%. XME (metals and mining) led the market with a +5.93% rise. SOXX (semiconductors) gained +5.17%. XLF (financials) rose +4.53% while HGX (housing) was up +3.78%. FXI (Chinese ADRs) bounced +4.77%.
SPX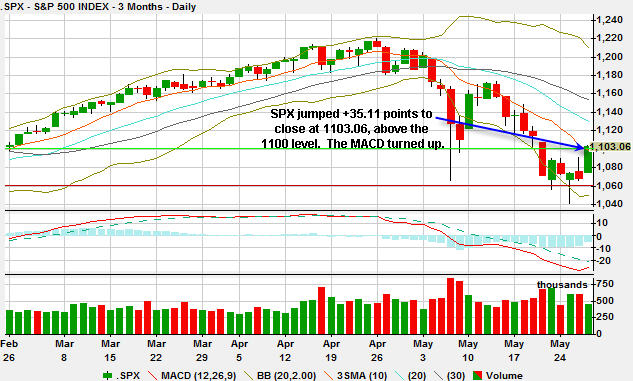 SPX jumped +35.11 points to close at 1103.06, above the 110 level. The MACD turned up.
Nasdaq vaulted +81.8 points to close at 2277.68, above its 10-day MA. Its MACD also went higher.
The market has been zigzagging all week, changing directions everyday. Not only that, the morning moves have been strong and in the afternoon, the direction would change again. But, today, we saw something different. Today, the market gapped higher and continued to rally until the close. The market indices closed at their day highs! In addition, the market chose to focused on China's support for Europe, instead of the jobs numbers. It does look like we'll see some follow-throughs on this rally.
Some trading ideas:
Upside:
Cree (NASDAQ:CREE) has come down quite a bit and has a lot of room to run back up.
The coal names have bounced quite a bit, but, US Steel (NYSE:X) has just started (up +8.29% today).
Downside:
While the rest of the market zoomed higher today, the education stocks remained weak: Apollo Group (NASDAQ:APOL), ITT Educational Services (NYSE:ESI).
TLT has been going higher and higher while the market slumped. It finally pulled back today.

Disclosure: No positions