I must admit, I just can't write an article with no entertainment value. To me, it's just senseless to build a case around something I like or don't like without explaining it in my own words. After all, I'm not an analyst and I don't pretend to be an economist. I oftentimes use data or analytics from less socially-savvy colleagues; however, I believe that my writing style can be truly inspirational, and possibly even advantageous.
In a previous article, I referenced American Realty Capital Properties (ARCP) as the "LeBron James" of REIT-dom. Heck yes, I like basketball, but the intent of that article was to portray ARCP as a "monstrous REIT" with an appetite for robust growth. Of course, I liken Triple Net REITs to the adage "Nothing But Net".
In this article, I'm going to switch gears from basketball to James Bond. Don't worry. I won't tell you all of my spy secrets. I just want to tell you why I think Tanger Factory Outlet Centers (NYSE:SKT) is my favorite "pure play" Retail REIT and deserves to be on my "Nobody Does it Better" list. Carly Simon sang:
And nobody does it better
Makes me feel sad for the rest
Nobody does it half as good as you
Baby, baby, darling, you're the best
Tanger Factory Outlet Centers - How Did You Learn To Do The Things You Do?
In last week's Wall Street Journal, Drew Fitzgerald and Suzanne Kapner wrote an article suggesting that the dominant mall-based retailers, J.C. Penney Co. (NYSE:JCP) and Sears Holdings (NASDAQ:SHLD), had "little hope of substantial improvement ahead" even though their "shares jumped as investors were relieved the situation wasn't worse".
In the context of the latest earnings periods, shares in both Penney and Sears have moved up, while these two companies - the country's two weakest retailers - still continue to burn cash.
I haven't studied Penney in great detail, but it appears to me that the company will need to downsize into a smaller store base, and it's highly likely that the success or failure of the 112-year old brand will be in how it handles its vendor terms.
In the new age of retailing, it's becoming quite clear that the most sustainable companies will have to be experts in all business lines - that is, full price, discount, and e-commerce. By linking together all channels, the strongest players will benefit and provide the most lasting differentiation.
Last Friday, I had the opportunity to attend a Retail Symposium at The University of North Carolina - Chapel Hill. The opening speaker was Steve Tanger, CEO of Tanger Factory Outlet Centers . During the hour-long speech, Tanger provided some valuable insight into the Tanger brand and the history of the outlet sector. Tanger opened with these comments:
You see a very mixed picture of retail today. Luxury and premium brands alone are rebounding, and outlet stores are expanding. Mid-market retailers like JC Penney and Sears are struggling - nearly crushed by their move away from discounting. The economy is strengthening, but clearly some brands and retailers are reaping most of the benefit.
Tanger went on to explain that Tanger Outlets began with his grandfather in 1920, who started in the shirt manufacturing business selling products to the military on department stores. Tanger added:
"When he (Tanger's grandfather) found that the company had excess inventory, he devised a solution to put the products on sale in part of the warehouse, thus opening the first outlet store".
So, in 1981, Stanley Tanger (Tanger's father) approached other brands to cluster several outlet stores together in the first ground-up shopping center with outlet stores in Burlington, North Carolina. This was not only the beginning of Tanger Factory Outlet Centers, but also of a thriving retail channel - the Outlet industry. Tanger explained:
Our long-term plan was to make it to the next Saturday. We worked tirelessly and the company grew to 13 outlet centers by 1992. As a result of our hard work, we were able to take the company public in May 1993. We became the first outlet developers to be listed on the New York Stock Exchange as a publicly traded REIT.

We raised $100 million in the IPO, and used most of that to pay down debt. At that time our enterprise value was $200 million. Today it is about $4.5 billion or about 17% compounded growth rate for 20 years. This daring move opened doors for the outlet industry that we never could have imagined.
Over the last 33 years, Tanger Outlets' portfolio has continued to expand, and today includes 44 outlet centers in 26 states coast-to-coast and in Canada. The Greensboro-based REIT has a robust pipeline of growth planned for delivery in the next 2 years, including new centers at Foxwood Resort & Casino in CT, in Charlotte, NC, Grand Rapids, MI, Columbus, OH, Ottawa, Canada, and Cookstown (Canada), with expansion planned in Glendale, AZ, Branson, MO, Park City, UT, and Sevierville, TN. Tanger said:
"Our share of this new development is about $500 million, with expected return of about 9-11%."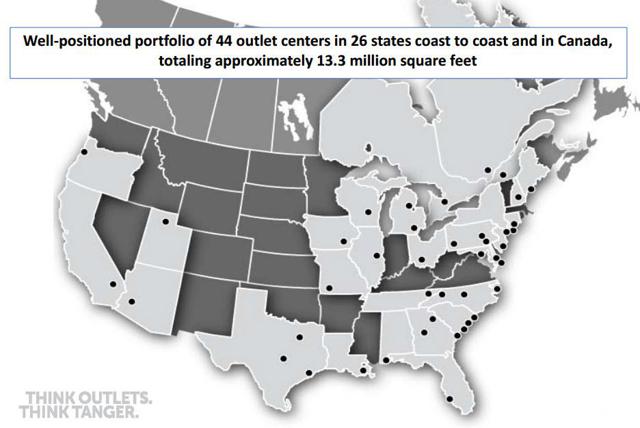 Tanger Factory Outlet Centers - Makes Me Feel Sad For The Rest
Tanger Outlets has a market cap of around $3.318 billion and assets of over $2 billion. Here is a snapshot of Tanger (based on market cap) and the industry peer group.

Although Tanger is not the largest mall REIT based on size, the company does flex considerable muscle when it comes to its "fortress" balance sheet. At year-end 2013, Tanger's debt-to-market cap was 29.34%, which is the best for the mall REITs.

Tanger is also rated BBB+ by S&P and BAA1 by Moody's. The company has about $500 million available on the line of credit. 86% of the GLA is unencumbered by mortgages, and 79% of debt is at fixed rates.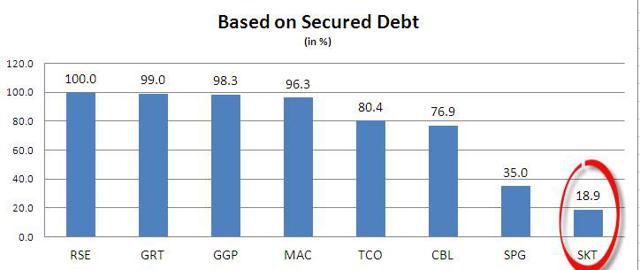 Tanger's same-center NOI grew 3.5% in the 4th quarter of 2013, extending the streak to 36 consecutive quarters of internal growth. In 2013, Tanger's Funds from Operations increased 19% to $1.94 per share. As a result of the company's highly consistent earnings platform, Tanger achieved "Dividend Aristocrat" status - an extraordinary accomplishment of paying and increasing dividends for over 20 years in a row.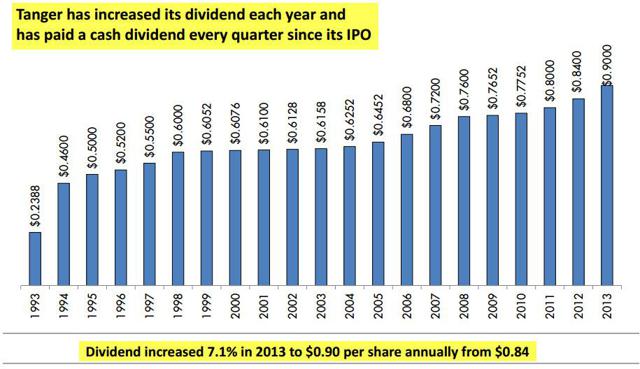 Another differentiator and "Nobody Does It Better" attribute is the fact that Tanger has the highest occupancy in the mall REIT sector.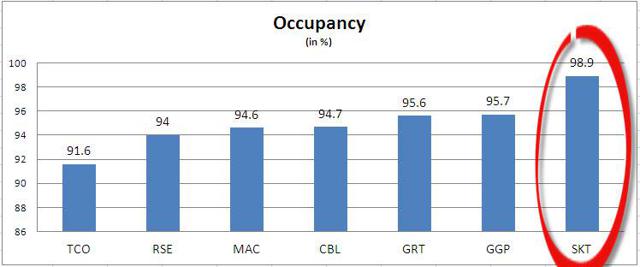 Tanger Factory Outlet Centers - Nobody Does It Quite The Way You Do
At the above-referenced conference last week, Steve Tanger said:
In the early years it was a clearance channel for retail brands to sell imperfect products and manage excess inventory. Outlets were not the place to go if you needed something for holiday shopping or stocking up for your spring break trip because there wasn't a wide range of in-season merchandise in a variety of sizes. Instead, outlet stores were great for value-minded shoppers looking to stock up for next year, individuals who wore less common sizes, and deal hunters - people who love the thrill of the hunt but weren't looking for anything in particular.

While brands quickly started to see profits coming from their outlets stores, they also noticed an unrealized opportunity - they had more customers than products to sell. Customers liked the everyday all-discount shopping experience. They were coming not just when they had less to spend or at the end of the season, but all year-round because shopping was simply more fun at outlets.
Tanger points out that it was that "insight that helped us convince many brands to change their approach to their outlet stores". Accordingly, outlets stores became a core distribution channel alongside flagship stores, department stores and online retail portals. Tanger added:
For many brands, the outlet channel is now one of, if not THE, most profitable division of their company.
Outlets have continued to become more important to brands and designers, which was evident during the recent economic downturn. Unlike many other retail distribution channels, outlets certainly benefited during the recession. Consumers did not have as much disposable income, but still wanted to purchase quality products from brands and designers that they knew and trusted.
Tanger has become the "go-to" outlet landlord. Here is a snapshot of the company's Top Tenants: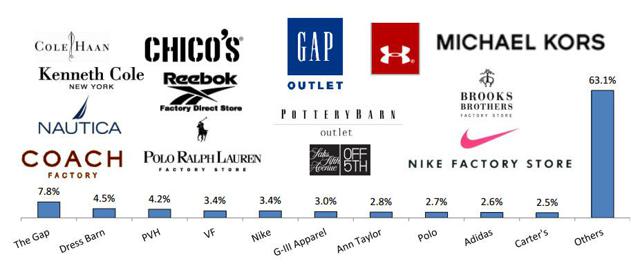 In addition to the long-time outlet shoppers, the economic conditions of recent years motivated new shoppers to shop outlets because of the value proposition and name brand products. Tanger said:
In good times people like a bargain and in tough times like these they need a bargain.
Tanger explained that, "outlets become a more popular shopping channel with customers, retailers began rethinking what products were available in their outlet stores as well as apparel retailers and wholesalers began keeping inventory levels tight, leading to a decrease in surplus product.
At the same time, brands continued to see strong profits and consumer traffic from their outlet center channels, so they started creating merchandise for the outlets to fill the void created by lack of excess inventory. Today, you can walk into any store at a Tanger Outlet Center and see the same in-season and on-trend product in full size ranges and lots of colors that are in magazines and in traditional malls."
Tanger Factory Outlet Centers - Nobody Does It Better
During the last ten years, only one new mall has been built, while the development and expansion of outlet centers has blossomed. Growth-minded brands and designers are looking to open new locations and attract more value-conscious shoppers. Over the last two years in particular, outlet center development has soared.
Leading the way is Tanger Factory Outlet Centers. In Repeatability: Build Enduring Businesses for a World of Constant Change, Chris Zook wrote:
The power of a repeatable model lies in the way it turns the sources of differentiation into routines, behaviors, and activity systems.
By owning and developing high-quality outlet space, Tanger has become a leader, and the company's prime source of competitive advantage has made the company more strategically equipped to provide lasting differentiation. Tanger has competitors, but the reason that this REIT "does it better" is because it provides a valuable service that serves its tenants better and more profitably.

Tanger is currently trading at $34.75, with a dividend yield of 2.59%. As Steve Tanger said, "in good times people like a bargain", and that's why I'm going to wait on buying shares in Tanger Outlet Centers. There is no question that this REIT "does it better" than anyone else; however, I would prefer to buy the shares when Mr. Market is less attracted. I consider Tanger to be trading at FAIR VALUE.

I'm sticking with my "sleep well at night" BUY price of $32.00. I really like the business model, and I consider Tanger to be one of the true gems in the Mall sector. I believe that the primary value in owning Tanger is the fact that the company has distinguished itself for its ability to control risk, while also generating strong returns. Howard Marks said (in The Most Important Thing):
When you boil it all down, it's the investor's job to intelligently bear risk for profit. Doing it well is what separates the best from the rest.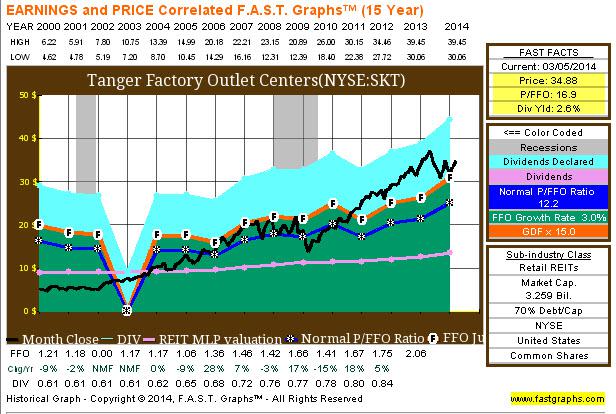 My REIT Newsletter: Only $99 a year. Subscribe HERE.
Source: UNC Retail Conference, Tanger Investor Presentation, SNL Financial, and FAST Graphs.
Other REITs referenced: (NYSE:RSE), (NYSE:GGP), (NYSE:CBL), (NYSE:TCO), (NYSE:SPG), (NYSE:MAC), and (GRT).
Disclaimer: This article is intended to provide information to interested parties. As I have no knowledge of individual investor circumstances, goals, and/or portfolio concentration or diversification, readers are expected to complete their own due diligence before purchasing any stocks mentioned or recommended.
Disclosure: I am long O, DLR, VTR, HTA, STAG, UMH, CSG, GPT, ARCP, ROIC, MPW, HCN, OHI, LXP, KIM. I wrote this article myself, and it expresses my own opinions. I am not receiving compensation for it (other than from Seeking Alpha). I have no business relationship with any company whose stock is mentioned in this article.