In today's Oxen Group market recap, What's Next For The Market, we will be focusing our attention on Plug Power (NASDAQ:PLUG). We covered PLUG last year with a lot of interest for upside, and the stock has come through, advancing over 50% in the past week, over 135% in the past month, and over 3870% in the past year. The question for most investors is…what's next? We will dive into the recent news and what it means for shares in our In Focus section. As always, we will also recap what happened in the market today and forecast for the coming days.
Market Overview
The market was decently strong again on Thursday as the bull run continues for the market. The Dow Jones led the way while we did see some weakness in technology, especially biotech. The market was paying most of its attention to developments in economic data with jobless claims as well as factory orders. Further, the market was prepping for a key non-farm payrolls report (NFP) tomorrow. The market was also keeping a keen eye on developments in Ukraine and Russia. It was a quieter day, though, as earnings season has ended and we are in the March bull days where we grind up.
The market will definitely be paying close attention to NFP tomorrow. We got some signal today from initial jobless claims about employment as that number came in under expectations. After ADP employment change was weak on Wednesday, initial jobless claims helped to showcase the issue of weather. Weather issues heavily influenced ADP, and jobless claims for the most recent week leading into March showed a dip in claims filed, suggesting that as parts of the country have come out of the "job freeze out."
Tomorrow, we will get a better signal of just how jobs looked in February with the NFP report, and the market was obviously tentative on Thursday heading into that number. Additionally, the market is showing some tentative bullish moves as it still is keeping a close eye on the situation in Russia and Ukraine. The latest news there shows that citizens of Crimea desire to potentially break off from the Ukraine, and that situation could keep the countries in the news for quite some time.
Biotechs were fairly weak on the day driven down by a Gilead Sciences (NASDAQ:GILD) recall as well as comments from Jim Chanos that were negative on Valeant Pharma (NYSE:VRX). Overall, biotech had a negative effect mostly on just the Nasdaq, but biotech is still up over 18% on the year, according to iShares Nasdaq Biotech (NASDAQ:IBB), vastly outperforming the rest of the marketplace.
At the close, the Dow Jones (NYSEARCA:DIA) is up 62 points. The S&P 500 (NYSEARCA:SPY) is up three points, and the Nasdaq (NASDAQ:QQQ) is down six points.
In Focus - Plug Power
Today, in our In Focus section, we will take a deeper look at Plug Power. The stock price rocketed from $0.16 one year ago to the current $6.53, a 3625.71% return in just one year. This incredible growth highlights the excitement of the fuel cell business and PLUG's potential. Yet, that type of growth brings about some concerns and puts the company under a microscope. At a valuation 21x sales and over 200x book, valuations are high, and the main question for PLUG is when can they turn a profit. Thus, the situation has not changed much since last time we wrote about Plug Power:
We believe that it's important to realize that this stock has made an unbelievable move in the past several months, and that it is time to start to see some actual profits in this stock before we start to give it more credit. Yet, let's not criticize a company that is in a much different position than it was twelve months ago for the position it was in 12 months ago. At the same time, we need to understand this is a speculative company only. Those that believe in fuel cell business and take the time to understand the nature of that demand and PLUG's business should be the only ones taking these shares on. And with price/book at 33x and price/sales nearing at 10x, shares are expensive at this time. The best thing is to wait and see if the company can get to profitability in Q2 of 2014.
The formula of profit is simple here, generating revenue and cutting costs. As for this thorny problem, Andrew J. Marsh, Chief Executive Officer, President and Director of Plug does not seem worried about either of them at all. In the End-of-Year Business Update Conference, last December, he talked about the company's strategies and expectations for the future and was quite confident about accomplishing their plan to getting to profitability:
Plug Power's turnkey deal will include providing products, service, hydrogen infrastructure and hydrogen. When one take a look back to these deals, we expect a deal to be signed soon for 3 to 6 sites, which would include 750 to 1,500 units. These units will be deployed over a 2-year period, include a 5-year service agreement, and probably exciting to us, provide recurring revenue stream, not only for service, but for hydrogen infrastructure and hydrogen.
With TTM revenue at $24 million, PLUG expects to gain $60 million in product revenue and $10 million in service revenue this year. The biggest part of potential revenue comes from the turnkey deals, which are expected to be signed in the near future. A typical turnkey deal including products and services provided by Plug Power will generate revenues between $8 million to $12 million. The CEO also mentioned in the conference that the predicted $70 million in revenue is based on approximately 20 sites, 5 sites in which Plug Power will provide a full turnkey solution.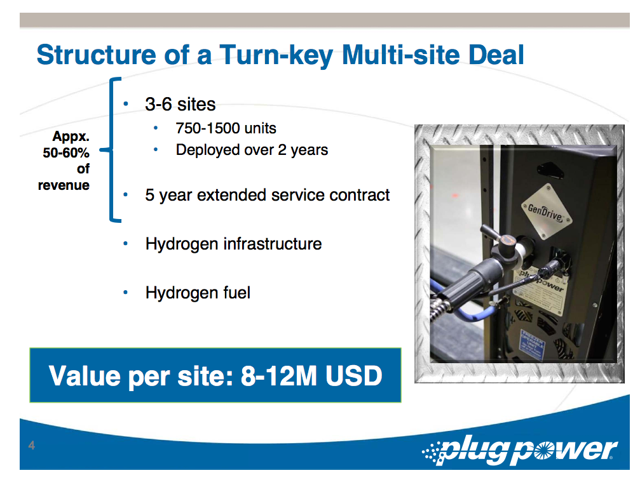 (source)The latest news that really got shares moving was a deal with Wal-Mart (NYSE:WMT) to receive a multi-site GenKey purchase order for hydrogen fuel cell powered electric lift truck fleets that shows Marsh making good on his promise (so far). The company will supply their solution at six North American centers for WMT. A total of over 1700 GenDrive units will be deployed over two years, starting in Q2FY14. Marsh noted:
This agreement is a tripling of Wal-Mart's commitment to Plug Power's fuel cells and is encouraging because it comes from a company with so much experience using our product. This is a milestone for Plug Power and its ongoing business relationship with Wal-Mart. We have proven to be a trusted partner and are confident that GenKey will enhance Wal-Mart's material handling operations.
This deal builds on the success the company has been seeing over the past six years in getting their units into distribution facilities. For example, they started with 80 units with BMW in 2009, which has gone to over 300 now. The same goes for Mercedes. The number of units has climbed to 195 from 72 where they started. PLUG is also seeking new big customers like FedEx. This year, they are doing a deployment with FedEx at their facility in Memphis Airport, replacing their present ground support equipment with 15 fuel cell powered units to test it out. If that goes well, FDX could put PLUG on the map. Yet, while growth looks incredible, we still worry about the bottom-line. PLUG is working hard to cut down on high product costs that plague profitability. According to Andrew J. Marsh, "product costs also continues to come down. As you can see, versus 2010, this year, our product cost has reduced by over 30%. And next year, to meet our targets, we only need a small decrease to 67% of product price to meet our goal." He also mentioned that the real challenge for PLUG is not 67% in 2014, but 58% in 2015, which is a huge jump. To achieve that goal, PLUG will focus on several segments of simplifying designs and changing suppliers. The company is also trying to develop other items to reduce costs, such as an integrated hydrogen tank valve under development that will help reduce costs significantly. They are also working on eliminating DC-DC converters, which represents over 20% of our product cost. The 67% target will be easily reached if they could save 15% on those converters. The question still remains as to when the profitability will occur. Additionally, one worry we have is that the company has to do a large build out of their workforce to meet this growing demand as well as likely improve overall factory infrastructure. Yet, the company has no operating cash flow and only 11M outstanding cash. That is why the company announced today a $22M stock offering that will dilute shares by about 3.7M, bringing shares outstanding up to 106M+. The purpose of funds is for working capital and corporate uses. The company's liquidity questions remain with a big build out happening, but the potential of this company is definitely stronger than this concern for us.
Friday's Outlook
The market will have its attention to jobs tomorrow through and through. While the weather argument will take place, there is little expectation for a beat, setting us up for a likely chance of soaring tomorrow rather than falling. Nothing through January-February has shown strength in data, and it would be hard to believe that NFP can reach the 160-165K range that analysts are expecting. The Unemployment rate, further, is expected by some to drop further. The question really is how much of a miss will still create upside. We believe anything over 120K will get a pass by the market. Under 100K could create some definite concern. In the off chance, we come close to that number or even beat, the market will likely jump very strongly.
Outside of jobs, we also have the Trade Balance announcement tomorrow as well as some key overseas news. Any developments in the Ukraine will definitely have an impact on the marketplace. There is not much foreign data to be released tomorrow. Outside of that, it's a pretty quiet day. Earnings from Foot Locker (NYSE:FL) and Qihoo 360 (NYSE:QIHU) rounds out the expected news, but neither of those reports are market movers.
The market has been soaring as of late, so some consolidation seems like it could occur. Yet, we believe any report over 120K will give us a green close as the bulls continue to dominate this market.
Disclosure: I have no positions in any stocks mentioned, and no plans to initiate any positions within the next 72 hours.
Business relationship disclosure: I have no business relationship with any company whose stock is mentioned in this article. The Oxen Group is a team of analysts. This article was written by David Ristau, one of our writers. We did not receive compensation for this article (other than from Seeking Alpha), and we have no business relationship with any company whose stock is mentioned in this article.