Aquinox Pharmaceuticals Inc (NASDAQ:AQXP), a clinical-stage pharmaceutical firm, developing inflammation and cancer treatments, plans to raise $41 million in its upcoming IPO.
The Vancouver, Canada-based firm will offer 3.7 million shares at an expected price range of $10-$12 per share. If the IPO can attain the midpoint of that range, AQXP will command a market value of $107 million.
• AQXP filed on January 28, 2014
• Lead Underwriters: Cowen and Company LLC, Jefferies LLC
• Underwriter: Canaccord Genuity Inc
Summary
Aquinox Pharmaceuticals is a clinical-stage pharmaceutical firm, engaged in the discovery and development of novel drug candidates for the treatment of inflammation and cancer. Its lead product candidate, known as AQX-1125, is an anti-inflammatory medicine for multiple applications; the drug is currently in Phase 2 clinical trials for treatment of a pair of chronic inflammatory diseases, Chronic Obstructive Pulmonary Disease (COPD) and Bladder Pain Syndrome/Interstitial Cystitis (BPS/IC).
Completed Phase 1 trials of AQX-1125 demonstrated the drug's anti-inflammatory properties and tolerability with minimal side effects for patients. AXQP plans to use the proceeds from this offering to fund preparation for a Phase 3 clinical development of AQX-1125, additional Phase 2 trials to evaluate AQX-1125 for the treatment of other diseases, and pre-clinical development for one of the firm's next-generation product candidates. See product pipeline below.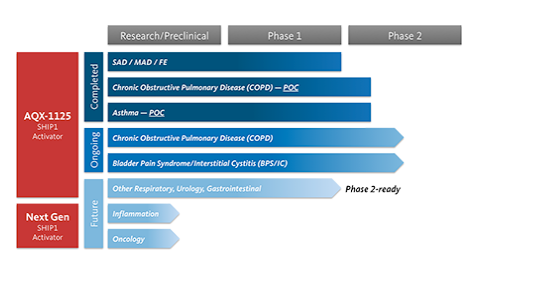 (Source: aqxpharma.com/content/pipeline)
Valuation
AQXP offers the following figures in its S-1 balance sheet for the year ended December 31, 2013:
Revenue: $0.00
Net Loss: ($8,729,371.00)
Total Assets: $15,649,106.00
Total Liabilities: $7,484,092.00
Stockholders' Equity: ($65,693,708.00)
AQXP's current lack of revenue is not unusual in a pre-commercial pharmaceutical firm and should not be taken as an indicator of the firm's potential future success. The firm will not be able to generate significant revenue or turn a profit until one or more of its product candidates has been approved and commercialized.
Business
If approved, AQX-1125 would likely compete with other products currently on the market for the treatment of the same diseases. Many of the firms that offer potentially competing products are established pharmaceutical companies with significantly greater financial and technical capacities than AQXP. These firms include GlaxoSmithKline plc (NYSE:GSK), Boehringer Ingelheim, Pfizer (NYSE:PFE), AstraZeneca plc (NYSE:AZN), and Novartis AG (NYSE:NVS).
Management
AQPX co-founder David J. Main has served as the firm's President and CEO since December 2005 and became Chairman of the board of directors in January 2014. Mr. Main previously served as the President and CEO of INEX Pharmaceuticals Corp and as Vice President at QLT Inc. He formerly worked as a licensed pharmacist at the Royal Columbian Hospital in New Westminster, B.C. Mr. Main holds a B.Sc. in Pharmacy and an M.B.A. from the University of British Columbia. He serves on the boards of BIOTECanada and Discovery Parks Trust.
Conclusion
We rate AQXP a buy in its proposed $10-$12 price range. Though the firm is still far from bringing its lead product candidate to market, AQX-1125's clinical trials thus far have led to promising results. If approved, AQX-1125 should find a significant market among those suffering from moderate to severe COPD, estimated at 65-200 million worldwide, and BPS/IC, which affects some 14 million people in the United States and currently lacks an effective therapy.
We also are encouraged by the firm's plan to use some of its IPO proceeds to advance another of its candidates through pre-clinical development, broadening the firm's long-term potential market.
Though caution is always in order when considering pre-commercial pharmaceutical firms, we believe that this IPO is a better bet than most, and merits serious investor consideration.
Disclosure: I have no positions in any stocks mentioned, but may initiate a long position in AQXP over the next 72 hours. I wrote this article myself, and it expresses my own opinions. I am not receiving compensation for it (other than from Seeking Alpha). I have no business relationship with any company whose stock is mentioned in this article.