In this article I will be discussing a relatively undiscovered company working towards the treatment of autoimmune diseases and certain genetically defined forms of B-cell lymphoma known as Idera Pharmaceuticals (NASDAQ:IDRA).
This company could be a huge winner in 2014.
When I first read about Idera it was in the $2.00's and it looked like a company merely targeting psoriasis, and well, I believed that (without investigating further) other drugs were already on the market and in this space and it didn't appear to be compelling enough for me to continue my research. I did however keep it on my watch list for further review in my spare time. Recently, as I began to look deeper into this story, I started to realize that its psoriasis studies were initiated because of its "ease" in building a strong foundation and a way of establishing a credible "proof of concept" to its platform. This should be the real take away with Idera; similarities into other applications by first working on psoriasis as a first step in addressing autoimmune and inflammatory diseases. You see, while I believe that this company is still pretty much under the radar, if Idera can target psoriasis and its treatment works, then it can go after many more serious indications including, but not limited to, lymphomas, lupus and autoimmune diseases.
What's important is that new data is pending relating to its Toll-like Receptors and gene silencing oligonucleotides (GSOs), which inhibit the production of disease-associated proteins by targeting RNA, a hot biotech area to invest in these days. So much so, that (as I alluded to earlier) if its data can (very positively) show that it has a platform to use in the treatment of psoriasis, then Idera's targeted therapies may prove to be highly scalable into other autoimmune diseases (like lupus, and rheumatoid arthritis). Also, genetically defined forms of B-cell lymphoma with the MYD88 L265P genetic mutation, such as Waldenström's macroglobulinemia and activated B-cell-like diffuse large B-cell lymphoma (ABC-DLBCL).
Idera's novel treatments
Idera has two key drug discovery platforms based on nucleic acid therapeutics:
Toll-like Receptor (TLR) antagonists
Gene Silencing Oligonucleotides (GSOs)
The Company has created DNA-based compounds that in preclinical studies act as antagonists of TLR7 and TLR9, such as IMO-3100, or as antagonists of TLRs 7, 8, and 9, such as IMO-8400. The Company is developing IMO-3100, an antagonist of TLR7 and TLR9, for the treatment of psoriasis. It has selected IMO-8400, a novel TLRs 7, 8, and 9 antagonist for the development in the treatment of autoimmune diseases. IMO-2055, a TLR9 antagonist, is its drug candidate for the treatment of cancer. Clinical trials of IMO-2055 completed by the Company or by Merck KGaA include four Phase I clinical trials, of which two were in healthy subjects and two were in refractory cancer patients, and one Phase II clinical trial. The Phase II clinical trial was a monotherapy trial of IMO-2055 in patients with metastatic or recurrent clear cell renal cancer.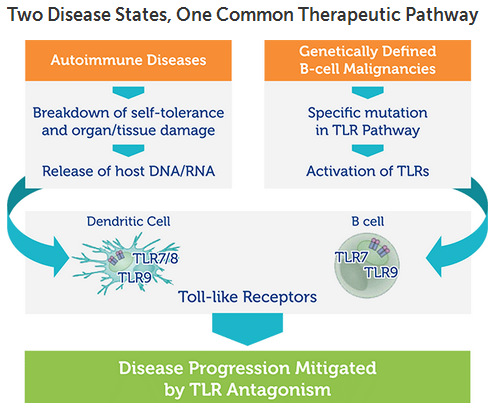 Idera has also begun a strategic review of orphan autoimmune indications suited to TLR antagonist therapy, and has a goal to identify two B-cell lymphomas and two orphan drug indications priority in early 2014.
Also, Idera has selected IMO-9200, its second novel antagonist of TLR 7, 8, and 9 for development in select autoimmune disease indications. The Company has initiated IND-enabling studies for IMO-9200 and expects this compound to be available for clinical development in the second half of 2014.
In preclinical animal models, the Company's rapid progress with TLR7, 8, and 9 antagonists have shown adjuvant activity when combined with various types of antigens. What's so exciting is that Idera has designed and created a new class of molecules to inhibit gene expression. These gene silencing oligonucleotides, which it refer to as GSOs, are nucleic acid-based and represent a novel approach to selectively, silence gene expression. It is actively engaged in preclinical research with its GSOs that is designed to explore their potential as research reagents and therapeutic agents. In addition to the Company's clinical programs in autoimmune and inflammatory diseases and cancer, it has identified TLR drug candidates for applications in the treatment of infectious diseases, respiratory diseases and hematological malignancies, and TLR3 antagonists for use as vaccine adjuvants.
Leadership
Dr. Sudhir Agrawal, D.Phil., F.R.S.C. is Idera's CEO and President essentially taking over the work of Dr. Paul C. Zamecnik (1912 - 2009) aka "the Father of Antisense" whose antisense concept was first met with great skepticism, but has since given rise to a new class of therapeutic compounds called antisense drugs, which are now under active development in the biotech industry. According to Dr. Agrawal, Dr. Zamecnik's antisense work "will change how medicines are developed." Dr. Agrawal has published over 300 research papers/reviews and has been named inventor on over 300 patents, issued or pending in countries world wide.His work is very impressive.
Other key team members were announced on 1/9/2014 with the additions of CMO Lou Brenner, MD, and new Board Member Mark Goldberg, MD, to help guide clinical development strategy and execution for the Company moving forward.
Without question, the new board membership will offer new depth to Idera's rapid progress and strategic business initiatives by guiding its ongoing programs (at the final stages) and assist in the immediate prioritization of the many additional clinical opportunities.
I'm sure it's by no coincidence that the strengthening of Idera's team comes at this particular time of the year as the company prepares to ramp up its activities. Clearly, the Company is entering a time of strong progress and momentum following its recently announced clinical development of its Toll-like receptor antagonist IMO-8400 in Waldenström's macroglobulinemia and gene silencing oligonucleotides, referred to as GSOs.
The Cowan and Co. 34th Annual Health Care Conference
This conference is happening right now in Boston and is a very good venue for biotech companies, especially for the Boston biotech community. Most recently, Cowan was co-book runner for Idera's most recent stock offering, and also issued a coverage on March 3, 2014.
Cowen Initiates Coverage at Outperform
Analysts at Cowen initiated Coverage on Idera Pharmaceuticals with an "Outperform" rating. The Analysts believe that Idera Pharmaceuticals is undervalued and can appreciate by 40%-50% over the next 12-15 months. (This seems light and should be much higher on news of additional progress - yet to be seen though without more proof of concept and news.)
"Idera's lead asset, IMO-8400, is an antagonist of TLR7, 8 and 9, and over the next 15 months will produce the initial data from two Phase I/II trials in patients carrying a specific mutation in two genetically defined lymphoma indications: in Waldenström's Macroglobulinemia (NYSE:WM) in 4Q14, and in the ABC subtype of Diffuse Large B-Cell Lymphoma (DLBCL) in 1H15″ Cowen Analysts said in a note to clients. "Positive data in either one (or both) of these trials would validate the company's new strategy and re-focus of its R&D efforts, and result in significant appreciation in IDRA shares. We are projecting that if successfully developed, IMO-8400 could be launched in the US in 2018 in Waldenström's Macroglobulinemia, and in 2019 in ABC-DLBCL, and that it could reach US/EU sales of $750M in 2023 in both indications, with peak sales of $1.1B in 2031."
Anticipated data before the end of March
The company has promised investors top line data by the "end of Q1" which can come at any time between now and the end of March.This data should shed new light on the Company. I am expecting a "data run-up" in anticipation of the positive news and a significant movement in the share price following thi sbrief consolidation of th estock price th epast few days. It doesn't hurt either knowing that the Baker Bros. control about 42% of the stock following the last capital raise.
What's changed over the years?
Excitement is certainly building because as you may be aware, money has already been raised by a few key biotech players ($40MM getting them into 2016) and a stronger team is now in place and the team appears ready to go. One has to wonder if the heavy weights that recently came on board would have entered at this stage of the game if they didn't have extreme confidence in Idera's platform.
See News released 1/9/2014 -- Idera Expands Leadership Team and Strengthens Clinical Development Expertise in Oncology and Orphan Diseases
Chief Medical Officer Lou Brenner, MD, and New Board Member Mark Goldberg, MD, to help guide clinical development strategy and execution
Comparing Idera to ISIS Pharmaceuticals (ISIS)
The CEO of Idera stated in a presentation during the RBC webcast that it has a licensing agreement in place with ISIS Pharmaceuticals (on its 2nd generation technology), so wouldn't this infer that Idera's stock performance could follow suit especially since the Company is currently moving into its 3rd generation antisense platform? Compared to ISIS ($56), and PCYC ($135), Idera is still very cheap ($5s). I also believe that the new indication announcements that are pending will boost this stock higher too and especially now that we are over $5.00 where stronger institutions can load up on the shares while this stock is still relatively under the radar.
Also, keep in mind that this isn't a quick trade either by any means, but rather a very good long term investment to consider like other top performing biotech stocks like PCYC, INCY, SGEN and QCOR. (Source)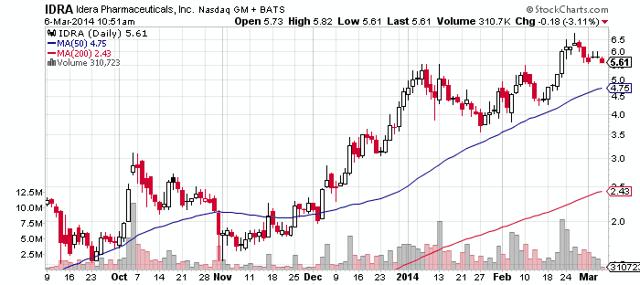 Click to enlarge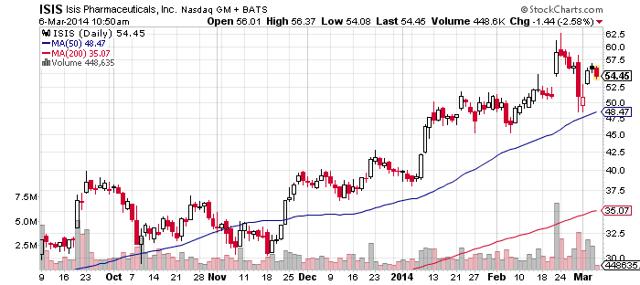 Click to enlarge
Disclosure: I am long IDRA. I wrote this article myself, and it expresses my own opinions. I am not receiving compensation for it (other than from Seeking Alpha). I have no business relationship with any company whose stock is mentioned in this article.