With Samsung (OTC:SSNLF) and Nike (NYSE:NKE) investing a lot of cash, time and energy into the marketing of smart watches, I figured I'd try my best to identify the addressable market. And with rumors of Apple (NASDAQ:AAPL) launching a watch, I could only imagine the outward looking implications of this research to be useful.
Summary of methodology
The market potential and forecasted growth will assume Samsung is able to add features to the Galaxy Gear Fit that will add unique data-points on work-out efficiency, which would boost the effectiveness of an average teen's athletic career. This implies that Samsung's primary goal will be to add hardware that will improve the monitoring of athletic performance. In the best case scenario, athletic programs will adopt the device to monitor performance of individual athletes over the course of a year, which would provide meaningful statistical insights for coaching staff. More importantly, the smart watch with the proper software will simplify the process of sports management.
Generally, people are most athletic when they're young rather than old. Sedentary life becomes more common following the end of primary education. I believe that Samsung's primary demographic is limited to teens who are actively involved with athletics (this only applies in the beginning). This is because teens have the most discretionary time and are most willing to try out un-tested technologies. Furthermore, the teenage demographic has the highest saturation for web applications and will experience the most utility from notifications that alert them of e-mails, texts, calls and status updates.
According to the Centers for Disease Control and Prevention:
In 2011, 29% of high school students surveyed had participated in at least 60 minutes per day of physical activity on all 7 days before the survey, and only 31% attended physical education class daily.
Assuming 30% of teens are active in the gym, a school sport, or other physical activity, the market potential is fairly large. And according to the Census Bureau, the number of people enrolled in education in the United States is approximately 75.2 million (primary and college). Therefore I approximate that 22.56 million young adults are physically active in the United States. I'm going to assume that this will be the early stage adopters and that eventually this market segment will become fully saturated first, before other users jump on board in any meaningful numbers. In reality, buyers are going to pour in from various demographics, but to help us in extrapolating our numbers into the future, I'm going to assume saturation of different demographics, which will lead us to multiple stages of growth between 2014 and 2020.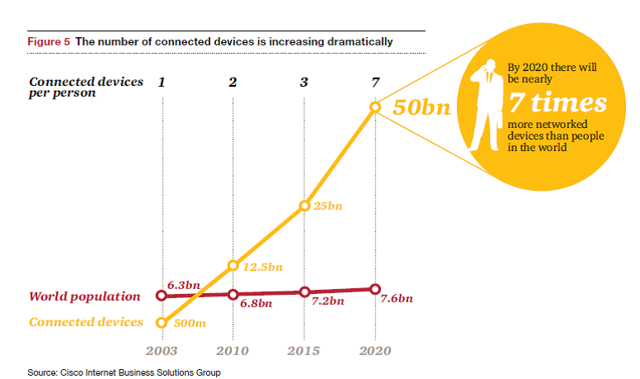 Source: PricewaterhouseCoopers
Assuming Cisco is correct about the future, new device categories will saturate the United States population. For 50 billion web capable devices to exist, every single person in the United States would need to own seven devices. The seven devices are likely to be a smartphone, tablet, laptop, desktop, smart tv, smart car and a wearable PC.
When Apple first released the first generation iPhone in 2007, it sold 6.1 million units. It was considered a truly revolutionary device, and while it wasn't the first smartphone it was the device that started the internet of things. Between 2007 and 2013 (6 years) smartphone penetration went from 3% to 65.2% in the United States, according to Gartner Dataquest and ComScore. Based on historical smartphone penetration, I'm going to estimate that by 2020, the smart watch will achieve 65.2% penetration in the United States.
Early and late stage growth
I anticipate unit shipments to grow at a 74% CAGR for the first three-years. I also expect an annual refresh cycle, which will keep shipment growth at elevated levels. I expect pricing to remain stable, with a $300 average selling price, for the first three years of the forecast.

Source: Alex Cho
However, between 2016 and 2017, I anticipate rapid reduction in pricing as we enter the second stage of product adoption (mainstream). In this case, lower pricing, and a move to a two-year refresh cycle, will lower the growth rate. This results in smart watch unit sales growing at a 36.26% CAGR, and pricing of the watch will decline by 10% per-year from 2017 to 2020. This will cause sales to grow at a more conservative 16.54% annualized rate between 2017 and 2020.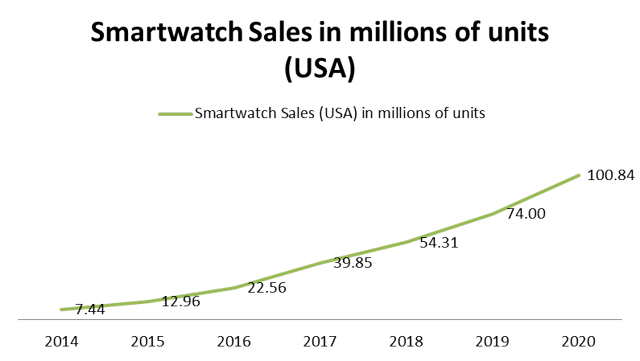 Source: Alex Cho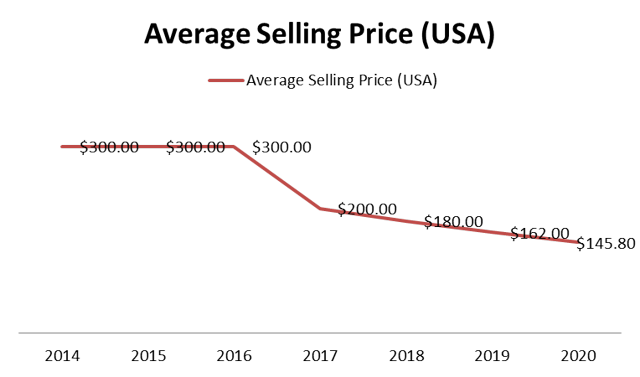 Source: Alex Cho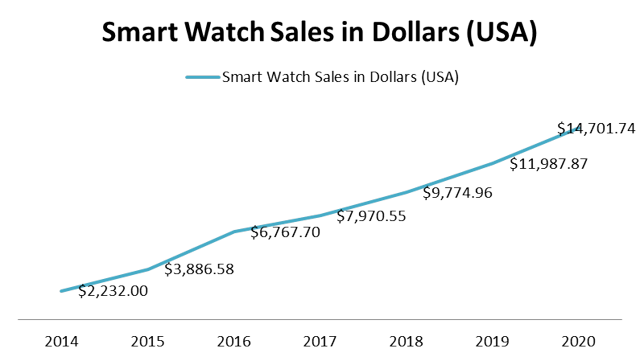 Source: Alex Cho
Granted I only assessed the market potential for the United States. The reason for this is because of the abundance of accurate demographic data, and the predictability this market offers when compared to other geographic markets.
However, there are some things that may challenge my assumptions. For example, I may have over-estimated first-year demand. Still, I have high conviction that Samsung and Apple will have a successful product roll-out, and should be able to address deficiencies in its supply chain assuming high demand. The problem with my assumption is that it would require a mix of competitors to launch a smart watch in order for 7.44 million smartwatch shipments to be reached in 2014 for the United States.
If Samsung or other competitors in the space are unable to innovate and add unique product features, the utility of the device won't improve. This will make it difficult for companies to maintain average selling prices, and in the worst case scenario product pricing will decrease prematurely. If a price war were to occur in the beginning stage of the product life cycle it would drastically impair the accuracy of my forecast.
Conclusion
I believe that Apple and Samsung will deliver results that will exceed expectations. If sales in the United States are able to reach a couple billion dollars, global shipments are likely to do the remainder of the heavy lifting. Granted, the global middle class is expected to expand significantly by 2020, with the emerging class primarily coming from the Asia Pacific. This implies that the forecast isolated to the United States will be a small part of the larger picture.
For Apple shareholders, the implications are significant, as further revenue generation from a new product category can be used to institute a larger share buyback in the United States. Considering Apple has difficulty with bringing cash back into the United States due to tax reasons, Apple would need to generate growth from domestic opportunities to increase dividends and buybacks.
The new product category should push significant price earnings multiple expansion, and if in the event domestic cash flow improves, investors have to price future share buybacks into the value of the stock. Net income and revenue growth is also likely to improve, and because Apple is a high margin business, profitability on a consolidated basis should improve as well.
Apple and Samsung's ten-year growth trajectory should improve, which will give analysts and investors stronger conviction on the long-term growth thesis of the aforementioned companies.
Disclosure: I have no positions in any stocks mentioned, and no plans to initiate any positions within the next 72 hours. I wrote this article myself, and it expresses my own opinions. I am not receiving compensation for it (other than from Seeking Alpha). I have no business relationship with any company whose stock is mentioned in this article.