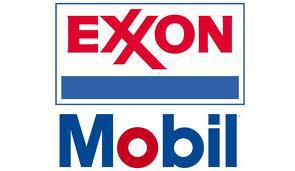 Exxon Mobil (NYSE:XOM) has been a very frustrating stock to own since the XTO takeover. While the price of domestic natural gas has been abnormally low for years, it alone cannot explain the severe underperformance of XOM during the current bull market. I say that because international oil and gas prices have been strong. Meanwhile, shareholders have been whipsawed between hope and despair. Last year's Q3 seemed to indicate general improvement, then Q4 was more of the same old, same old. When Warren Buffett stepped in and bought a big stake, hope sprang eternal and the stock shot up to over $100. And then there was Wednesday's -2.8% drubbing as a result of uninspiring comments by CEO Rex Tillerson during the Analyst Day Presentation (slides and webcast available here). The stock is now down over 7% YTD, even as the broader market notches new highs. One thing is certain: frustrated XOM investors are expecting a significant boost in the dividend this year. Why? Because it is looking more and more as though the dividend yield might be the only return we get from Exxon for a few more years.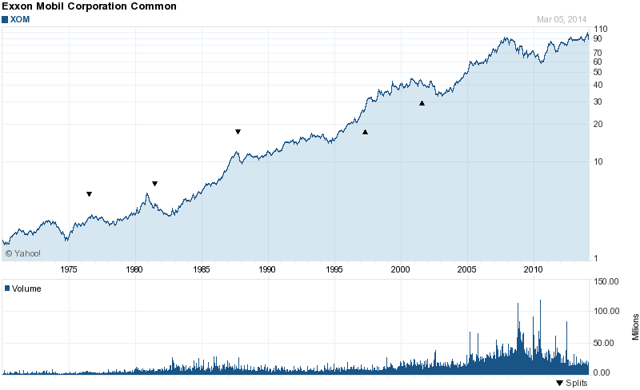 (Source: Yahoo Finance)
The chart above tells the story. After decades of excellent total returns, Exxon's stock stalled out shortly after Rex Tillerson took over the role of CEO, following Lee Raymond's retirement on January 1, 2006. Indeed, the stock price today is barely above the 2007/2008 time frame, despite a rip-roaring bull market. As a result, we're starting to see more and more articles like this one in Barron's yesterday - ExxonMobil: Stalled Again.
If this wasn't bad enough, XOM's dividend yield is simply the lowest (by far) in the peer group: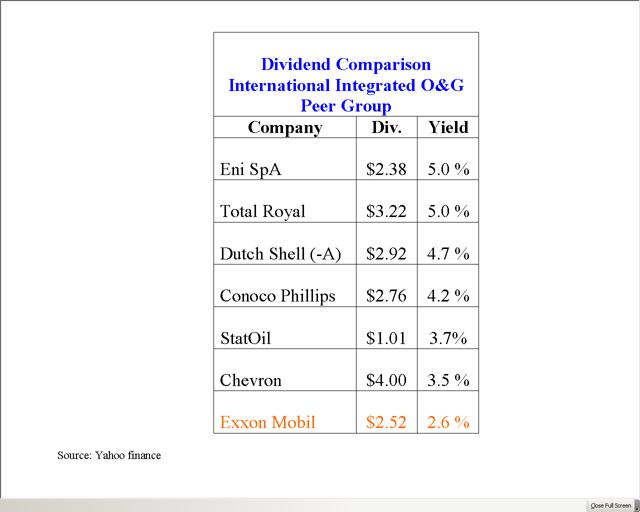 Of course, ConocoPhillips (NYSE:COP) is no longer an integrated oil company since the Phillips 66 (NYSE:PSX) spin-off, but I believe the company belongs in this conversation. COP's management responded to former CEO Jim Mulva's ill-timed takeover of Burlington Resources with a multi-year strategic plan to unleash shareholder value and payout a compelling dividend (currently 1.6% above XOM's). This was documented in the article ConocoPhillips: Showing Exxon and Chevron How To Run An Oil Company, an article Exxon's management should read. But enough said about COP and PSX - let's get back to Exxon.
It is hard to rationalize how the largest publicly traded IOC in the world, with arguably the best balance sheet in the business and a AAA S&P credit rating, can pay the lowest dividend yield in the peer group. Shareholders should find this unacceptable. Whenever I have contacted Exxon management about this issue, I get the same response year after year: Exxon is being managed for the long term, etc. etc. As though simply repeating that mantra (and inferring that other oil companies in the chart above are not being managed for the long term) gets them off the hook. But of course, that is ridiculous - all large oil companies are managed for the long term. Individual multi-billion dollar projects that can take as long as 5 or more years to become fully operational demand that oil companies "manage for the long term". Exxon certainly does not have a lock on that attribute - all large oil companies are managed for the long term.
Analyst Meeting
At the 2013 analyst meeting, Tillerson went through bullet after bullet explaining why Exxon was a superior performer:
ROCE of 17%, 3.5% higher than the nearest competitor
Superior free cash flow providing ample financial flexibility
Disciplined capital allocation
Strong balance sheet
Tillerson pointed out that since 2009, Exxon has returned a total of $131 billion to shareholders:
$47 billion as dividends
$84 billion via share buybacks to reduce the shares outstanding
And herein is the problem, and exactly what I pointed out in an article exactly this time last year: ExxonMobil: Buyback Heavy, Dividend Light: a 2:1 priority in buybacks over dividends. This is not a "strategy" I would be honking the horn about. In fact, it has led to sub-par returns, not the "superior returns" Tillerson says Exxon Mobil aspires to deliver. It appears to be a strategy that rewards management instead of shareholders. Buybacks not only artificially boost EPS, but they also increase the value of management stock options by reducing the share count. Had the stock price itself been appreciating throughout this period, I doubt shareholders would mind (I probably would not). But to be paid the lowest yield in the peer group, while also seeing little or no capital appreciation in the shares, what is "superior" about that?
While there is no argument that Exxon has, in the past, delivered superior total returns to shareholders, a slide in the presentation clearly showed what concerns me - the trend of the last 10 years: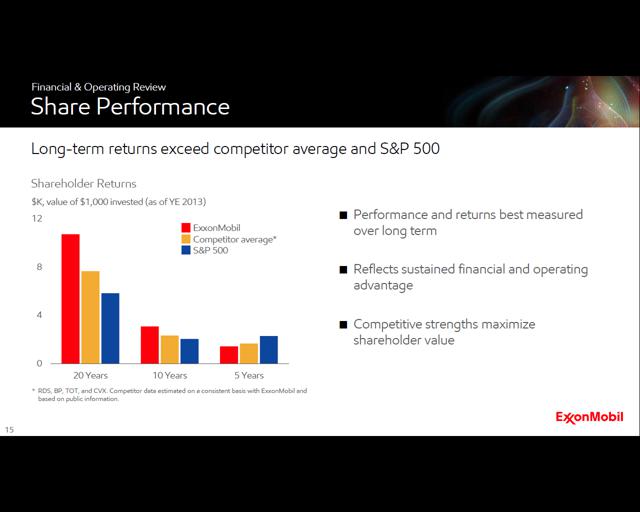 This trend certainly has not been in Exxon's favor. While the rest of the presentation discussed the energy market in general and some very impressive projects Exxon has in the works, the problem remains for long-term shareholders: when is Exxon going to reward them for holding on over the last several years when the returns have more or less been limited to the lowest yield in the peer group? That brings me to question of the day: How much will Exxon raise the dividend this year?
A Big Dividend Hike Is Needed
From Exxon Mobil's dividend history webpage:
Exxon Mobil dividends per common share
| | | | | | | | |
| --- | --- | --- | --- | --- | --- | --- | --- |
| | 2014 | 2013 | 2012 | 2011 | 2010 | 2009 | 2008 |
| 1st Quarter | $0.63 | $0.57 | $0.47 | $0.44 | $0.42 | $0.40 | $0.35 |
| 2nd Quarter | | $0.63 | $0.57 | $0.47 | $0.44 | $0.42 | $0.40 |
| 3rd Quarter | | $0.63 | $0.57 | $0.47 | $0.44 | $0.42 | $0.40 |
| 4th Quarter | | $0.63 | $0.57 | $0.47 | $0.44 | $0.42 | $0.40 |
| Total | $0.63 | $2.46 | $2.18 | $1.85 | $1.74 | $1.66 | $1.55 |
While Exxon Mobil's dividend payments to shareholders have grown at an average annual rate of 6.3% over the last 31 years, a closer look at recent dividend hikes shows a much less impressive record. For instance, in 2009 and 2010, the dividend increase was a mere $0.02/share (5% and 4.8% respectively). But OK, there was a financial crisis - let's give them a pass. Yet in 2011, well into the "recovery", the increase was only $0.03/share. In 2012, shareholders finally saw a significant bump up: $0.10/share (21.3%). I thought, OK, now we are getting somewhere and the company is going to make up for lost time and for all the billions management funnelled toward share buybacks instead of dividends. Then in 2013, shareholders got a $0.06/share increase (10.5%). While this is higher than the long-term average, it did little to close the yield gap with respect to the peer group. So here we are today: $0.63/share in Q1 for a 2.6% yield.
How Big Should The 2014 Dividend Increase Be?
For a 3% yield at today's closing price, the annual dividend would need to be $2.81, or $0.70/quarter. That would be a $0.07/share increase over the current quarterly dividend, or an 11% bump. While a $0.07/share quarterly increase is probably in the neighborhood of what Exxon is considering, note that a 3% yield would still leave Exxon at the bottom of the peer group and a full 1/2% below Chevron's (NYSE:CVX) yield. To match Chevron's 3.5% yield, again using today's close, Exxon would need to boost the quarterly dividend to $0.82/share: a $0.19/share increase (30%). Long-suffering Exxon Mobil shareholders deserve a dividend increase of this magnitude after years of such a low yield payout. Considering Exxon announced it is reducing 2014 capital expenditures by $2.7 billion as compared to 2013 (equivalent to $0.62/share), that alone equates to ~$0.15/quarter. Coincidentally, 7 cents plus 15 cents equals 22 cents/quarter and gets us to $0.85/quarter, and would put Exxon's yield over that of Chevron's (barely, but what a nice concept). In addition, management could decide to open up its huge portfolio, monetize non-core assets, and fund an even bigger dividend in order to leave behind its "basement dweller" dividend status.
Summary & Conclusion
Exxon's dividend yield is the lowest in its peer group. Since the stock price itself has seen little or no appreciation in many years now, shareholders are expecting a significant increase in the 2014 dividend. A $0.07/quarter increase (11%) is the minimum to get to a 3% yield. To match Chevron's current 3.5% yield, Exxon would need to increase the dividend to $0.82/share ($3.28 annually), which the company can easily afford after reducing 2014 capital expenditures. It will be interesting to see what Exxon Mobil's management decides to do. Even loyal long-term Exxon shareholders may start to get restless if management does not start delivering a yield competitive to the rest of its peer group.
As the Barron's piece points out, free cash flow is expected to reach an inflection point over the next couple years, after an extensive period of high-level capital expenditures. The Morgan Stanley analysis cited assumes Exxon's cap-ex will be $5.5 billion lower than recent levels. Yet, their analysis of funding current levels of distributions without using the balance sheet assumed continued priority of stock buybacks over dividends directly to shareholders. Why so? Why not reduce the high level of share buybacks and instead reward shareholders directly? After all, if Exxon really wants to deliver "superior returns", it should start by doing something all its peers do and have been doing: paying shareholders a competitive dividend yield.
Disclosure: I am long CVX, COP, PSX, XOM, STO. I wrote this article myself, and it expresses my own opinions. I am not receiving compensation for it (other than from Seeking Alpha). I have no business relationship with any company whose stock is mentioned in this article.
Additional disclosure: I am an engineer, not a CFA. The information and data presented in this article was obtained from company documents and/or sources believed to be reliable, but has not been independently verified. Therefore, the author cannot guarantee its accuracy. Please do your own research and contact a qualified investment advisor. I am not responsible for investment decisions you make. Thanks for reading and good luck!