Shopping for steady high-yield income? Seaspan, (NYSE:SSW), not only has oversold common shares with a 5%-plus dividend yield, it also recently introduced a new, E-series preferred dividend, (SSW-E), which yields over 8%. We've listed both SSW and these new preferred shares in the Industrials Section of our High Dividend Stocks By Sector Tables.
SSW Preferred Dividends=Secure High-Yield Income: SSW currently has 3 different series of preferreds, which yield from just under 8%, up to 8,69%. Since they're cumulative, these shares offer you secure dividend income, and a better margin of safety than the common shares, because SSW must pay you any missed dividends upon redeeming your shares.
In addition, the preferred dividends must be paid before the common dividends, (i.e. SSW can't suspend its preferred dividends without also suspending its common dividends). Preferreds also take precedence over the common shares in any insolvency case, since they have a greater claim on the company's assets.
We've owned both SSW common and preferreds for years, and they've never missed a quarterly dividend payment. In fact, they've never lowered a preferred quarterly dividend payment, but they did slash their quarterly common dividend from $.475 to $.10 during the recession, in 2009.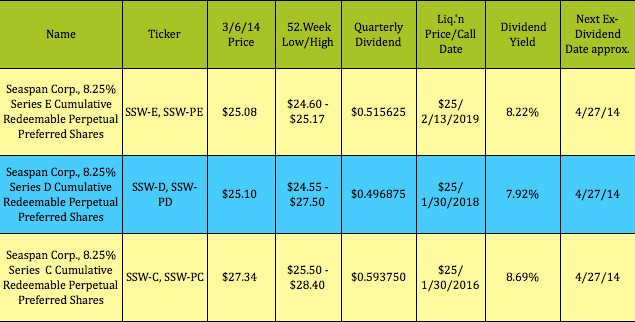 What to look at when buying preferreds:
1. Cumulative Shares: As mentioned above, companies issuing Cumulative Preferred shares must pay you any unpaid dividends when they buy back your shares.
2. Liquidation Price vs. Current Price: It's always advisable to compare a preferred stock's price to its Liquidation Price, i.e., the price that the issuing company will pay you for the stock on or after its call date. All 3 SSW preferreds have a $25 call price.
The oldest preferred, SSW-C, can be called on 1/30/2016, which gives you the right to collect $4.75 in dividends between now and then. However, SSW-C's price is $27.34, which puts your cost $2.34 above the $25 liquidation price.
Even though SSW-C has the highest current yield, 8.69%, if you pay $27.34 for it, you'll ultimately lose the $2.34 difference when SSW buys back this stock, on or after the Call Date. This brings your net income down to $2.41.
3. Call Date: It's also a good idea to calculate how many dividends you'll be able to collect prior to the Call Date. Even though SSW-E's 8.22% yield is lower than SSW-C's, it has a much later Call Date, 2/13/19, which gives you much more time to collect dividends, and achieve a lower breakeven.
SSW-E offers you the right to collect $10.31 in dividends prior to the 2/13/19 Call Date. If you buy SSW-E at $25.08, your cost will only be $0.08/share above the $25 liquidation price, leaving you a breakeven of $14.77 at the Call Date.

Common Dividend: SSW has steadily brought its common dividend back up since its 2009 cut, and currently pays $.3125 quarterly:

Options: For a shorter term trade, there are options available on SSW. This August $22.50 trade pays $1.05 in call premium, in addition to the $.63 for SSW's next 2 quarterly common dividends.
You can see more details on this and over 30 other trades in our Covered Calls Table.

Coincidentally, this $22.50 strike price is $.63 above SSW's price/share, which guarantees you the same amount as the dividends, if your shares get called away before the ex-dividend dates:

SSW also has put options available, but we haven't added any trades to our Cash Secured Puts Table yet, due to low put yields.
Business Profile: SSW is a leading independent owner and manager of containerships. It charters its vessels primarily pursuant to long-term fixed-rate time charters to major container liner companies, such as COSCO, Yang Ming, CSCL, Mol, and others.
At 6.8 years old, SSW's fleet is much younger than the global average...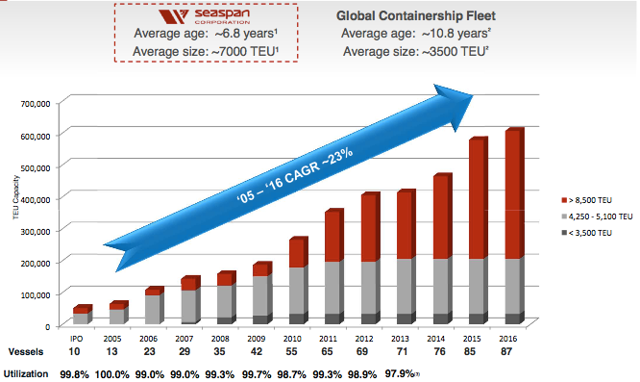 ...but the key to SSW's business is its long-term leasing model, which gives it strong, steady cash flow, with which to pay its dividends:
SSW has approximately $6.0 billion in total contracted future revenues under primarily long-term, fixed-rate charters with strong credit counterparties. The average remaining charter length is approximately 5 years, with only 1 due for recharter in 2014.
SSW has many newbuilds in its pipeline, but has the overwhelming majority of them pre-contracted out for 8 to 10 years.

Undervalued Future Earnings: Due to all of the newbuilds being delivered in 2015, analysts are forecasting an average of over 37% growth next year, which gives SSW an undervalued PEG score of just .63:

The undervalued thesis for SSW doesn't include Price/Tangible Book, Price Sales, or straight P/E valuations, as it's still commanding a premium over its peers: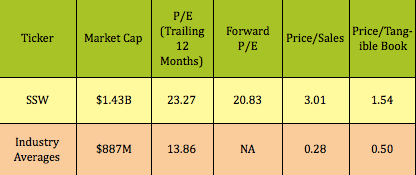 Financials: The shipping industry has some very weak average management efficiency ratios, which makes SSW look more attractive in that respect, than its peers:

Performance: SSW's common shares have lagged the market over the past year, and are currently oversold on its long term stochastic chart: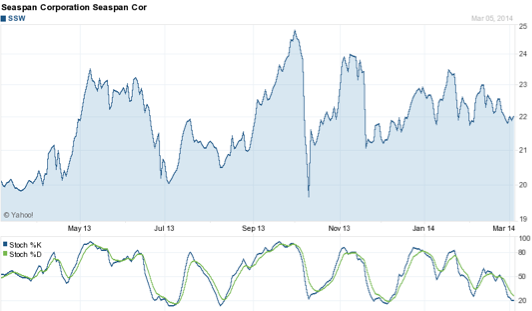 Source: Yahoo.

Disclosure: Author owned shares of SSW and SSW-E at the time of this writing.
Disclaimer: This article was written for informational purposes only.
Disclosure: I am long SSW. I wrote this article myself, and it expresses my own opinions. I am not receiving compensation for it (other than from Seeking Alpha). I have no business relationship with any company whose stock is mentioned in this article.
Additional disclosure: I'm also long SSW-E, and SSW-D