During bull markets there are always those individuals who try to time tops, just as there are always individuals who try to call the bottoms in bear markets. They are almost always wrong as the exercise is futile, but it is an important part of functioning markets. Bull markets always need more fuel to power the engine to new highs, so climbing the proverbial "wall of worry" is a necessity.
We think that the latest talk and worries about biotech are just that, the fuel for the next leg higher. Generals of bull markets do not simply just roll over and die, they put up a fight and die a hard death...something that has not happened at this time. Even if one wants to buy into this line of thinking, there are other reasons to be bullish the Nasdaq at this time and they could come into clearer focus should the biotechs stall out.
Chart of the Day:
The Nasdaq Composite is trading at 13-year highs, but there are now fears that one of its key components, the biotech sector, is running into headwinds. We think these fears are overblown and that there are other areas which can continue to drive returns for the index.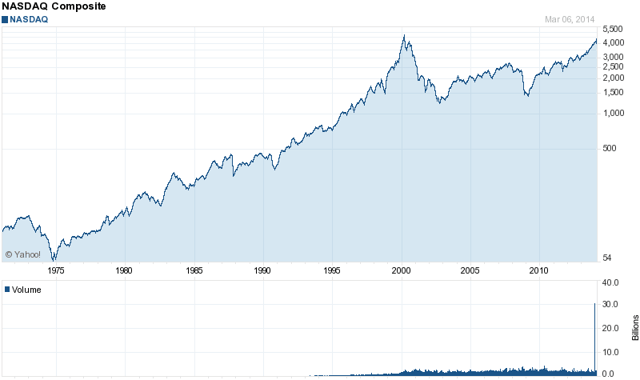 Source: Yahoo Finance
We have economic news today and it is as follows:
Nonfarm Payrolls (8:30 a.m. EST): Est: 163k Act: 175k
Nonfarm Private Payrolls (8:30 a.m. EST): Est: 170k Act: 162k
Unemployment Rate (8:30 a.m. EST): Est: 6.6% Act: 6.7%
Hourly Earnings (8:30 a.m. EST): Est: 0.2% Act: 0.4%
Average Workweek (8:30 a.m. EST): Est: 34.4 Act: 34.2
Trade Balance (8:30 a.m. EST): Est: -$34.3 B Act: -$39.1 B
Consumer Credit (3:00 p.m. EST): Est: $11.8 B
Asian markets finished mixed today:
All Ordinaries -- up 0.30%
Shanghai Composite -- down 0.08%
Nikkei 225 -- up 0.92%
NZSE 50 -- up 0.21%
Seoul Composite -- down 0.05%
In Europe, markets are trading lower this morning:
CAC 40 -- down 0.57%
DAX -- down 1.23%
FTSE 100 -- down 0.48%
OSE -- down 0.47%
Should We Be Worried About The Nasdaq?
It seems that everyone is talking about the biotech stocks over the past 48 hours and how leadership has been broken after one of the generals in the biotech rally, Gilead Sciences (NASDAQ:GILD), was taken down due to speculation about one of its drugs. As readers know, we have long been proponents of this market rally in the Nasdaq-type stocks, believing that technology and biotech would help propel the index to new all-time highs in the next couple of years as the news flow continues to improve for these names.
This latest pullback is getting far too much negative publicity. We would rather err on the side of being bullish than bearish at this juncture; which has worked in this sector for quite some time.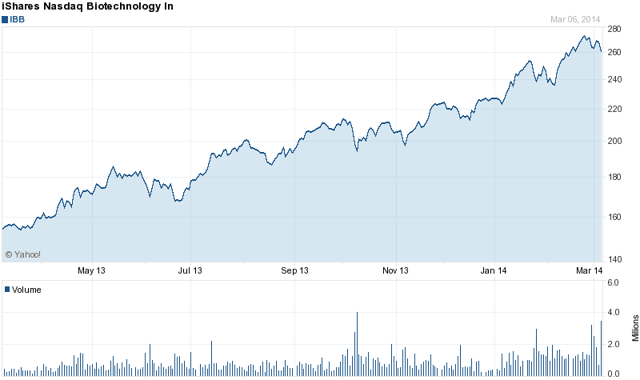 Source: Yahoo Finance
This latest hiccup should be nothing more than a hiccup. A simple pause in the unrelenting advancements in this sector, and the Nasdaq Composite as an index. The generals of biotech, including our favorites Gilead Sciences and Celgene (NASDAQ:CELG), shall continue to pace the sector but we will continue to have big breakthroughs from smaller names that surprise the market, much like Sangamo Biosciences' (NASDAQ:SGMO) news yesterday (see article here). We remain bullish on biotech names, especially the sector as a whole, during sector-wide pullbacks and view those opportunities as buying opportunities.
Technology Still The Kicker
Most of the big tech deals we are hearing about are taking place in the private marketplace; before the hottest tech names are hitting the IPO market they are selling out to their larger competitors. This has somewhat hobbled the gains the tech heavy Nasdaq could have seen, but we are seeing big moves in the names already listed on the exchange. The Chinese internet names have been strong performers as of late, with both Baidu (NASDAQ:BIDU) and Sina.com (NASDAQ:SINA) performing very well. A lot of what American investors can only read about happening in Silicon Valley, and not invest in, is actually also taking place in China. That is part of the reason we initially went bullish on Baidu; they were the first to actually figure out the mobile market in China. Now, as mobile payments are the talk of Silicon Valley we see that Baidu is partnering with some of Asia's other big tech names to apply for a banking license in China (see article here).
Baidu is once again at new highs, something we expect to continue as the company moves to capitalize on mobile and payments/financial products. This is quickly becoming a behemoth in the Chinese market across multiple platforms.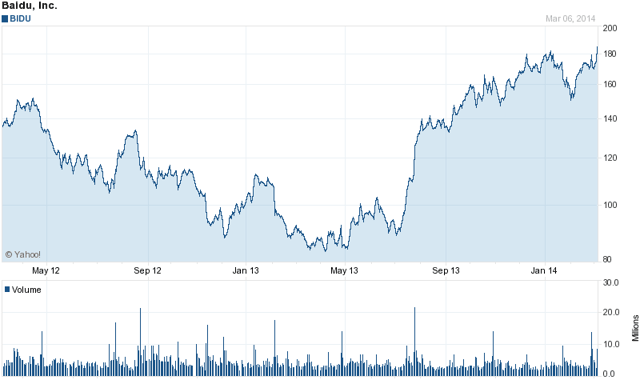 Source: Yahoo Finance
We continue to think that the Chinese internet stocks, the first class ones to be precise, will remain in a bull market as they undergo many of the same transformations that US firms are undergoing. Those moves to advance their product offerings should excite investors and continue to draw in new capital, especially as the mobile market continues to grow and a few names, most notably Baidu, show a knack for monetizing that traffic.
Our thinking that the Nasdaq's short-term issues are overblown should prove out over the long-term, especially as investors look at the P/Es of the biotech names as they continue to crank out blockbuster drugs. There is also the potential that we see the smaller financial institutions rise as consolidation in the sector picks up along with profitability as the economy continues to improve.
Disclosure: I have no positions in any stocks mentioned, and no plans to initiate any positions within the next 72 hours. I wrote this article myself, and it expresses my own opinions. I am not receiving compensation for it (other than from Seeking Alpha). I have no business relationship with any company whose stock is mentioned in this article.