I know what you're saying - "you wrote this article yesterday!"
But, alas, the good news keeps piling in for Ford (NYSE:F), while the stock keeps staying right around the same price. At some point, as I said in my article yesterday, I'm expecting this to change.
If you're in Ford for the same reasons that I am, you're in it for the international growth. Domestically, it's been a bit of a rough winter across the board in tons of different sectors - we all know that. But, we're expecting the sales that we didn't see in January and February to eventually make their way to the dealerships when it warms up -whenever that is.
Meanwhile the good news from overseas continues. Seeking Alpha reported yesterday afternoon, just hours after my article was published:
The Society of Motor Manufacturers and Traders reports auto sales in the U.K. rose 3% to 68,376 units in February.
The U.K. has now strung together 24 straight months of increasing new car sales.
The top seller for the month in the region was the Ford Fiesta with 4,415 units, while the Ford Focus took 4th place with 2,566 units.
So there's been some news regarding the weather and incentive selling that isn't great - but with a rebound expected - why aren't we lending any credence to the continued growth Ford is seeing in China, Europe, and now the UK?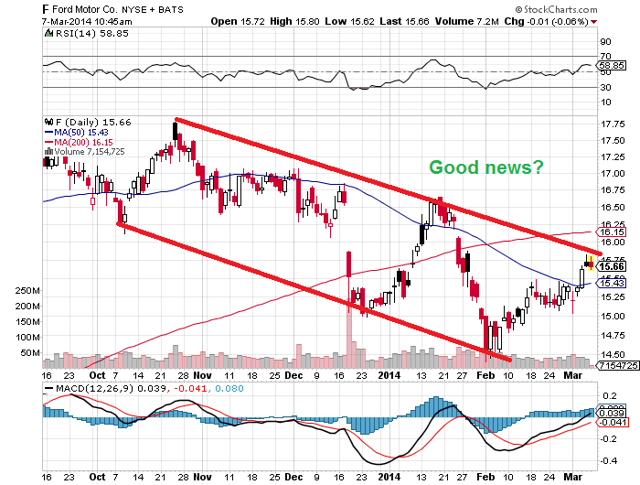 Click to enlarge
If Ford can just poke itself a bit higher, it's a possibility that it could break out of the current downtrend its in and continue to see its short term moving average curling upwards towards the 200DMA, which now sits at $16.15.
In addition to that news, Ford also announced this morning that they're investing $168 million to shift the production of their new medium duty trucks that I just wrote about - from Mexico to Ohio. The press release noted that production in Ohio is securing future jobs for UAW workers that are currently building the E-Series cargo and passenger vans:
Ford E-Series cargo and passenger van production will end later this year, while E-Series cutaway vans and stripped chassis will continue to be built in Ohiothrough most of the decade. Replacing E-Series vans is the all-new 2015 Ford Transit that starts production this spring at Fords Kansas City Assembly Plant in Claycomo, Mo.

Shifting production of the 2016 Ford F-650 and F-750 medium-duty trucks to Ohio Assembly Plant helps secure a solid future for the dedicated workers at this facility, said Joe Hinrichs, Ford president of The Americas. Building these trucks in-house will utilize our expertise from our other tough truck and commercial vehicle lines to give our customers a better product at a competitive price.
This is great forward thinking news for the company to continue to secure jobs in the U.S. as a priority. Ford is showing nothing but signs of growing overseas, yet the stock - for the last three months - looks like there hasn't been a shred of good news coming out of the company.
I don't care, I just keep adding to my long position. With Ford's current yield of 3.2% and a trailing twelve month P/E under 9, it's just a matter of time before this stock sports the right valuation and is well over $20.
Disclosure: I am long F. I wrote this article myself, and it expresses my own opinions. I am not receiving compensation for it (other than from Seeking Alpha). I have no business relationship with any company whose stock is mentioned in this article.