Recently, Novo Nordisk (NYSE:NVO) announced that Victoza (liraglutide), a once-daily injection for the treatment of type II diabetes in adults, has been approved by Health Canada, a department of the Canadian government responsible for national public health.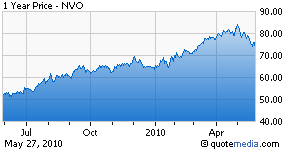 The drug, the first human glucagon-like peptide-1 (GLP-1) analogue, has been approved for treating adults suffering from type II diabetes to improve glycemic control in combination with metformin or metformin and a sulfonylurea. Glycemic control refers to the levels of blood sugar (glucose) in a person suffering from diabetes mellitus.

Victoza acts by imitating the body's natural response to food by stimulating the release of insulin only in times of high blood glucose levels. Studies have shown Victoza to be more effective than other diabetes therapies in lowering blood glucose as well as weight and blood pressure. Victoza is naturally broken down in the body and does not need renal excretion.

The approval of the Novo Nordisk drug in Canada will go a long way in meeting the huge unmet need in the country. Diabetes has grown to dangerous proportions in Canada. Approximately 3.7 million people are expected to be diagnosed with the disease by 2020. Data from the Canadian Diabetes Association reveals that more than 20 people are diagnosed with diabetes every hour per day. Furthermore, it is estimated that an additional 700,000 people carry the disease unknowingly.

Earlier this year, the US Food and Drug Administration (FDA) approved Victoza for the treatment of type II diabetes in adults. The drug was approved for use with proper diet, exercise and other diabetes medicines for lowering blood sugar levels. However, the FDA did not recommend Victoza as an initial therapy in patients who could not control diabetes with diet and exercise alone.

Novo Nordisk, which competes with big players like Eli Lilly & Co. (NYSE:LLY), Pfizer Inc. (NYSE:PFE) and Sanofi-Aventis (NYSE:SNY), is a key player in the insulin and diabetes care markets globally. Furthermore, the company manufactures and markets a variety of other pharmaceutical products. Novo Nordisk is the largest producer of industrial enzyme products across the globe.