For the most part, since the beginning of the year economic data reports have missed expectations and indicate that the economy is beginning to slow down or contract. It is also pretty clear that the "bad weather" narrative being promoted to explain the economic weakness is not valid. What is clear is that the economic weakness is being driven by a dramatic slowdown in spending by the consumer in all areas, including retail, autos and housing.
The first sign that the economy is getting weaker is reflected by poor retail sales reports and store closings. For instance, Radio Shack (NYSE:RSH) reported its Q4 sales Tuesday (Mar 4) which showed a 20% decline in sales and 19% drop in same store sales. It's going to close 1,100 stores instead of the 500 that was originally reported in late 2013. Furthermore, several other major retailers like Target (TGT), Macy's (NYSE:M) and J.C. Penney (NYSE:JCP) also announced significant store closings and job cuts earlier this year. In more bad retail news, on Thursday (March 7th) Staples (NASDAQ:SPLS) reported a big drop in sales and earnings and Costco (NASDAQ:COST) reported a big miss in revenues and net income. SPLS also announced the closing of 225 stores.
Disappointing sales and widespread store closings are a bad sign for the economy because retail sales reflect the average consumer's ability and willingness to spend money. After all, consumption is close to 70% of GDP. Thus, if consumption drops, it likely means the economy and earnings will contract. In addition, store closings also mean there will be significant job losses. The closings will have a "multiplier" effect on the economy because they will affect the businesses in the areas around the stores that are closing, as the number workers and foot traffic that might spend money in near-by businesses declines.
The second sign of economic weakness was Wednesday's (Mar 5) ISM non-manufacturing (services) report for February, in which the index of activity was 51.6 vs an expected 53.5 and a reported 54 reading for January. It was the lowest reading for this index since February 2010. Like retail spending, expenditures on services are an important indicator of economic health because they reflect the consumer's ability and willingness to spend on non-essential services like restaurants, movies, etc. More concerning with this report was the fact that the employment index dropped from 56.4 to 47.5. The last time this sub-index incurred a 15% plunge was in 2008, right before the economy plunged into a recession. It was also the second largest drop in the jobs sub-index in the history of this index. This is a troubling signal for the economy because it means that the services sector is cutting jobs, reflecting both a decline in current revenues and a negative outlook going forward.
The reason consumer spending appears to be contracting can be seen by looking income and sentiment data. This graph (from the St. Louis Fed FRED system, edits in red are mine) shows the decline in real median household income that has been occurring over the last five years: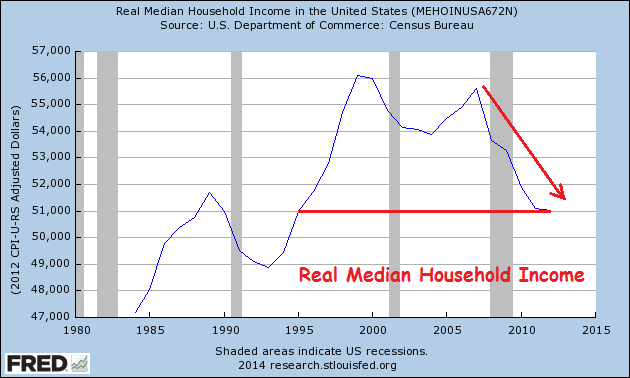 With real median income dropping like this, it means that households have less money to spend on consumption after buying necessities. If this trend continues, which I believe it will given the deteriorating wage characteristics reflected in recent non-farm payroll reports (i.e. job gains are occurring in lower wage-paying job sectors), it means that the retail and service sectors will continue to contract.
To reinforce my point about the decline in personal income levels, a Gallup Poll released in January measured how people felt about their financial situation (graph from the link, edits in red are mine):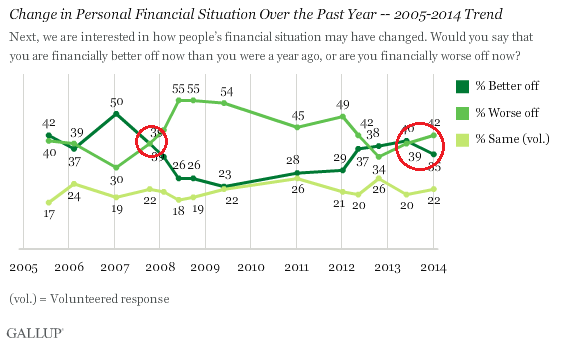 As you can see, over the last year, more people considered their personal financial situation to be worse off than a year ago and less people considered their personal situation to better off relative a year ago. In fact, both measures are worse than their levels were at the beginning to 2008. I would argue that the results of this poll are directly correlated to the decline in personal income and ability to spend, as described above.
Finally, in a sign that consumer spending weakness is translating into weakness in the manufacturing economy, the factory orders report for January was released today. It showed a third straight month of declines, it missed the consensus estimate of -.7% vs -.5% expected and the report had a big downward revision to December's report (-2% from the original -1.5%). More troubling, the linked report shows that durable goods inventory rose to its highest level in the history of the report. While this can be seen an expression of confidence by manufacturers about the future level of demand, in my opinion the record high level of inventories instead reflects the systemic decline in consumer income and spending (as detailed above). To the extent that my view is correct, it means that there will likely be some significant cut-backs in manufacturing output and employment later this year.
Because any negative economic report is accompanied by the explanation that bad weather (the polar vortex) is affecting all areas of the economy, I wanted to touch briefly on this topic. As it turns out, a recent study released by Time shows that the temperatures across the country in January were about average compared to the last ten years. In fact, California and the west experienced warmer than average temperatures, as did other regions. Yet, as this graphic analysis shows, not only were store retail sales lower in January but there was an even greater percentage decline in online sales for the month. Clearly, bad weather should have boosted online sales if the consumer was planning on spending money during periods of bad weather.
Contrary to the bad weather excuse, I would argue that the decline in consumer spending in all segments of the economy (including autos and housing, as I've detailed in previous articles) reflects a broad trend of declining household incomes, deteriorating sentiment in personal financial condition and an overall economic contraction - domestic and global - that is beginning to affect most Americans. To say that bad weather is affecting spending decisions is disingenuous. If spending had been planned, bad weather on certain days would most likely only cause a brief deferment of intended spending. If anything, colder weather in certain areas should have helped retail sales by boosting cold weather clothing sales and other cold weather accessories.
Based on my analysis of the deteriorating financial situation and ability to spend of the average consumer/household, I believe that stock market is significantly overvalued right now because it reflects inordinately high expectations for economic output and consumer spending levels this year. With this view in mind, I recommend selling or shorting the retail sector. The easiest way to accomplish this is by shorting the Market Vectors Retail ETF (NYSEARCA:RTH). Since the last article I wrote on the retail sector on November 7, 2013, RTH has increased by 3.5%. However, the S&P 500 has more than doubled this performance by going up 7.6% in the same time period. It is this significant negative divergence in performance by the retail sector that leads me to believe that once the stock market rolls over, the retail sector will drop even more. In other words, if you think the stock is at risk of a big decline, the retail sector will decline even more.
The upside momentum in the stock market makes the decision to sell or short stocks difficult. However, once the "herd" decides it's time to pull its money off the table, the sell-off could be sudden and rapid. It is impossible to time perfectly any change in direction in the stock market. I always recommend selling or establishing short positions gradually in order to take advantage of natural market volatility. With a market like the current one, it is especially important when building a short to leave yourself room to average in your short-sells at higher levels in case the market decides to spike higher for some reason.
Disclosure: I have no positions in any stocks mentioned, and no plans to initiate any positions within the next 72 hours. I wrote this article myself, and it expresses my own opinions. I am not receiving compensation for it (other than from Seeking Alpha). I have no business relationship with any company whose stock is mentioned in this article.