Among the Canadian energy stocks I follow, Penn West (NYSE:PWE) has by far been the most volatile and inconsistent. While the company is trading well below its NAV based on reserves, its production and FFO is projected to fall in the coming quarters, with no growth expected until 2016. This has caused the stock to underperform, especially compared to its peers such as Pengrowth Energy (NYSE:PGH) and Enerplus Corp (NYSE:ERF).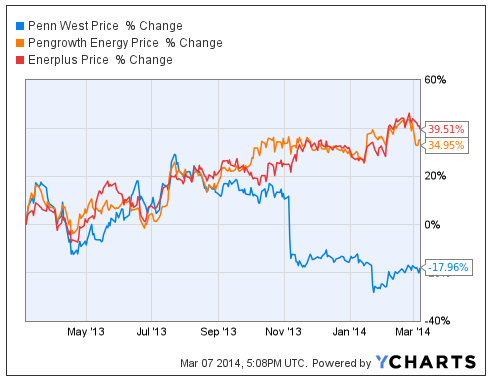 Q4 2013 Overview
Production: 123,995 BOE/D

FFO: $216M

FFO per share: $0.44

Oil and gas sales: $606M

Oil and gas sales per BOE: $54.65

Operating expenses per BOE: $17.86

Netbacks per BOE: $26.66
Overall, Penn West's results came in inline with expectations. Production was down 19% from last year. This was a result of much needed asset sales as well as the shutdown of some unprofitable production. Light oil production was especially hard hit, down 22% from last year to 64,056 BBLs/D. Heavy oil and natural gas production also fell, down 13% and 17% respectively.
Realized prices for most production did improve to $54.65 per BOE, with light oil up 2% to $77.43 per BBL and natural gas up 8% to $3.53 per MCFE. However, realized heavy oil prices did decline 2% to $58.66 due to higher WSC crude oil differentials.
In terms of profitability, Penn West's netbacks came in 1% lower to $26.66 per BOE. This is largely due to a 4% increase to operating expenses to $17.86 per BOE and a massive 22% increase in transportation costs to $0.62 per BOE, more than offsetting the gains seen in prices.
The net effect of lower production and slightly lower profitability caused Penn West's funds from operations, or FFO, to fall 27% to $216M. On a per share basis, FFO fell 29% to $0.44.
Penn West's FFO did not cover capex ($208M) plus net dividend payments ($54M) of $262M. This likely means that the company will need to continue its planned asset sales to fund its current capital program.
When will growth return for Penn West?
Over the next few years, Penn West will be selling between $1.5B to $2.0B in non-core assets. While this will provide the company with much needed capital, it will also result in much weaker production going forward.
Indeed, Penn West's own projections consider 2014 and 2015 to be "transition years", with no production growth projected until at least Q1 2016.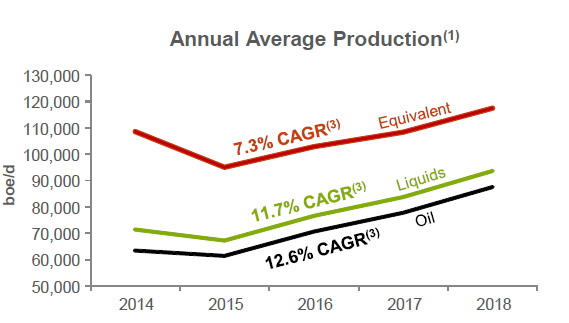 Do note that Penn West needs to shift its production base as its current production is in high cost areas. By selling these assets, the company should be able to push down its operating expenses considerably, increasing its operating netbacks to above $30 per BOE.
Another bright spot would be with FFO. This critical metric is expected to bottom sometime in late 2014 and early 2015. Thereafter, Penn West is projecting an estimated 10.6% CAGR through 2018.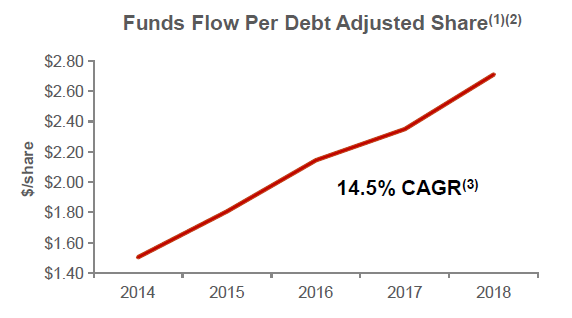 Conclusion
For those looking for a deep value play, Penn West may be a decent option. The stock does offer a nice 6.40% yield alongside with some upside if Canadian light oil prices increase. However, given that its own projections call for production to continue falling until 2016, I see little reason to own the stock at the moment.
With Penn West, you are basically buying a highly leveraged play on Canadian light oil. While some may find this appealing, others, including myself, find this a tad too high risk.
Disclaimer: The opinions in this article are for informational purposes only and should not be construed as a recommendation to buy or sell the stocks mentioned. Please do your own due diligence before making any investment decision.
Disclosure: I am long PGH. I wrote this article myself, and it expresses my own opinions. I am not receiving compensation for it (other than from Seeking Alpha). I have no business relationship with any company whose stock is mentioned in this article.